FIM Forest Fund I LP
For professional or very experienced investors only.
FIM is the UK's largest and longest-established forestry manager. 
Its latest share issue, FIM Forest Fund I LP "B" Limited Partnership Shares, is now open for investment. It's raising £40 million to invest in diversified, large-scale UK commercial forests. It's an established fund, having been operating since 2008, and one of the largest with NAV of £83.9 million (30 November 2016). 
Highlights
Diversified forestry portfolio,  one of the largest in the UK

Four decades of experience 

Largely freehold asset backed

Tax-free income and capital growth on the trees

Free of IHT if held for at least two years and on death

Favourable market dynamics driving timber prices up 

Target annual post-tax IRR of 7% (not guaranteed)

First income distribution expected in November 2019

Minimum investment – £93,200

Closing date – 31 Dec 2017
Offer overview
The fund invests in a diversified portfolio of 34 forests occupying 11,267 hectares. 
It targets a long-term IRR of 7% with low volatility and an annual distribution of £55.00 per Limited Partnership Share in November 2017, adjusting annually by CPI + 1% each year (thereby providing an inflation hedge). Please note neither returns nor distributions are guaranteed. 
As at 30 November 2016 the Fund has achieved a blended IRR to all Limited Partners of 11.8%, which is in excess of the target return. According to the IPD UK Annual Forestry Index, UK forestry has been one of the best-performing asset classes over a 24-year period achieving average annualised returns of 9.1%. Over ten years, the index has delivered an annualised return of 17.4%. Remember, past performance is not a guide to the future.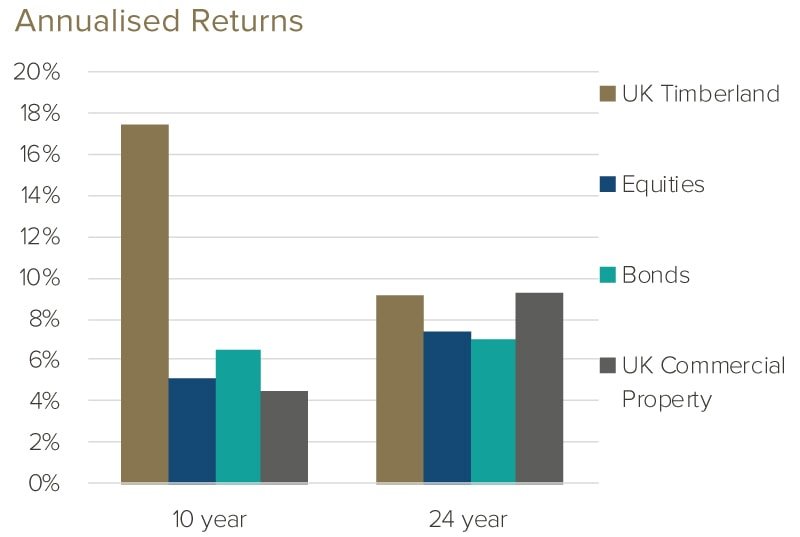 Source: IPD® UK ANNUAL FORESTRY INDEX Results for the year to 31 December 2016.
Past performance is not a guide to the future.
Forestry is a long-term investment. The fund has set termination dates (the first on 30 November 2029). However, this doesn't mean you won't be able to exit before then. A secondary market exists which matches willing vendors and purchasers at mutually agreed prices. Whilst there are no guarantees, over the past two year sales of secondary shares in the Fund have an average transaction time of 28 days, with a weighted average premium to net asset value of 8%. 
Tax benefits 
Investment in UK commercial forestry can have significant tax benefits: 
Inheritance tax: 100% IHT relief after two years due to Business Property Relief ("BPR"), provided you still hold the investment on death

Dividend tax: none. All distributions are paid gross prior to the deduction of any tax

Income tax: no liability to income tax on timber revenue

Capital gains tax: no CGT on gain in value of timber. The underlying land is subject to CGT although most of the gain would be in the value of the timber
Please remember tax benefits depend on circumstances and tax rules can change.
The details
Type

Forestry fund

Target raise

£40 million

Minimum investment

£93,200

Closing date

31 December 2017