Power Bond 3 – 8.5% p.a. secured fixed-rate bond
CLOSED
This offer has now reached capacity.
Co-invest with Corylus Capital (formerly Hazel Capital) in a series of containerised batteries and engines that help the National Grid with the peaks and troughs of energy demand and supply. 
This is a six-year amortising bond. It offers an 8.5% p.a. fixed rate of interest as well as capital repayments from the end of year one. By the end of year two you should get back nearly half the original investment, in addition to the interest. Returns are not guaranteed. 
Previous Power Bonds have been extremely popular. Of the four previous projects managed by Corylus Capital, only the first was available to the open market. The subsequent three were all funded privately.

We expect the current offer to fill quickly. Of the £8.5 million fundraising target, £6 million has already raised been raised before the official open date. 
Important: The information on this website is for experienced investors. It is not advice nor a research or personal recommendation to invest. If you're unsure, please seek advice. Investments are for the long term. They are high risk and illiquid and can fall as well as rise in value, so you could get back less than you invest.
Highlights
Fixed rate of 8.5% p.a. – not guaranteed 

Capital repayments from the end of year one – almost half of the capital should be repaid by the end of year two
Project already operational – no construction risk

Pre-agreed contracts with the National Grid covering c.80% of the revenue 

Revenue is uncorrelated to energy prices
Low loan to value – estimated 42.5% of project net present value
Considerable downside protection – even in the most pessimistic scenario the project's present value is significantly greater than the Power Bond amount
Senior protection over any other lenders 

Asset-backed – the value of the equipment is greater than the Power Bond amount

Low minimum investment of £10,000 for Wealth Club members – invest as an individual or as a company
Cash back of up to £1,500 until the offer is open (terms apply, see below)

Apply online
How much could you receive? 
The bond aims to pay fixed interest of 8.5% p.a. over a six-year term. 
This is an amortising bond, so, instead of having to wait until the end of the term to receive your capital back, you get it gradually over the course of the six years. 
The table below shows illustrative returns for different investment amounts. 
For each year you can see how much you could receive, both in interest and capital repayments. As you will notice, by the end of year two you should receive back nearly half the amount you invest. 
Please note: these returns are illustrative and not guaranteed.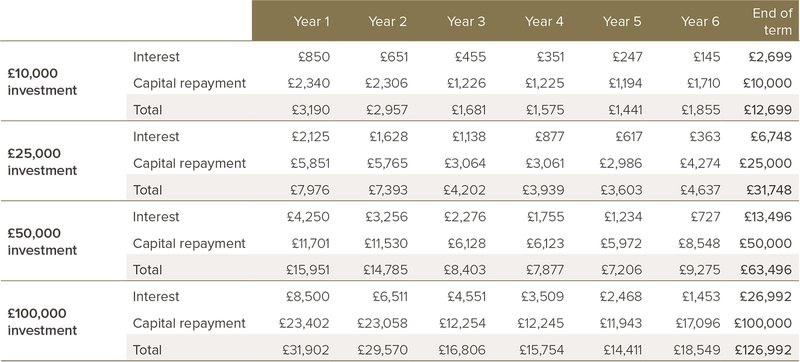 The figures above refer to the period from the bond Commencement Date to the end of each year.
How are the funds used?
Corylus Capital has commissioned the construction of a 20MW energy storage and generation project – a series of containerised batteries next to a solar farm near Melksham, Wiltshire. 
The construction has been completed and the total cost was £12.5 million. Corylus Capital and other private investors are covering £4 million of these costs. The funds raised through Power Bond 3 should cover the balance (£8.5 million). 
The plant is connected to the National Grid and helps it manage the peaks and troughs of energy demand and supply. In simple terms, the batteries collect and store any excess electricity the solar farm produces and release it into the grid when needed. It has been generating revenue since 1 May 2018 and has already a contract with the National Grid. 
What protection do Power Bond holders have?
The cash flow from the project is scheduled to fully cover interest payments. However, should things not go to plan, Power Bond 3 offers protection to investors:
Power Bond holders have priority over all other lenders, including the manager, Corylus Capital.  No other distributions or loan repayments shall be made until full repayment of the Power Bonds. 
The cost of the equipment provides significant asset-backing. Engines, batteries, inverters and other electrical equipment can be easily removed and reused elsewhere and are worth more than £8.5 million, the amount of the Power Bond.

The loan-to-value ratio based on the Power Bond amount and the net present value of the Project is estimated at 42.5%.

Even in the most pessimistic scenario, the project's present value is considerably greater than the Power Bond amount.

Around 80% of the project's revenues are expected to be contracted. This means they should not be affected by any fluctuations in energy prices. 
Please remember, though, this is still an investment, so returns are not guaranteed and capital is at risk. So it should only be considered by experienced investors who can afford to potentially lose their money. The Power Bond is not covered by the Financial Services Compensation Scheme.
What experience does the manager have?
This is the fifth project of this kind managed by Corylus Capital, an experienced investment manager and developer specialising in clean energy technologies. The team will be led by Ben Guest, who has over 20 years of experience.
The first project was funded through the first iteration of the Power Bond in 2016. It was extremely popular with Wealth Club clients. So far it has paid all interest as planned. The subsequent three projects were all privately funded before they reached the open market. 
All sites are performing and operating in line with modelled expectations since being commissioned and energised. Please note, though, the performance of similar previous projects should not be taken as a guide to the future performance of the current project.
Risks
This is an illiquid and not readily realisable investment for experienced investors only. Capital is at risk. You should not invest money you cannot afford to lose.

The bond is not transferable and cannot be traded on any secondary market. The bond is not covered by the Financial Services Compensation Scheme.
Interest is paid net of 20% UK withholding tax (currently 20%). Tax rules can change and tax benefits depend on circumstances.
Read more details on the risks in the Offer Memorandum. 
Fees
There is no initial charge and no other fees directly payable by investors. 
Corylus Capital will receive fees from both the operating company and its parent company. It will pay Wealth Club an introducer fee out of these charges.
Please read more details on fees in the Offer Memorandum. 
Our view
We believe this is a compelling asset-backed and contract-backed offer with a realistic prospect of good returns. 
The management team can demonstrate an excellent track record and has considerable vested interest in the success of this project: it is investing £4 million, which can only be repaid after Power Bond holders have received their interest and capital heavily invested in the Project themselves.
Whilst this is a 6-year investment, almost half of investors' capital should be repaid by the end of the second year which could provide a quick return on capital. 
Overall, we see this as a good fixed-rate investment opportunity for experienced investors, but you should form your own view.
Cash back offer
Invest in the Power Bond 3 and you could receive up to £1,500 cash back. The more you invest, the higher the cash back you could receive. The money doesn't come from your investment; it is simply a thank you from us for your business.
How much cash back could you receive?
| You invest | You receive |
| --- | --- |
| £10,000 to £24,999 | nil |
| £25,000 to £49,999 | £125 |
| £50,000 to £99,999 | £300 |
| £100,000 to £199,999 | £700 |
| £200,000 or more | £1,500 |
Terms of the cash back offer – Power Bond 3
Subject to these terms, when you invest in the Power Bond 3 through Wealth Club, you could receive a cheque of up to £1,500, depending on the amount you invest, as set out above.
This offer is funded by Wealth Club. The money does not come from your investment.
To qualify for the cash back, your application and funds must be received by 5pm on 15 June 2018, or earlier if fully subscribed
We reserve the right to withdraw or suspend this offer by posting a notice on our website. In the event of early closure of this offer, all qualifying applications received up to the time of withdrawal will be accepted.
The value of your cash back will be based on the value of your investment. It is not possible to combine the value of different investments (e.g. in your own name and in your spouse's and/or company's name).
The maximum amount of cash back you may receive under this offer is £1,500.
Cash back cheques will be issued within two months from the bond Commencement Date. In the event of a cancellation, the application will not qualify for cash back.
If you are unsure how your investment will be treated under the terms of this offer please contact us before submitting your application. By submitting a qualifying application you agree to be bound by these terms.
The offer cannot be used in conjunction with any other offer.
The products we offer are not suitable for everyone. They are normally high risk, illiquid and should be held for the long term. If you're unsure an investment is right for you, please seek professional advice. This review is not intended to be advice or a personal recommendation to buy the investment mentioned, nor is it a research recommendation. Wealth Club aims to highlight investments we believe have merit, but investors should form their own view on any proposed investment. 31.05.2018
Wealth Club aims to make it easier for experienced investors to find information on – and apply for – tax-efficient investments. You should base your investment decision on the provider's documents and ensure you have read and fully understand them before investing. This review is a marketing communication. It is not advice or a personal or research recommendation to buy the investment mentioned. It does not satisfy legal requirements promoting investment research independence and is thus not subject to prohibitions on dealing ahead of its dissemination.
The details
Type

Amortising bond

Target raise

£8.5 million

Interest rate

8.5% p.a.

Term

6 years

Loan to value

42.5%

Minimum investment

£10,000

Deadline

CLOSED