Review: Digme Fitness EIS
Archived article
Archived article: please remember tax and investment rules and circumstances can change over time. This article reflects our views at the time of publication.
If you walked down any UK high street 30 years ago there would hardly have been a gym in sight. Today every town will have at least one.

The next concept taking hold is the boutique fitness or spin studio.

A relatively new concept in the UK, it has already become big business in the States. There the best-known player is SoulCycle. Started in 2006 in New York, it now has 90 sites in the US and Canada and is highly profitable.

Digme Fitness aims to replicate SoulCycle's success in the UK.

The Digme story so far

Digme is an established chain of spin and high-intensity (HIIT) workout studios set up by husband and wife Geoff and Caoimhe Bamber in 2015. Geoff is a former hedge fund manager and Caoimhe a City lawyer. Both are fitness fanatics: Geoff has completed 11 Ironman triathlons whilst Caoimhe has run 75 marathons.

The idea of a short but intense workout, usually on an indoor stationary bike, is very appealing – and not just to fitness fanatics. It's for anyone who wants to get fit but doesn't quite have the time.

The studios are fitted with some of the best kit available and typically offer 30 to 45-minute sessions led by an expert and engaging instructor.

The experience as a whole is much more indulgent than going to an average gym: from a stylish interior to complimentary fluffy towels and premium toiletries in luxurious showers.

All this comes at a price: around £20 per session. Typically people pay per session (or buy multi-session packages) rather than a monthly subscription

Already established

So far, Digme has opened six spin studios, five in London and one in Oxford. This includes the acquisition of Tribeca Studios in January 2019, an existing single-site fitness studio in West London. In January it surpassed the 60,000 member mark.

The estimated turnover for 2018 was c. £2.6 million and five of the six sites are on track to be EBITDA profitable this year, whilst profitability at group level is forecast for 2021. Please note these are forecasts and not guaranteed.

A look inside Digme Fitness 
Potential to scale up

Digme is raising £3 million under EIS to support further expansion across the UK. This offer is only available to Wealth Club and West Hill investors (the latter arranged the offer and advises Digme).

The funds will be used to support the next phase of expansion. Digme plans to open a further 15 studios by 2023 at a rate of three a year.

This is the second EIS fundraising round for Digme, which first raised money from EIS investors around a year ago. This further raise is based on amended forecasts.

If the current fundraise is successful and Digme delivers its growth plans, it could become the leader in a market that is growing fast but is still very fragmented.

Investors in the current offer could potentially benefit from a target return of between 4x and 5x before tax relief, although there are no guarantees.

There are considerable risks, as with all EIS investments. In addition, this is a single company private offer, so there is no diversification; only experienced investors should consider it.

That said, Digme has gained significant experience through the opening of its existing six sites – both in and outside London. This should make the rollout plan more achievable and help to deliver strong, respectable growth, although there are no guarantees. Capital is at risk.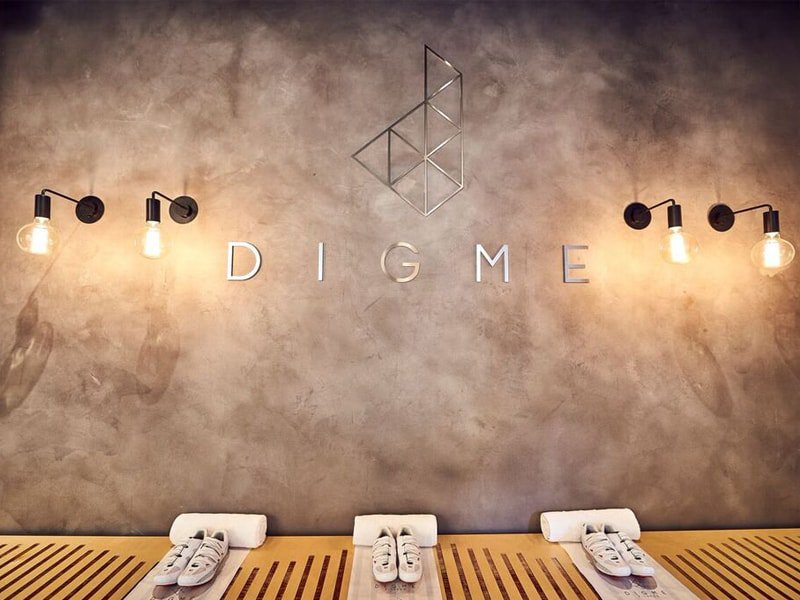 Interior of one of Digme's studios in London

What to consider next

Please visit the offer page to download our research report and the offer documents, read more (including risks and commitments) and apply online.

EIS / SEIS investments are high-risk so should only form part of a balanced portfolio and you should not invest money you cannot afford to lose. They also tend to be illiquid and hard to sell and value. Before you invest, please carefully read the Risks and Commitments and the offer documents to ensure you fully understand the risks. 

This is a single company EIS offer with no diversification. It involves investing in an early-stage business which is by nature high risk and prone to failure.

The value of tax benefits depends on circumstances and tax rules can change.
Wealth Club aims to make it easier for experienced investors to find information on – and apply for – tax-efficient investments. You should base your investment decision on the provider's documents and ensure you have read and fully understand them before investing. This review is a marketing communication. It is not advice or a personal or research recommendation to buy the investment mentioned. It does not satisfy legal requirements promoting investment research independence and is thus not subject to prohibitions on dealing ahead of its dissemination.
Read more and apply online
Read more about this offer, including the risks; download our research report and all the documents. You can apply online in minutes.
Read more and apply online