Review: Downing Estate Planning Service
Archived article
Archived article: please remember tax and investment rules and circumstances can change over time. This article reflects our views at the time of publication.
Downing's Estate Planning Service is well established and is one of our favourite unquoted IHT portfolios. It now comes with an innovative insurance option which effectively makes the portfolio IHT free from day one. It offers a choice of asset-backed and renewable energy investments which typically qualify for Business Property Relief (BPR). This means after two years they should be exempt from IHT. 

Highlights
New: insurance option effectively makes the portfolio IHT free from day one (conditions apply)
Alternatively investors have free downside protection which protects against falls in value of up to 20%
Choice of asset backed or renewable energy investments
4% target return (not guaranteed)
Minimum investment £50,000
Invest by 18 May to save 3% on the initial charge
Video interview
The manager
Downing LLP is owned by its partners and specialises in tax-efficient investments, including VCT, EIS and IHT. Downing manages over £230 million of Business Property Relief funds across its IHT mitigation products. The asset-backed team has invested over £150 million in these types of business since 2012, and the renewable energy team over £400 million in the sector since 2010.
Jonathan Boss, who heads Downing's asset backed team and Colin Corbally, who leads the renewable energy team, are the key individuals responsible for investments within the Downing Estate Planning Service as well as Chris Allner, Downing's Head of Investment. 
Target return and strategy
Most inheritance tax portfolios are run with capital preservation in mind and the Downing Estate Planning Service is no exception. Its aim is to invest in unexciting companies which could offer predictable returns.
To achieve this, Downing offers a choice of two companies which in turn invest in a portfolio of 50+ companies, each with its own kind of 'safety net'. Downing both invests and lends to the portfolio businesses and this strategy provides, in their view, additional protection. The equity provides potential upside. The loans give Downing greater control over the business, help create ongoing liquidity, and prevents external gearing, which could cause volatility.
As with the majority of Downing's investments, the team prefers to back known management teams they have invested with before. Downing also takes a priority charge over the assets before the company's own management, to give investors a better chance to get their money back if things don't go to plan. 
Asset backed – Pulford Trading Ltd
Pulford Trading is the asset-backed company. It invests in businesses operating from freehold premises, such as hotels, care homes and data centres. These firms are chosen because they have relatively stable revenues and an asset that underpins the investment value, so in case things don't go according to plan there will usually still be value in the freehold property.
Care homes are typically purpose built with 60-90 beds in what Downing consider to be decent areas. Downing likes investing in Scotland as there is an element of support from the state that isn't means tested. All their Scottish care homes are run by one management team. Prior to making an investment in a new facility, Downing conducts market research to establish demand and potential fee levels. 
The lending side of Pulford Trading Ltd will typically provide development finance for student accommodation with a loan term of about 12-24 months. Downing is comfortable taking construction risk in a deal, however having first charge over the assets is essential. It won't invest in speculative residential developments. 
Renewable Energy – Bagnall Renewables Ltd
Bagnall Renewables invests in renewable energy businesses, such as solar, wind, anaerobic digestion. These businesses provide risk-managed opportunities for investment, as they usually have predictable revenue streams and access to government-approved subsidies, although these could be withdrawn in future.
Downing prefers new building projects to than existing ones that are already generating energy. This is due to the potential for higher returns. There has been a reduction in subsidies for new builds, however, which means existing projects are also considered. This service has to date only invested in UK renewable energy projects, however this is now being broadened to include reserve power projects.
Anaerobic Digestion plants (AD), which turn waste or food stock into energy, form the bulk of the renewable projects completed thus far as they offer the potential for higher long-term returns than other forms of renewable energy, according to Downing. All Downing's AD plants use crops supplied under contract and turn it into energy, which helps achieve consistency. Other AD plants use waste food matter instead, which is more inconsistent. There are no new AD plants currently under consideration. As well as AD, solar, wind and hydro electricity generation also feature. A project will only be considered once planning has been achieved and connection to the grid agreed.
Performance
Both companies launched in early 2013; the charts below show performance since then.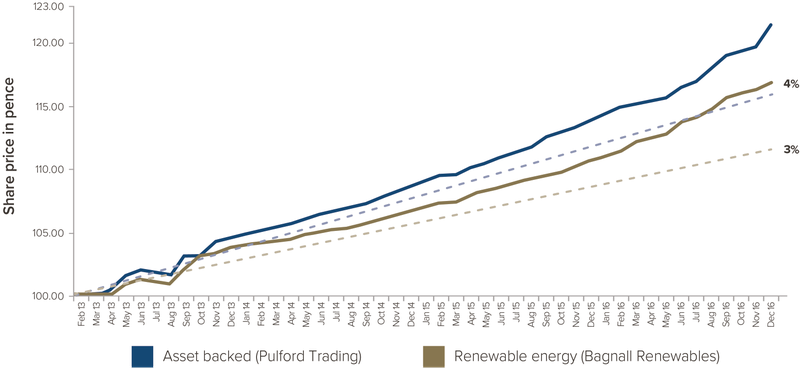 Discrete 12-month performance – NAV
| | | | |
| --- | --- | --- | --- |
| | Feb 2013 – Feb 2014 | Feb 2014 – Feb 2015 | Feb 2015 – Feb 2016 |
| Pulford Trading | 5.24% | 4.08% | 4.92% |
| Bagnall Renewables | 4.18% | 3.03% | 3.82% |
Source: Downing LLP. From Feb 2013 to Feb 2016 – full year data is not yet available to Feb 2017. The asset-backed portfolio (Pulford Trading) launched in February 2013 and the renewable energy portfolio (Bagnall Renewables) launched in March 2013. Performance data shown is net of all ongoing charges. Past performance is not a reliable indicator of future performance.
Life Cover and Downside Protection Cover

Downing offers two forms of insurance.
The first is life cover, which is optional. You can opt to pay a little extra in annual charges for the first two years and 40% of your original investment (i.e. the amount that could be subject to IHT) is insured if you die within that period. The policy is in trust so any payout should be made outside your estate.
There are a few conditions – you need to be under 85 years when you invest and you need to confirm a few health details. The maximum insurance per individual is £100,000 (equivalent to a £250,000 investment). 
The second is downside protection insurance. This is included at no extra cost where life cover is not chosen. It covers the first 20% of any losses (after charges) for those under age 90 at the time of death. The maximum claim is £100,000 per investor. The insurance policy is included (and paid for) by Downing for a minimum of two years. Other conditions apply. This is in our view an excellent added feature at no additional cost to investors and helps protect the portfolio in the event of losses in the first two years whilst investors await IHT-free status.
Risks
Capital is at risk and you should not invest money you cannot afford to lose.
Access to your investment is provided on a monthly basis, subject to Downing having sufficient liquidity in the portfolio. That said, this kind of investment can be illiquid. Downing will endeavour to sell these shares to a third party, however if there is no buyer the IHT company will repurchase the shares – this may give rise to an income tax charge for the investor. 
Eligibility for BPR is assessed at the date of death and will depend on the companies remaining qualifying. Remember, tax rules can change and the value of tax benefits depends on circumstances.
Fees
The normal initial charge, before Wealth Club saving, is 4%. The annual fee is 2% plus VAT. There is a performance fee of 20% of returns over 4% compound per annum, charged at exit. In addition, Downing may receive arrangement and monitoring fees from the underlying investments, unless they are simply lending money. Arrangement fees are capped at 2%. Monitoring fees are capped at 0.5% each year. 
Without life cover the annual charge is 2% which includes the free downside protection. If you choose life cover, there is an additional 1.5% for the first two years and then it reverts to 2% as usual. Given the valuable protection on offer we believe the charges are reasonable. 
Summary
This is a well-established service which has delivered consistent returns to investors to date, although past performance is not a guide to the future. Downing's management in the areas of focus are high quality and experienced. One downside to this investment is the performance fee – somewhat unusual in inheritance tax products. That said, the overall fee structure is still competitive. The innovative insurance cover make this an interesting offer – particularly when coupled with the Wealth Club discount which allows you to save 3% on the initial charge before 18 May 2017.