Review – Puma AIM Inheritance Tax Service
This AIM IHT service is managed by Puma Investments, part of Shore Capital, one of the largest AIM market makers. It targets a portfolio of around 20 companies and specifically likes businesses where the founder or founder's family is still involved.
Focused portfolio of 20 companies, often family-owned or founder-controlled businesses 
Managed by Puma Investments, part of Shore Capital, the third largest AIM market maker

£15,000 minimum investment

The manager
The Puma family of tax-efficient products is managed by Puma Investments, part of Shore Capital – itself an AIM-listed business and market maker to many AIM listed companies. 

The lead manager is Justin Waine, who's been managing small and medium-sized companies for the past 17 years. Mr Waine started his career as a small company sell side broker at Cazenove, prior to joining Polar Capital to launch a European long/short hedge fund focused on small and medium-sized companies. According to Mr Waine, approximately 40% of the fund was invested into UK companies, and a large part in AIM-listed companies. He joined Puma in June 2014 and launched this service in July 2014. He was attracted to Puma's long-term investment style. He had analysed AIM extensively and realised the market had changed enormously. He concluded it no longer included just speculative high-risk businesses but also lots of long-term mature ones.

Target return and strategy
This AIM IHT service has no specific target return, however Mr Waine states that capital preservation is more important than making money. The portfolio targets mature AIM businesses screened across three key metrics: Quality, Growth and Value.
Mr Waine focuses on two kinds of companies: firstly, family or founder-owned, as they are often on AIM specifically for Business Property Relief reasons; and secondly companies controlled by a successful entrepreneur (such as Patisserie Valerie). Long-term buy and builds are also considered, provided they're not aggressively acquisitive. 

Regardless of the type of company, Mr Waine seeks businesses with potential returns above the cost of capital. Discounted cash flow analysis is done for every company and a fair value price target is set.

He seeks companies with decent margins, sales and profit growth and a sensible balance sheet. His dream would be for Diageo to move to AIM and trade on a much lower multiple than it does today. H&T Group, the UK's leading pawnbroker, is as close to a perfect company in Mr Waine's view. It has good cash flow and has survived despite tough market conditions over the last few years. Albemarle & Bond was the main competitor until it folded. H&T is niche, with a strong market position. It is cash generative and has a low valuation based on Puma's internal valuation.

Having a cheap share price isn't the most important factor, according to Mr Waine. A strong balance sheet is more important as it helps stem losses when a mistake is made.

Niche companies present opportunities. An example is Safestyle, which manufactures uPVC windows and doors. It operates in a fragmented market dominated by three companies and with a very long tail of smaller ones. Safestyle has spent a lot of money on its manufacturing process to give it a cost edge and management has a big stake.

Interestingly Mr Waine doesn't meet company management teams very often. After leaving his previous fund management role, he analysed his portfolio returns once more and came to the conclusion that there was no correlation between share price performance and whether he had had a meeting. Therefore, today he only meets about ten companies a year. 
The average market capitalisation of companies in the portfolio today is £300m with a range of £70 million to £1 billion. Companies are typically bought with a three to five-year time horizon.  

Performance
The portfolio service launched in 2014. With two and a half years under its belt, the initial signs are encouraging. Please note: past performance is not a guide to the future.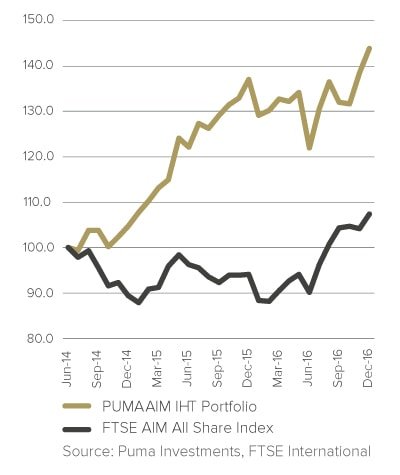 Discrete performance
| | | | | | |
| --- | --- | --- | --- | --- | --- |
| | To December 2012 | To December 2013 | To December 2014 | To December 2015 | To December 2016 |
| Puma AIM IHT Service | — | — | 4.72%* | 30.90% | 4.98% |
| FTSE AIM All Share Index | — | — | -10.60% | 5.23% | 14.29% |
Source: Puma Investments, to end of December each year. Past performance is not a guide to the future. All performance data is quoted net of management and dealing fees, and applies to the Investment Director's portfolio. Small variations in performance may apply as each individual investor has their own discrete portfolio of assets.
* Performance data for the full five years is not available as the portfolio launched in Q3 of 2014
Risks
Liquidity of companies listed on AIM is a key risk in this service. AIM shares can be volatile with little trading at certain points. One further risk is that this is a slightly more concentrated portfolio than others with only 20 stocks typically, placing more importance on the stock-picking abilities of the manager. 
This is a long-term commitment and capital is at risk: you could get back less than you invest. 
Under current rules, BPR-qualifying AIM investments held for at least two years and on death are exempt from IHT, but remember tax rules can change and tax benefits will depend on circumstances.
Fees
Puma levies an initial fee of 4%, however with Wealth Club discount this is reduced to 1%. The annual management charge is 2% and there is a 1% fee levied on purchase or sale of portfolio companies. There is no performance fee.

Summary
The Puma AIM Inheritance Tax service launched in 2014. As it approaches its three year anniversary, performance has been encouraging. It targets mature AIM businesses screened across three key metrics: Quality, Growth and Value. Lead manager Justin Waine is very experienced and appears to have a thorough understanding of what he is looking for in a company. 
This review is not intended to be advice or a personal recommendation to buy the investment mentioned, nor is it a research recommendation. Wealth Club aims to highlight investments we believe have merit, but investors should form their own view on any proposed investment.