Review: Seneca Inheritance Tax Service
Archived article
Archived article: please remember tax and investment rules and circumstances can change over time. This article reflects our views at the time of publication.
The Seneca Inheritance Tax Service targets a 4% annual return. It seeks to achieve this by lending money short to medium term to businesses that have some form of asset backing.   
Highlights
Asset-backed and secured lending

4% annual target

Diverse lending base

£50,000 minimum investment

The manager
Seneca Partners launched in 2010 with founders Ian Currie, Steve Charnock and Richard Manley. The purpose was to invest in small and medium-sized enterprises (SME) and help them grow. All three founders are SME specialists by background. They saw a gap in the market as many SMEs in the north of England couldn't access capital so they opened six offices across the area to tap into this need. Today Seneca has over £400 million under management across a range of funds, EIS and Inheritance Tax products. In addition, it has advised on over £4 billion of debt funding. 
Target return and strategy
The portfolio aims to return 4% a year and preserve capital. Investors buy into Seneca Secured Lending Ltd (SSL), a BPR-qualifying trading company. SSL provides secured commercial loans in a diverse range of sectors. 
There are four potential lending routes: property bridging loans, asset-backed loans, commercial loans, and block discounting. All loans need to be secured against some form of asset. There are currently loans to over 250 borrowers; highlighting the diversity of the loan book. There is a range of short and medium-term loans, with an average loan term of nine months. 
Commercial loans, bridging loans and asset lending form the largest part of the portfolio, with block discounting a smaller percentage. The first three types of lending should be fairly obvious. For instance, SSL would lend to a property developer who is refurbishing residential properties. The loan is typically short term, with a conservative loan to value ratio. SSL would have first charge over the property if the borrower defaults. 
Block discounting, also known as back-to-back finance, involves lending money to other finance providers (e.g. leasing companies) against a specific parcel of loans . Seneca applies the same stringent tests as with other forms of lending, however in this instance the money lent is effectively "double covered" with the first recourse being the finance provider it lends to and secondly the end borrower who owns an asset against which the loan is secured. The beauty of this form of lending is that it is very scalable. A typical interest rate is 8%-10%.
Seneca's three-strong secured lending team is responsible for the day-to-day sourcing and structuring of potential deals to ensure the loan portfolio is well diversified and prudently managed. Deals are then passed to Seneca's six-strong credit committee for approval. Seneca has a seven-stage process for the approval of all new loans. The key question is value of the underlying asset against which the loan will be secured. The balance sheet strength of the underlying borrower is also of utmost importance. 
SSL is valued twice a year on 5 April and 30 September. Withdrawals can be made immediately after the two valuation points, with 90 days' prior notice. 
Seneca has approximately £15 million of assets invested in this IHT portfolio. 
Performance
Seneca Secured Lending Ltd launched in 2014, the chart below shows performance since then.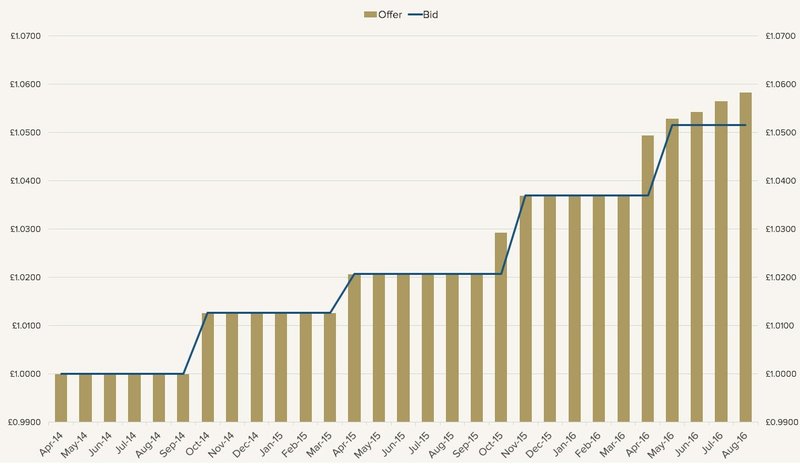 Source: Seneca. Please remember past performance is not a guide to the future. Investments can fall as well as rise in value so you could get back less than you invest. 

Risks
As with any lending business, the key is ensuring the borrower has the means and cash flow to repay the debt and if not, that the asset the funds are secured against can be sold to repay the debt. As with many unquoted IHT portfolios, there is limited liquidity with investors given a chance to withdraw funds twice a year. 
Fees
There is an initial charge of 2% plus VAT from Seneca. Seneca receives an annual fee direct from the underlying company – this is capped at 2% plus VAT annually.  There is no performance fee. Wealth Club charge an initial fee of 2.5%.

Summary
Seneca offers a sensible IHT service focused purely on asset-backed secured lending. The target return isn't high at 4%, and should be within reach. There is already critical mass within the portfolio, even though it is only two years old, and this has led to a broad diversification. There is a strong team with many years' experience at the helm, backed by a robust process and additional oversight by Seneca's credit committee. This is a solid IHT offer.
Seneca Inheritance Tax Service
Download documents from the offer page
Go to offer page