Review – Stellar AIM IHT ISA
Archived article
Archived article: please remember tax and investment rules and circumstances can change over time. This article reflects our views at the time of publication.
This Aim IHT ISA offer from Stellar Asset Management is managed by Manchester Stockbroker Pilling & Co. It focuses on preserving capital and reducing volatility at the same time as aiming to grow the capital value. There is also an interesting and innovative insurance policy on offer that aims to provide some downside protection. 
Long-standing AIM IHT managers

30-stock portfolio

Insurance policy option 

Downside risk key criteria

Likes management owning shares in their own business

The manager
Stellar Asset Management specialises in tax efficient products. It identifies a market opportunity and then finds a capable asset manager. Stellar was founded in 2007. This AIM IHT ISA offer is managed by Pilling & Co, a long-standing Manchester based private client stockbroking firm. In total, Pilling manages approximately £250 million, of which over 10% is in AIM IHT portfolios. There are five in Pilling's investment team: Terry Applegate, Alistair Hodgson, Nigel Moore, Mike Tattersall, and Sally Greenwood. The core of this team has worked together for over a decade. 
Target return and strategy  
There is no specific target return, however the team aims for a low volatility approach and it is clear from conversations with them, a slightly reduced performance would be preferred if it meant volatility and risk were lower.  
The team works as a collective unit, there is no Chief Investment Officer for example and companies get bought or sold on the back of a majority decision at the monthly investment meeting (or more frequently of needed).
A 30-stock portfolio is typical; however larger clients may get slightly more holdings. Unusually, when a new client invests in the service the money is split equally between the stocks in the portfolio, therefore clients have slightly different portfolios. Over time as a stock becomes too dominant it is reduced and smaller holdings are topped up. As Mr Hodgson put it "all clients move in the same direction but at slightly different speeds". The team favours an equally weighted process as that helps it be dispassionate. 
When searching for companies the managers are looking for specific criteria. At the top of the list is a business they can understand. Current example of companies invested in are  Nichols, the makers of Vimto, and Wynnstay, the agricultural merchant. If management cannot explain how a business makes money in a paragraph, the team doesn't invest. They also keep away from companies with a binary outcome; in other words, companies that will either massively succeed or fail, with no scenario in between.
For this reason, they avoid oil, mining and gas companies. Management having a stake in the business is important, as is a strong balance sheet. Free cash flow is also important; however, it doesn't need to be paid as a dividend, it can be reinvested to aid future growth. 

Although the majority of the current portfolio companies are over £100 million in size, the team will look at companies £50 million in size and over. Liquidity is more important than size though and it's important to be able to deal easily. 
The team aims to have a decent spread of sectors represented. It currently has investments in 12 out of the 17 sectors it looks at. If there are several desirable companies within a sector, with comparable characteristics, not all will be invested in. This isn't just about performance; it is about risk diversification. So the manager will trade away performance to aim for a reduction in volatility.
Finally, Stellar has introduced an interesting life assurance policy investors can choose. This policy will pay out any loss on death should the portfolio have fallen in value. An annual fee of 2.5% applies for the standard policy, please note though that acceptance isn't guaranteed as it is based on age and health. In addition, the insurance pay-out may be subject to IHT, unless written in trust (Stellar facilitates this). 

Performance
The portfolio service launched in 2008, the chart below shows performance since then.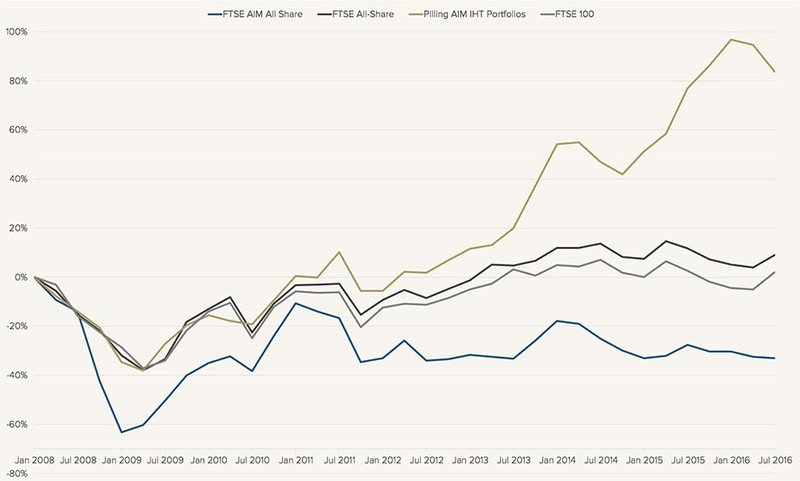 Source: Pilling. Amalgamation of Pilling 10 and Pilling 30. Total return = Inclusive of dividends, net of management fees and commission
Please remember past performance is not a guide to the future. Investments can fall as well as rise in value so you could get back less than you invest. 

Risks
There are no specific risks with this portfolio other than the usual AIM risks of liquidity and volatility.  
Fees
There is an initial charge of 4%. The annual management charge is 1.75% plus VAT. There will be an additional fee if the insurance policy is chosen. Dealing charges are 1% up to £10,000 then 0.5% thereafter (with a £10 minimum). There is also an annual ISA administration fee of 0.5% (£40 min, £140 max).
Summary
Whilst the name Pilling & Co might not be widely known it has a long tradition in private client stockbroking. Indeed, using AIM companies for IHT purposes has been a feature of its portfolios since 2004. Whilst not a flashy offering, this AIM IHT ISA has quietly delivered with a sensible, pragmatic approach. The managers are happy giving up some performance if volatility and risk are potentially reduced. The insurance policy adds a further interesting element to the offer.