Review: Downing AIM Estate Planning Service
Archived article
Archived article: please remember tax and investment rules and circumstances can change over time. This article reflects our views at the time of publication.
Investors seeking to retain control of their investments later in life whilst trying to protect their portfolio from the ravages of inheritance tax (IHT) could consider investing in companies listed on the AIM market. 
Shares in many AIM companies fall outside an investor's estate (for IHT purposes) after a minimum of two years of ownership, as long as they are still invested at death. Investors in many AIM-listed companies qualify for Business Property Relief after two years of investing, which means these investments then fall outside of an estate for inheritance tax purposes. During the period of ownership, even by a fund manager, the investor always retains control of the assets, unlike many other forms of IHT planning that involve gifting assets away. 
The Downing AIM Estate Planning Service is available both in an ISA (so any growth and income can be tax free) and outside an ISA. The minimum investment is £50,000, or £15,240 for the AIM ISA. 
Highlights
Emphasis on growth and capital preservation
Portfolio of 20-30 AIM listed companies
Benefit of an insurance policy covering the first 20% of losses at the time of death (available for a guaranteed minimum of 2 years for those under 90)
Video interview
The manager
Downing LLP is owned by its partners and specialises in tax-efficient investments, including VCTs, EIS and IHT. It currently manages over £700 million of which approximately £115 million is invested in AIM-listed companies across the range of open-ended funds, VCTs and the IHT portfolios. 
Judith MacKenzie who joined Downing in 2009 heads the team responsible for quoted equity, including AIM products. Previously she was a partner at Acuity Capital managing AIM-quoted VCT and IHT investments and a small-cap activist fund. Prior to Acuity, Judith worked at Aberdeen Asset Management managing VCTs.
Target return and strategy
Growth and capital preservation are paramount and the target performance for each underlying investment is in the range of 8–10% per annum over the long term. Each portfolio will invest in 20 to 30 companies listed on AIM and the managers are looking for consistent returns on invested capital, cash flow and a high tangible net asset value in relation to purchase price.
There is the added benefit of an insurance policy to cover the first 20% of losses (after charges) for those under age 90 at the time of death. The maximum claim is £100,000 per investor. The insurance policy is included by Downing for a minimum of two years. This is an excellent added feature at no additional cost to investors and helps protect the portfolio in the event of losses in the first two years whilst investors await IHT free status.
The service will be actively managed; companies will be purchased and sold based on investment considerations, whilst endeavouring to maintain IHT reliefs. Investments will generally not be sold unless there are suitable re-investment opportunities. Investments in the portfolio may be sold and, as long as the proceeds are re-invested in other companies that qualify for IHT exemption within specified time periods, IHT relief should not be lost. Generally Downing looks to reinvest within a month. 
Companies will be selected predominantly through analysis of balance sheets, margins, cash flow yields, and through meetings with management. The strength of the balance sheet, and in particular the levels of borrowings and availability of asset backing is important. Profitability and turning that profit into cash is also key. Competition and barriers to entry are looked at: can that company maintain its market share and position? The quality of the management team is vital, alongside the alignment of their interests with external investors'. Finally, valuation and growth potential are key, as these are long-term investments that need to grow.

The managers may look to sell an investment for any number of reasons. For example, they might determine the risk in a particular company has increased due to higher levels of borrowing or dividend cuts. A sale could simply be because the valuation of the business was materially too high or maybe better new opportunities emerge.

Two of the current holdings include Sprue Ageis and Tracsis. The former is Europe's leading home safety products supplier and has developed one of the world's smallest sensors for use in carbon monoxide detectors. The latter provides software for train operating companies to manage their trains, timetables, employee scheduling, and rail infrastructure. 
Downing AIM Estate Planning Service performance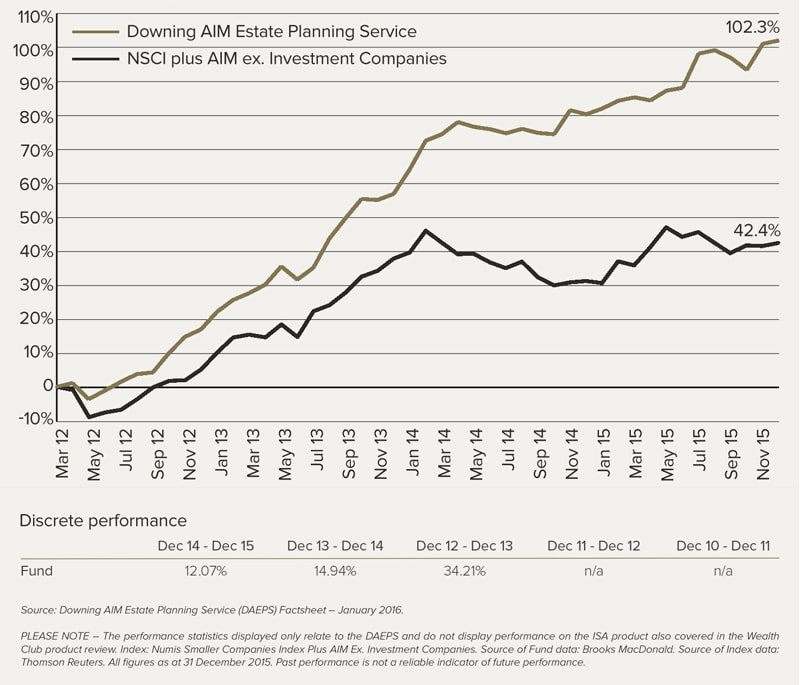 Risks
AIM-listed investments carry liquidity risks, and the manager may not be able to exit the stocks immediately upon request. In addition, it should be remembered IHT-free status is not guaranteed and doesn't start until two years after the portfolio has been invested. The insurance policy giving downside protection is only valid in the first two years if the investor is aged under 90 at the time of death.
Fees
The initial charge on both the ISA and non-ISA estate planning service is 5.5%. The annual management fee is 2.5%. Downing pays the insurance premium, custodian and nominee fees out of its charges. Third party dealing charges will also apply. Probate fees also apply: if there are six or fewer stocks in the portfolio, the charge is £250 plus VAT; and for seven or more stocks it is £200 plus VAT plus £10 per stock plus VAT. There is no performance fee.
Summary
Whilst AIM portfolios have been the mainstay of investment-related inheritance tax planning for well over 15 years, being able to hold them in the tax free ISA is a new benefit. However as with any investment, the tax benefits shouldn't drive any investment decision. With AIM portfolios, it is crucial the manager is experienced and has the credentials to deliver on their objectives. Downing's Judith MacKenzie is one such manager. She has over 15 years of experience of investing in the AIM market and has an excellent track record in picking long term winners. This product also has the useful benefit of having an insurance policy in place to help cover the first 20% of any losses during the first two years whilst the portfolio isn't yet IHT free. This is worthy of consideration. 
/inheritance-tax-portfolios/inheritance-tax-offers/downing-aim-estate-planning/
Wealth Club aims to make it easier for experienced investors to find information on – and apply for – tax-efficient investments. You should base your investment decision on the provider's documents and ensure you have read and fully understand them before investing. This review is a marketing communication. It is not advice or a personal or research recommendation to buy the investment mentioned. It does not satisfy legal requirements promoting investment research independence and is thus not subject to prohibitions on dealing ahead of its dissemination.