First London IPO of 2017 will be a VCT-backed company
Archived article
Archived article: please remember tax and investment rules and circumstances can change over time. This article reflects our views at the time of publication.
London's first retail IPO of 2017 will be a VCT-backed company. Mattress-in-a-box ecommerce company eve Sleep Ltd, backed by Octopus Investments, has announced it will float on AIM on Thursday 18 May. 
The 2½ year old company, based in Camden, has raised £17 million to date over three investment rounds. Octopus has backed the company on all three occasions (see below). Other investors include DN Capital, Channel Four and Woodford Investment Management. 
The IPO is being marshalled by London stockbroker Peel Hunt. It will raise £35 million at a valuation of approximately £140 million. The shares will be listed with the symbol EVE.
The business – eve Sleep's product, market, team and progress so far
Eve Sleep sells memory-foam mattresses and related sleep products direct to consumers via its website. It launched with a single product in May 2015 and has since added pillows, sheets and mattress toppers to its line.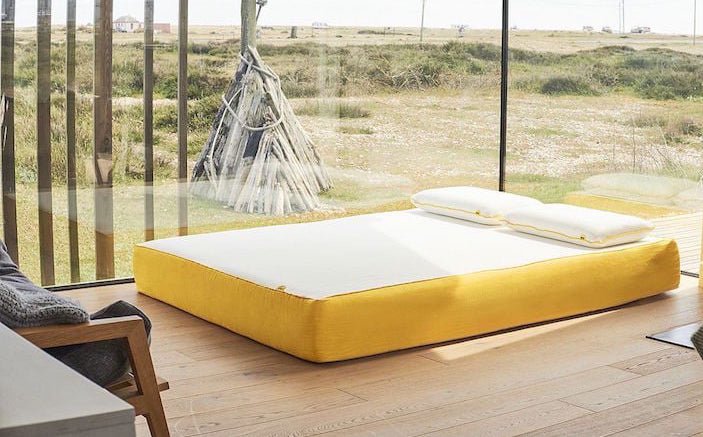 The Eve concept borrows somewhat from US mattress startup Casper, with its emphasis on branding, simplicity and a highly streamlined buying experience. Its mattresses, which are manufactured in the UK, are compressed to a fraction of their size and delivered in cardboard boxes, which reduces typical delivery costs by around 80 per cent. In central London they can even be delivered by bicycle. 
Consequently its pricing is much lower than high-end memory foam mattresses sold through traditional retail channels. Prices for an Eve mattress range from £399 for a UK single to £949 for the largest (7 foot square). Its top seller, the UK king size, sells for £679. Customers also get free 3-day delivery and free returns, with 100 night 'home trial' guarantee.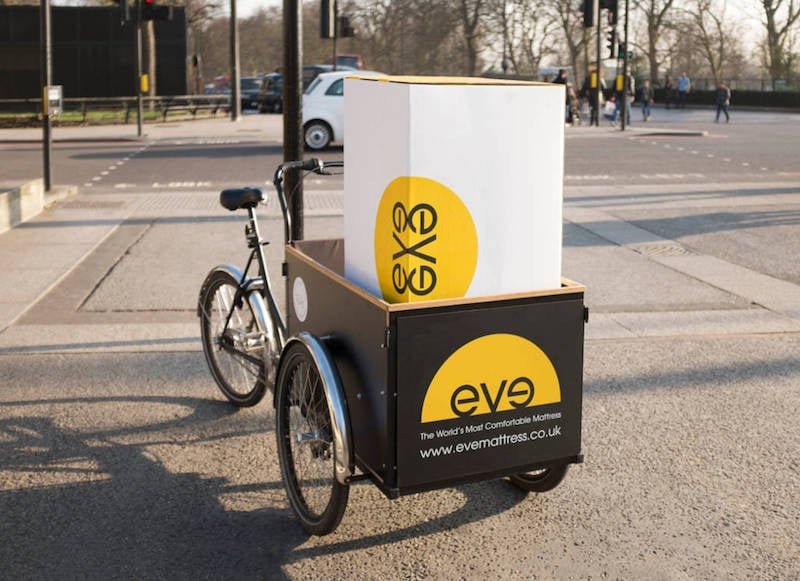 Image credit: Eve mattress
Eve aims to disrupt the estimated £25 billion European market for sleep products. Its founder and chief executive Jas Bagniewski told the Telegraph in March 2017: "The whole industry around mattresses was very old school and archaic. Products were being sold in an inefficient manner, so we concentrated on how to make every aspect of the experience better".

It's not the only company trying to do this. Two competitors are Simba Sleep, which has raised a similar amount of funding to date from Henderson Global Investors, Numis Securities and several individuals, and Casper, the New York based company that has now launched its product in the UK. Meanwhile, retailer Dreams and manufacturers Breasley and Sealy have responded with online boxed-mattress brands of their own.
Nevertheless Eve has enjoyed a breakthrough year. The company says it is shipping 700 mattresses a week, which suggests a projected turnover around £20 million. It enjoyed a PR coup when Eve mattresses were used in the finalists' house on ITV's The X Factor.
Its founders have a range of ecommerce and branding experience. James Fryer and Joe Moore were involved with Zen Bedrooms, which sold unbranded memory foam bedding through Groupon, where Jas Bagniewski was managing UK operations. The idea for the Eve mattress sprung from this experience. Bagniewski brought on his cousin Kuba Wieczorek who worked in branding at Channel Four.
Its investors – eve Sleep's seed and venture capital backers 
Octopus Investments has backed eve Sleep Ltd on three occasions, starting with its pre-launch funding. It is a current holding of the Titan and Apollo VCTs.
DN Capital led its seed investment round and brought Octopus Ventures in as a partner; the latter contributed £225,000 to a £600,000 total. Octopus then led the next funding round of £2.5 million, and participated in the most recent £13.9 million round last autumn which added Channel Four and Woodford as investors.
Investment rounds for Eve Sleep Ltd
| | | | |
| --- | --- | --- | --- |
| | Amount | Timing | Main participants |
| Seed | £600k | Feb 2015 | DN Capital, Octopus |
| Series A | £2.5M | Nov 2015 | Octopus, DN Capital |
| Series B | £13.9M | Oct 2016 | Woodford IM, Channel 4, Octopus, DN Capital |
Sources: Evening Standard, TechCrunch, Crunchbase
Reaction to eve Sleep's IPO announcement
Luke Hakes, investment director at Octopus Ventures and a non-executive board member at eve Sleep, commented on the IPO announcement: "This is a very exciting move for eve Sleep, the fantastic team behind it, and its investors. We first backed eve Sleep in May 2015 at a very early stage of its development when we saw an ambitious and talented team bringing innovation and technology to an outdated market. We are incredibly proud of their achievements and the business' phenomenal growth since then. If successful, this will mark the first retail IPO of 2017." 
Tom Bradley, who led DN Capital's seed investment in eve Sleep, is now at Oxford Capital managing their Growth EIS fund (you can watch our video interview with Tom here). He says the strength of the founding team was a key factor in deciding to invest at such an early stage.
Bradley comments: "I had met [founder] Jas Bagniewski several years earlier in the context of an earlier startup, a textbook rental business. I passed on that business but wanted to keep in touch with Jas because I thought he was very strong. Along with Jas, [cofounders] James Fryer and Joe Moore were involved with Zen Bedrooms, an early mover in online mattress sales. Once the team was focused on the Eve branded proposition, it was a people decision". An experienced ecommerce investor, he also says their online retail model has many of the things he looks for – high initial order value, a low return rate, good margins and a concise product range.
 Is he surprised how quickly the company has progressed to IPO, considering he first invested under 3 years ago? "By any measure that is rapid – but given the calibre of the team and the business model, it's not that surprising. There were some early clues that this could grow quickly, the trajectory of [US mattress startup] Casper being one. I've been saying for some time there needs to be more of an IPO market for [early stage investor] exits so it's great that Eve could float on AIM. Companies such as Boohoo and Asos have demonstrated there is clearly some investor appetite for ecommerce stocks".
Whether AIM VCTs such as Amati, Unicorn, Hargreave Hale and Octopus AIM will invest in the flotation – and whether the Titan and Apollo VCTs could exit or continue to hold Eve Sleep – could not be confirmed at this stage. The company's plans after IPO include expanding further into European markets, extending its retail partnerships, adding to its product range and developing Eve into a fully-fledged sleep and lifestyle brand.
Wealth Club aims to make it easier for experienced investors to find information on – and apply for – tax-efficient investments. You should base your investment decision on the provider's documents and ensure you have read and fully understand them before investing. This review is a marketing communication. It is not advice or a personal or research recommendation to buy the investment mentioned. It does not satisfy legal requirements promoting investment research independence and is thus not subject to prohibitions on dealing ahead of its dissemination.
Free factsheet: VCTs at a glance
Find out more about VCT investing – download the factsheet
Get the factsheet