As seen in The Times: "The £10m rush to avoid a tax raid"
As you may have seen in an article in The Times last Saturday, many wealthy investors bracing for tax hikes are currently turning away from traditional stocks and shares in favour of riskier but more tax-efficient VCT and EIS investments.
This trend appears to have gathered momentum since the Office of Tax Simplification made a number of proposals for a capital gains tax (CGT) overhaul, including bringing the CGT rate in line with that of income tax, although these are so far recommendations only. If the tax rules do change, for some investors, CGT could double from 20% at present to 40% (or 45% if you're an additional rate taxpayer). Remember tax rules depend on circumstances.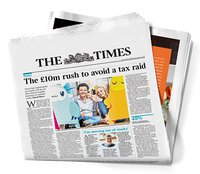 If this overhaul materialises, might it affect you? What options might you consider?
There are options for experienced investors to invest tax efficiently and reduce the tax they have to pay, whilst also backing young British businesses.

For instance, with VCTs, EIS and SEIS investments any gains are tax free. In addition, SEIS offers 50% capital gains reinvestment relief – you could reduce the CGT on gains made elsewhere by up to 50%.
Remember, tax rules can change and benefits depend on circumstances. EIS and SEIS investment are high risk and only for experienced investors. The investments must remain qualifying to retain the reliefs.
What investment opportunities are there?
The Times article mentions recent EIS opportunities that proved popular. While those have already closed, there are several single-company EIS opportunities and EIS funds, as well as SEIS funds, currently available that could be of interest to experienced investors considering investing tax-efficiently now. 
Remember, these are high-risk investments in young businesses the government is keen to support, hence the tax breaks: you could lose all you invest. You should consider the opportunity carefully and not invest based on the tax treatment alone. If unsure, please seek advice. 

Below we list our 'Featured offers': the current offers with the most investment merit in our view.
Current 'Featured' EIS and SEIS opportunities
*Allotment planned but not guaranteed.
Free factsheet: How different tax reliefs compare
This short and simple factsheet explains and compares side-by-side the current tax treatment of these three government-endorsed schemes. Request your free factsheet for experienced investors and find out:
What VCTs, EIS and SEIS are, in a nutshell
Their risks and benefits
How you could halve or defer a capital gains tax bill
How you could claim up to 30–50% income tax and other tax reliefs
How you might be able to claim back some of last year's tax
How you might receive tax-free dividends
Remember, tax rules can change and benefits depend on circumstances. 
Wealth Club aims to make it easier for experienced investors to find information on – and apply for – tax-efficient investments. You should base your investment decision on the provider's documents and ensure you have read and fully understand them before investing. This review is a marketing communication. It is not advice or a personal or research recommendation to buy the investment mentioned. It does not satisfy legal requirements promoting investment research independence and is thus not subject to prohibitions on dealing ahead of its dissemination.
This article tagged with: