Solar – the ultimate inflation-proof, IHT-free investment?
Relatively stable and predictable distributions of c.8% p.a. on average

Substantial degree of inflation protection

Potential upside from increasing energy prices 

Should be free from IHT after two years

Tried and tested technology, with low performance risks and operational costs

Long-term, illiquid investment

Please note: this type of investment is only for experienced investors, so we shall ask you some questions first to ensure you qualify. 

At 1pm on Friday 26 May, as Britain basked in the sunshine, UK solar power broke a new record. It provided 8.7GW – nearly a quarter of the electricity being used at the time.
The UK has experienced rapid growth in solar since 2011, as the chart below shows.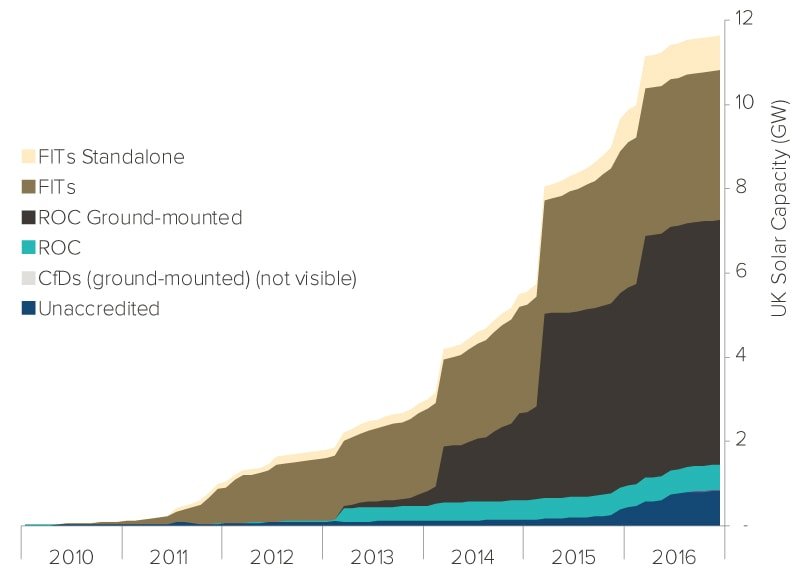 Source: Department of Business Energy and Industrial Strategy (March 2017)
The total installed capacity in 2017 is quickly approaching 12GW. This should generate enough electricity to supply over 2.6 million homes – roughly equivalent to the whole of Scotland – for a year. 
The green credentials of solar are obvious and well known. But does it stack up as an investment?
A source of pretty reliable income
A popular way to invest in solar is to own operational parks through a fund. 
This type of investment won't make you rich overnight, but could pay annual income of circa 8%. That far outstrips what you get from a savings account or an index-linked annuity.
Income from solar investments is variable and not guaranteed, but usually quite stable and predictable. Why? 
Around 50% of the income usually derives from a government support scheme, a 'locked in' 20 year RPI index-linked price per Megawatt-hour generated. The rest comes from selling the electricity generated. This element depends on generating enough electricity and selling it at the right price. 
Power prices are widely forecast to increase above inflation due to growing demand and constrained supply. And the volume of electricity solar parks produce is largely predictable as it depends more on the amount of light than the amount of sunshine. The only time the panels don't work during daylight is under heavy rain or snow. 
The relative stability and predictability of largely inflation-proof income make solar a popular investment amongst retirees and pension funds alike. 
What about tax?
Investing in solar can be tax efficient. Funds can be structured so that the income could be tax free for the early years and the investment could qualify for BPR. This means your investment should be IHT free after two years, if you still hold it on death. Tax rules can change and benefits depend on circumstances. 
Haven't solar subsidies been scrapped?
Since April 2015 new solar parks no longer benefit automatically from subsidies. However, this applies to newly constructed parks, not to those already operational. 
Moreover, installation costs have fallen dramatically and solar is expected to be the first renewable technology to achieve "grid parity", i.e. the cost of solar energy will compare favourably to retail electricity prices, removing the need for direct subsidy.
What are the risks?
As mentioned earlier, the income is not guaranteed. Energy prices could fall and government subsidies could be revoked retrospectively. Moreover, solar investments of this kind are very long term (20-30 years) and seldom liquid. The fund manager may facilitate deals between vendors and purchasers of shares, but this is not guaranteed. At the end of the term, a solar fund will typically wind up and any final distributions of income and gains will be made to investors: there is usually no return of capital as such. Returns are received via the income distributions during the investment term.
What could you consider next?
If the prospect of largely inflation-proof income appeals to you and you're happy with the long-term nature and risks of such an investment, simply request more information below. Please note: this type of investment is only for experienced investors, so we shall ask you some questions first to ensure you qualify.