Northern VCTs: an interview with Tim Levett
Archived article
Archived article: please remember tax and investment rules and circumstances can change over time. This article reflects our views at the time of publication.
I met with Tim Levett of NVM in January 2020 to talk about the Northern VCTs. We discussed what the VCTs aim to achieve, how they've fared in the last year and what investors can expect, particularly after Mercia Asset Management has acquired the management of the Northern VCTs from NVM Private Equity.
Important: this is an edited transcript of the interview with Tim Levett on 7 January 2020 and reflects his views. Please remember, past performance is not a guide to the future and dividends are not guaranteed. VCTs invest in smaller companies, so capital is at risk.
Tell me about the Northern VCTs – what do they aim to do for investors?
Tim Levett: The Northern VCTs were some of the earliest VCTs to be launched, in the mid 1990s to the beginning of the 2000s. They have about £270 million under management and they aim to invest in a diversified portfolio of high-growth businesses.
And there's been a big change with the business recently – what can you tell us about that?
Indeed there has. NVM was approached by Mercia Asset Management, in the late summer of last year, with a proposal that it should take over the management of the Northern VCTs from NVM. We considered the pros and cons of this, and decided that there was quite a lot in it for the shareholders.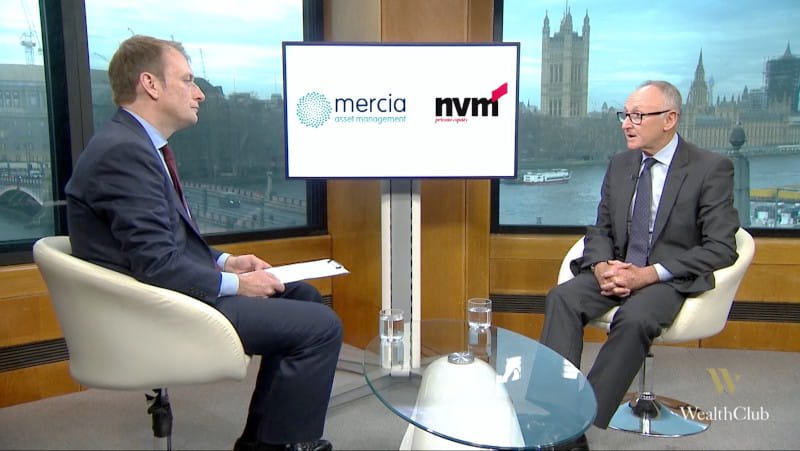 Alex Davies and Tim Levett. You can watch the video of this interview here
What will this change mean for investors?
For investors it means that we're now part of a group that is totally focused on venture investing and totally focused on the regions, and that will have a number of benefits.
Firstly, Mercia has eight regional offices and 60 investment executives who generate around 2,000 deals per year. Some of those are well below the level at which we would consider investing, but many are being nurtured by Mercia and will become opportunities for the future, over and above the independent portfolio that we're delivering. So, there's a scale issue for us. 
The second is that Mercia manages non-state aid funds as well as state aid funds, and that gives us more flexible funding. That is particularly interesting to us, because one of the issues with VCTs generally is that they're no longer able to do replacement capital or acquisition finance, and opportunities arise all the time in the portfolio where Mercia's funds could co-invest with the VCTs.
Are you staying with the business, and will the team?

I am. The whole team has transferred now to Mercia, led by Charlie Winward and me. I'm going full-time as a consultant for twelve months, and then part-time for the whole of 2021 and possibly beyond.
The way I would describe it is that it's business as usual, but better.

Tim Levett, NVM
Let's talk about the VCTs – how much are you looking to raise this year and what are you going to use it for?

We're looking to raise £40 million to invest in further new investments in the diversified portfolio and follow-on investments. In 2019 we invested £40 million, approximately half of that in follow-on funding. We expect within Mercia that we will continue that rate and also have the benefit of further deal flow from the Mercia co-funds with us. 

Can you explain how the current portfolio is made up? 
The portfolio is split between the mature portfolio, being those companies we invested in prior to 2015, in which we have £85 million value, and the new portfolio, which is 30 companies in which the value is £100 million. 
Going forward we expect to be investing obviously in the new portfolio, and within that I expect that around 60% will be in technology-based businesses and 40% will be broadly spread among some tech-enabled businesses and some traditional businesses.
Let's talk about the new types of companies you're investing in – what are you looking for?
Yes – the key factor in all of these investments is the people. It's somewhat of a truism that we back people, but it is particularly important in early-stage deals. There is a wealth of businesses coming to us, many software businesses, and we are differentiating them by obviously the size of the market, the differentiation of their product, but particularly the experience of the people and whether these people are going to, frankly, be good enough to withstand the rigours of being in an early-stage business.

Voxpopme – an example of a recent investment
Can you give some examples of recent investments?
Yes. The first one, a business called Voxpopme, is a marketing software company with a technical base in the West Midlands and a commercial base in the USA. This was a joint deal with Mercia that we initiated, actually before they approached us. 
The second deal is Tutorful. This is a private tutoring business being built by a young entrepreneur called Mark Hughes, who originally came from Baillie Gifford. We have backed him to go online as well as offline with his business. 
The third business is completely different – very consumer orientated. We backed a young man called Archie Hewlett who has founded a business called Duke + Dexter, which is in fashion footwear. 
And the final business we've done recently is a business called Quotevine. This is a software business in the asset management space, and we backed it for two reasons – one is the entrepreneur himself, and secondly a very strong non-executive chairman we have backed before, who is co-invested with him.
What about some of the more mature companies in the portfolio – how are they doing?
They're doing pretty well. Obviously they're very important to the shareholders because they are the ones which are likely to pay the dividends or fund the dividends in the near future. 
Two in particular are starring at the moment. A company called Agilitas – this is a computer hardware management and support business which we backed three years ago and has grown very well. Another is Lineup, which is a SaaS software business in the media sector. We backed this as a complete startup – a quasi-purchase of IP from a much larger business – and it has grown steadily over the years.

Lineup Systems – an example of a more mature portfolio company
How involved are you with these companies?
We are very hands-on. In addition to the investment executives themselves, we have brought on board a number of operating partners in the areas of digital marketing, sales, product development, legal, talent, resource management. One of the attractions of going to Mercia is that they also have an added value team.

The investment profile has changed a lot with your VCT, as it has with all. What does it mean for performance in the future? Will there still be consistent dividends?
The objective is for all of us to create capital wealth as well as pay consistent dividends. Because the early-stage portfolio is not dividend-yielding, and it takes time to develop, in the last two years the dividends have been supported by the mature portfolio. I anticipate that that will be much the case for the next two years. We've set ourselves a target of paying a 5% dividend for Northern Venture Trust and Northern VCT 2, and a 4% dividend based on closing net asset value for Northern VCT 3, for the foreseeable future, subject to exits.
Have you had any recent exits?
In 2019 we exited three businesses. The first is MSQ, which is a marketing agency business, which we sold to LDC and made 2.7 times our money on investment of £3.5 million. The second is a business called Love Energy, which is a B2B energy management business, which we sold to LDC again and made 3.5 times return on our investment. And the final one is Closer Still, which we sold for the third time. Originally we invested in 2008; the first sale was to Phoenix, where we took equity as well as cash on completion. Phoenix then sold the business to Inflexion, where we again rolled over into shares. Inflexion sold the business to Providence, which is a US-based VC house. Overall, over the eight-year period in which we held this investment, we made 7.8 times our money.

Closer Still, a business exhibitions business and recent exit 
With the new companies you're investing in, is that the sort of return you'll be looking for?
That's a very interesting question. We are seeking, in the higher-risk investments, to make eight or more times return, but we have matched the portfolio with some lower-risk investments where we are targeting to make two to three times return. 

What would you expect the failure rate of the new portfolio to be? 
Statistically, early-stage portfolio failure rates are about 25%. As yet, in the three years that we've been investing since 2016, we have not had a failure, although there are a number of companies where the net asset value has been reduced.
You've still got around 40% of your portfolio in older companies – is there a temptation to keep those so you can keep paying a dividend?
One has to recognise that in unquoted investments that you are a co-investor with the management, and they are quite often the people who can sense when it is the best time to sell a business. So, it's quite difficult to manipulate things, to hold investments to pay dividends, when in fact the right time to exit is when the company can demonstrate to a buyer that it's growing fast, and therefore they will pay a high multiple to buy the business.
Is the Mercia deal going to change the way you invest in the future?
No, definitely not. A great deal of the negotiation with Mercia was about NVM's VCT team being able to continue to meet the investment strategy agreed with the VCT boards, to build a diversified portfolio. And both Mercia and ourselves want to go out and generate independent deal flow, alongside the deal flow we get from Mercia. The way I would describe it is that it's business as usual, but better.

So, Tim – if I'm going to invest in a VCT this year, why should I consider the Northern VCTs?
If I were you I would consider the Northern VCTs for a number of reasons. One is our consistent track record of the investment processes that we have been deploying delivering returns to our shareholders. You'll be buying into a portfolio of companies which, in the case of the mature businesses have good prospects for divestment and therefore support the dividend, and in the case of the new portfolio, contains some exciting opportunities.
Wealth Club aims to make it easier for experienced investors to find information on – and apply for – tax-efficient investments. You should base your investment decision on the provider's documents and ensure you have read and fully understand them before investing. This review is a marketing communication. It is not advice or a personal or research recommendation to buy the investment mentioned. It does not satisfy legal requirements promoting investment research independence and is thus not subject to prohibitions on dealing ahead of its dissemination.
This article tagged with:
Northern VCTs – Share offer
Read our review, download documents and apply online
Go to offer page