Will the tax raid on high earners boost the rise of EIS?
Archived article
Archived article: please remember tax and investment rules and circumstances can change over time. This article reflects our views at the time of publication.
A record £1.7 billion was invested in the Enterprise Investment Scheme (EIS) in the 2014/15 tax year – an uplift of £90 million on the previous year. 3,130 companies benefitted from EIS funding and investors received up to £489 million in rebated income tax. 
In total, over £14 billion has been invested in almost 25,000 companies since the introduction of EIS in 1993/94 and EIS has become key in helping smaller companies develop. 
In turn, UK taxpayers who invest in EIS benefit from the generous tax breaks on the way in, and tax-free returns on the way out. 
Will the popularity of EIS continue? 
It's reasonable to assume so. It seems likely that new restrictions on conventional tax-efficient investment routes might push even more investors to consider EIS this tax year. 
New pension restrictions
How much an individual can contribute tax efficiently to pensions each tax year has fluctuated regularly. 
As recently as 2011/12 tax year, it was as much as £255,000. Today though, it's £40,000 for the majority of investors but may be as little as £10,000 for some high earners. 
The maximum tax relief an additional-rate taxpayer is able to receive on a pension contribution of £10,000 is £4,500 – 75% less than on a contribution of £40,000. 
Moreover, the lifetime allowance (the maximum that can be held tax efficiently in pensions) was reduced again in April 2016. 
Under George Osborne the lifetime allowance has nearly halved from £1.8 million to the current £1 million. Any excess can be subject to a punitive tax charge of as much as 55% when you draw benefits.
Please remember: whether you might be affected by these rules and how depends on your circumstances and tax rules can change.
Download our short free guide to the new pension rules
Buy-to-let changes
A number of punitive tax hikes impact buy-to-let investors. 
A 3% stamp duty surcharge for anyone purchasing a second home or buy-to-let property came into force on 6 April 2016. 
Moreover, higher and additional taxpayers will begin to face restrictions on tax relief on buy-to-let mortgage interest. Changes will be rolled out from 2017 through to 2020.
Up to now, buy-to-let investors have been able to claim tax relief on their mortgage interest payments at their marginal rate of tax. So a basic-rate taxpayer would get 20% tax relief, but higher and additional-rate taxpayers could receive 40% and 45% respectively.
When the new rules come in, tax relief will be a flat rate of 20% for everyone, irrespective of the rate of tax they pay. So those on higher incomes will find themselves losing much more in mortgage interest payments. If your mortgage is £750 per month, the change could result in an additional £1,800 in tax per year for a higher rate taxpayer and £2,250 for an additional rate taxpayer.
New dividend tax
The new dividend tax could add thousands of pounds to your tax bill.  
There's a new a £5,000 tax-free allowance. However any dividend income above £5,000 will be taxed at 7.5% for basic-rate taxpayers, 32.5% (previously 25%) for higher-rate taxpayers and 38.1% (previously 30.56%) for additional-rate taxpayers.
This mean a substantially greater tax bill on their dividend income (which many business owners take in lieu of a salary).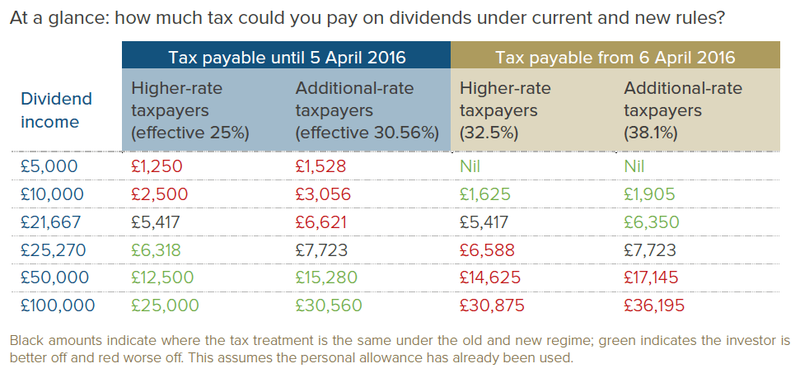 So what could investors consider doing?
The above changes are likely to fuel the growth of EIS, Venture Capital Trusts (VCTs), and Seed Enterprise Investment Schemes (SEIS). 
They all allow investment in small, potentially fast-growing companies. The Government is keen to encourage such investment as small companies are seen as being good for the economy and job creation. 
To encourage people to invest the government offers very generous income tax relief – of between 30% and 50%. In addition investment in EIS allows investors to defer a capital gain potentially indefinitely whilst SEIS allows investors to wipe out half a capital gain completely.
Please note though investing in VCTs, EIS and SEIS is high risk and not for everyone. Tax benefits depend on circumstances and tax rules can change. Before investing please see the Risks and Commitments.
Wealth Club aims to make it easier for experienced investors to find information on – and apply for – tax-efficient investments. You should base your investment decision on the provider's documents and ensure you have read and fully understand them before investing. This review is a marketing communication. It is not advice or a personal or research recommendation to buy the investment mentioned. It does not satisfy legal requirements promoting investment research independence and is thus not subject to prohibitions on dealing ahead of its dissemination.