Review: Octopus AIM VCT and Octopus AIM VCT 2
Archived article
Archived article: please remember tax and investment rules and circumstances can change over time. This article reflects our views at the time of publication.
NEW OFFER: this is a £30 million fund raise for the Octopus AIM VCT and Octopus AIM VCT 2 (together the Octopus AIM VCTs). Investors will have exposure to a well-established portfolio of maturing and profitable AIM companies plus earlier-stage businesses from newer investments. 
These are two of the longest-running and largest AIM VCTs around, which could have advantages. The manager compares this to boarding a train that has already started to move. Investors could benefit from the fruits of successful investments from earlier fundraises, when VCT rules were less restrictive – although of course there are no guarantees. 
Highlights
Access to a maturing portfolio of around 70 AIM companies

Raising £30 million with an over-allotment facility of £10 million
£3 million raised in the first two weeks alone
Well-resourced and highly experienced team 

5% annual dividend target (variable, not guaranteed)

Consistent and long-term dividend history

UK's largest VCT provider

Minimum investment £5,000
The opportunity
Octopus AIM VCT launched in 1997. Octopus AIM VCT 2 was launched in 2005. Investors can choose one or the other or split their investment between them. Both invest alongside each other.
Investors in these two AIM VCTs benefit from a diverse portfolio of around 70 companies, many established, and some newer ones, run by a very experienced team.
Combined the VCTs have over £180 million of assets. The first VCT has 74 holdings and the second has 73. Over 80% of the portfolio is invested in profitable companies across both VCTs.
The manager
The AIM VCTs are run by the Octopus UK Smaller Companies team, which manages more than £1.3 billion in AIM investments across all Octopus products. 
The name perhaps gives it away, but smaller company investing takes up 100% of the team's time.
Between them, the team of eight have industry experience of more than 130 years. This size and experience gives them good deal flow and the resource (perhaps unrivalled in the industry) to scour AIM for what they consider to be the best investments. There are few AIM deals they don't see.
It is a team that has worked together for 10 years. It includes Richard Power, Andrew Buchanan and Kate Tidbury. They aren't reliant on one single individual, and scrutinise all decisions on a team basis.
They conduct more than 500 meetings a year with investee companies or prospective ones, and look at a whole range of companies with a market capitalisation ranging from £5 million to £100 million at the time of investment.
In total Octopus manages over £6.1 billion of assets and is the UK's largest VCT provider.
Target return
Octopus AIM VCT seeks to pay annual dividends of 5p per share or a 5% yield, whichever is greater.
Octopus AIM VCT 2 seeks to pay 3.6p per share annually or a 5% yield, whichever is greater. 
Dividends are variable and not guaranteed.
Capital growth is also an aim of both VCTs, although there is no specific target.
Strategy
The managers will consider all qualifying sectors for new investments.
When investing new money, Octopus is ideally looking for businesses at their last round of funding before reaching self-sustainability or profitability. Whilst a new investee company doesn't need to be profitable at the time of the investment, the team expects it to be profitable within two years. Biotech sector was key for new deals recently, but this isn't a biotech-focused fund, where outcomes tend to be binary. The managers treat the biotech sector with caution and tend to look for a healthcare angle as well when investing new money.
The team is willing to hold investments for the long term, providing they see the business has potential to grow. Some of the investee companies have been held in the portfolios for more than a decade.
Example holdings
One of the biggest holdings of both VCTs is Quixant plc. Quixant designs and manufactures advanced PC based computer systems and other equipment for the gaming industry. It listed on AIM in 2013 and includes some of the world's premier gaming companies among its clients. The group has operations in Italy and Taiwan. 
Breedon Aggregates is another major holding. It is the UK's largest independent construction materials group. It supplies a diverse range of products to the construction and building sectors from a number of quarries and other sites throughout England and Scotland. The company was founded in Breedon on the Hill in Leicestershire, where stone has been quarried since the late 1800s. Breedon recently completed the acquisition of Hope, doubling the size of the business and giving it a coveted cement railhead into London. It now employs 2,300 people worldwide. 

An example of a holding that isn't going so well

There will inevitably be some deals that don't work out. We asked the fund manager for an example. 
Kate Tidbury cites the case of Fusionex International, which is held by both VCTs. Fusionex is a visualisation software company specialising in big data and analytics. It listed on AIM in 2011. Business has been going well to date, and the company had made sales to international border control authorities and won a multi-million-dollar contract with an Asian insurer. However in May 2017 Fusionex has decided to delist from AIM. Its share price has fallen significantly since.
Exit strategy
As with other investment decisions, the decision to sell is a team one. This may be on a partial exit basis, as the share price of an investee firm moves, or it may be because the team feel the business has run its course. They will monitor the VCTs' holdings and where any one investment becomes too large, for instance around 6%, they will "take the top" off and liquidate investments, to maintain balance.
Performance
The share price total return of the two VCTs, plus the FTSE All Share and FTSE AIM All Share, is shown below. Source: Octopus investments, includes estimated data. Past performance is not a guide to the future.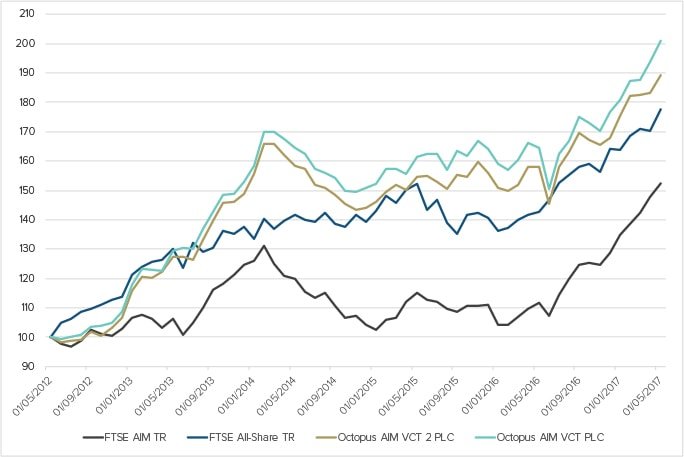 Discrete 12-month performance to 30 April (%)
| | | | | | |
| --- | --- | --- | --- | --- | --- |
| | 2013 | 2014 | 2015 | 2016 | 2017 |
| Octopus AIM VCT Share Price Total Return | 20.29% | 36.54% | -6.95% | 6.61% | 16.60% |
| Octopus AIM VCT 2 Share Price Total Return | 20.26% | 32.44% | -7.41% | 5.37% | 15.81% |
| FTSE All-Share (Total Return) | 17.83% | 10.52% | 7.48% | -5.69% | 20.14% |
| FTSE AIM All-Share (Total Return) | -8.26% | 17.33% | -7.25% | -2.08% | 34.53% |
Source: Octopus Investments. VCT share price performance includes reinvested dividends. Past performance is not a guide to the future.
Dividend history
60% of the portfolio is invested in companies that are already paying dividends. 
The history of dividends is shown below.  The spike in the summer of 2015 was due to the payment of a special dividend following the take-over of Advanced Computer Software by a U.S. private equity firm.  
Please note, dividends are not guaranteed and past performance is not a guide to the future.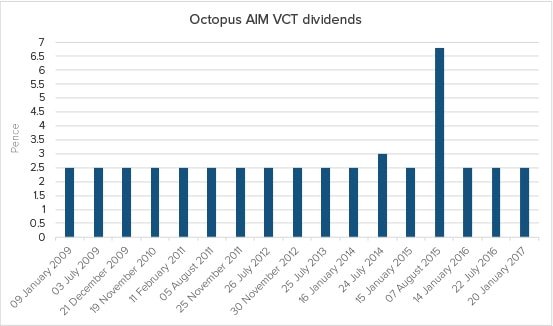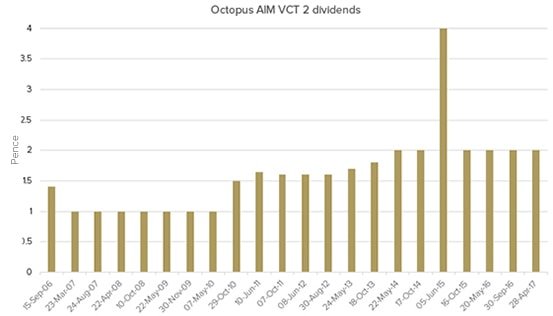 There is a Dividend Reinvestment Scheme which allows shareholders to automatically reinvest future dividend payments in new ordinary shares, if desired.

Risks
VCTs are high risk investments and are not suitable for everyone. Investors should not invest money they cannot afford to lose. Tax benefits depend on individual circumstances and tax rules can change. Please remember capital is at risk. Although AIM stocks are likely to be easier to sell than unlisted shares, they should still be regarded as illiquid.
Fees
The initial charge (usually 5.5%) is 3% to Wealth Club investors. There is a 1% loyalty bonus for existing Octopus VCT investors. The annual management fee is 2%. There is no performance fee. There is no cap on the total annual charges, however as the VCTs have grown in size total costs have fallen. In the last financial year the annual running costs were 2.3% which is relatively low for this sector. However, investors should note these costs are uncapped (many other VCTs have a cap on these).
The VCTs operate a share buy-back facility of up to 10% of the share capital annually, at a discount of 5% to net asset value.
Summary
These are large and well-established AIM VCTs. Octopus' team is the largest manager of AIM investments across VCTs and other tax efficient investments. The team's size in this market gives them early access to potential new qualifying deals. There are few AIM opportunities that the team don't see. These VCTs were created under the oldest and least restrictive rules, allowing investors the potential to benefit from an profitable and maturing AIM portfolio. 
This review is not intended to be advice or a personal recommendation to buy the investment mentioned, nor is it a research recommendation. Wealth Club aims to highlight investments we believe have merit, but investors should form their own view on any proposed investment and read the provider's documents carefully.

This article tagged with:
Apply for the Octopus AIM VCTs
Download offer documents & application form here
Go to offer page