Three VCTs about to run out
Archived article
Archived article: please remember tax and investment rules and circumstances can change over time. This article reflects our views at the time of publication.
Just this week, I received an email from Bill Nixon, manager of the Maven VCTs. He warned me his VCT is just about to reach capacity for this year. He's not the first nor, I expect, will he be the last to raise this concern. 
Previously, venture capital trusts would normally only fill up in March. This time, by December investors had already poured 53% more into VCTs than in the previous year. 
Which VCTs are about to run out?


Maven Income & Growth 6 VCT – only £1.7 million left
Led by Bill Nixon, with a strong and credible management team
Nationwide coverage – something slightly unusual in the London-centric VCT world, which gives Maven an edge on regional knowledge and opportunities
A relatively small VCT, which punches considerably above its weight
In 2016, Maven sold Dantec, which makes composite hoses, for a total return of 2.1x and Nenplas, a plastics manufacturer, for a 5x return. Please remember past performance is not a guide to the future
Progressive dividend policy rather than a set target 
Minimum investment: £5,000
NAV total return performance Source: Maven. Total return per share as at 31 March in each year, except 2017 which is at 30 September 2016. Past performance is not a guide to the future.


Unicorn AIM VCT – around £4 million left
Multi award-winning VCT – the most popular of its kind – led by star manager Chris Hutchinson
Invests in the 'Blue Chip' of AIM, e.g. Abcam Plc, Tracsis Plc and Mattioli Woods Plc

Approximately 75% of the portfolio companies are profitable and the majority generate enough cash to allow for the payment of dividends
Top performing – paid dividends per share of 6.25p, 6p, and 6p in the last three financial years. Past performance is not a guide to the future and dividends are not guaranteed
Minimum investment: £2,000
NAV plus cumulative dividends paid per share (p)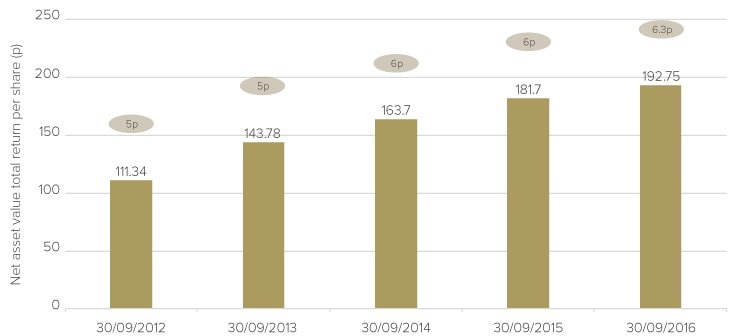 Source: Unicorn Asset Management. Past performance is not a guide to the future. 


Albion VCTs – already using the over-allotment facility (£10 million across five VCTs)
Six VCTs (one has already sold out) investing in a diversified portfolio of around 65 businesses with assets valued over £300 million
One of the largest VCT managers
In the past twenty years the Albion VCTs have returned £180 million in dividends. Past performance is not a guide to the future
Average target dividend of around 5.7% p.a. – equivalent to 8.2% on net cost after tax relief. Dividends are not guaranteed and tax rules can change
54% invested in asset-backed companies across the VCTs
Minimum investment: £6,000 across the VCTs

Why are they running out?
It's a textbook case of increased demand and lower supply. A raft of tax changes is starting to bite: new restrictions on pensions and buy-to-let, plus the new dividend tax mean more investors than ever are looking for alternative ways to invest and save tax. At the same time, the rules on where VCTs can invest are stricter, so there's short supply. 
In a couple of weeks, these VCTs may well be gone. So, if you want to invest this tax year, save up to 30% tax and receive tax-free dividends, consider acting now. 
Remember, tax benefits depend on circumstances and tax rules can change.
---
This article, like our service, is not advice, so if you're unsure an investment is right for you, please seek advice. VCTs invest in smaller companies, so they could be more risky and illiquid than mainstream investments. You could get back less than you invest. To retain the tax benefits you must hold the VCT for at least five years, and the investments must remain qualifying. 
Wealth Club aims to make it easier for experienced investors to find information on – and apply for – tax-efficient investments. You should base your investment decision on the provider's documents and ensure you have read and fully understand them before investing. This review is a marketing communication. It is not advice or a personal or research recommendation to buy the investment mentioned. It does not satisfy legal requirements promoting investment research independence and is thus not subject to prohibitions on dealing ahead of its dissemination.