Acamar Films EIS (Bing)
Bing: rare opportunity to invest in chart-topping TV children's character on a journey to global success
Lovable children's TV character Bing appears to be on his way to becoming a global children's icon, potentially following in the steps of Peppa Pig and Winnie the Pooh – with all the global licensing potential that entails.
Bing first appeared on BBC's preschool channel CBeebies in 2014, and in just six years has become the number one most requested pre-school show on BBC iPlayer – and built a large international audience.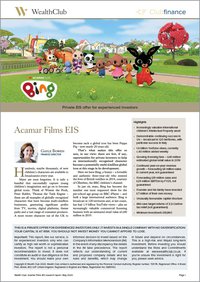 Bing is now broadcast in 120 territories and, at the last count, has had over 1.9 billion YouTube views – plus an increasingly valuable commercial licences business with an estimated retail value of £40 million in 2019.  
Currently, approximately 40 million new YouTube views of Bing content are being added each week. The size of Bing's audience and the speed of its audience growth suggests Bing could be on a very exciting trajectory (although there are no guarantees).

Remarkably, Bing is still privately owned by EIS-qualifying Acamar Films Limited.
To deliver its ambitious growth plan to develop Bing into a global icon, Acamar intends to raise £25 million of new investment over the next two to three years.
The first EIS tranche of this investment programme is now open and is overfunding, having raised more than £3 million. 
The mid-case target return is 3.2x (high-case 5x) before tax relief – not guaranteed.
In this round, Acamar Films continues to offer a capital structure (including a 60% premium on exit) which could be attractive for EIS shareholders. It could mean that even if the Company achieved an exit without any uplift on the current valuation, EIS investors could still achieve a 2x return before tax relief – see the information memorandum for details.
The minimum investment through Wealth Club is £19,860 and you can prefill your application online.
Important: The information on this website is for experienced investors. It is not advice nor a research or personal recommendation to invest. If you're unsure, please seek advice. Investments are for the long term. They are high risk and illiquid and can fall as well as rise in value, so you could get back less than you invest.
Read important documents and apply
Highlights
Increasingly valuable international children's Intellectual Property asset 

Demonstrable continuing success in UK – broadcast in 120 territories, with particular success in Italy
1.9 billion YouTube views, currently c.40 million added weekly
Growing licensing fees – £40 million estimated global retail value in 2019
Continued year-on-year revenue growth – forecasting £8 million sales in current year, not guaranteed
Forecasting £81 million sales and £29 million EBITDA by FY25, not guaranteed
Founder and his family have invested £7 million of their own money
Unusually favourable capital structure
Mid-case target returns of 3.2x before tax relief (not guaranteed)
Minimum investment £19,860
Single company EIS, high risk with no diversification
The offer
Proven and growing IP assets such as Bing are rarely majority owned by independent private companies. In our view, it is unusual to have the opportunity to invest in an asset of this type mid-stream. 
At a pre-money valuation of £100 million, the Company aims to raise £3 million under EIS by issuing 302,114 B Investor Premium NV shares at £9.93 per share. 

Bing's journey so far has been financed by Acamar's CEO and his family, who have invested approximately £7 million, along with over £20 million from other private investors, without major investment from any trade partners. This means Acamar retains full control of its IP rights and therefore an entitlement to 98% of its revenues after payments to source rights and key talent pre-recoupment of project equity investment, potentially creating significant shareholder value.
Since launching its last EIS funding round in May 2019, the Company has completed the production of an additional 26 Bing episodes, launched its proprietary mobile app Bing: Watch, Play, Learn, entered new markets, achieved significant revenue growth and delivered EBITDA ahead of forecast.
Now embarking on its next stage of growth, Acamar aims to deploy new funding towards replicating its success in the UK and Italy in new markets – including more broadly across Europe, the USA, Latin America and Asia – along with further developing content and digital capabilities.
In our view, the prospects for Bing are significant if it can continue to build on its successes to date. So far, it has grown both revenues and audience and, importantly, delivered on forecasts.

However, should things not go entirely to plan, investors in this round could benefit from the premium on exit on this class of share. 
In our view, this offers a high-quality IP asset on an exciting journey that could have the potential to be the next Peppa Pig, as well as the comfort that even if the company achieved an exit with no uplift on the current valuation, experienced investors could still potentially double their money. Returns are not guaranteed: capital is at risk.

The business
Acamar is an independent film and television production company based in Camden, London, co-founded by CEO Mikael Shields. Acamar owns the rights to and co-produces children's TV show Bing. Acamar registers and maintains all trademarks, copyrights and other intellectual property.
The character of Bing was adapted for television from an insightful series of children's books, Bing Bunny, written and illustrated by Ted Dewan. Acamar spent many years researching and developing the characters' stories and the world around Bing. The TV series, co-produced with Dublin-based partners Brown Bag Films, is a collection of preschool animated episodes that 'dramatise the big stories in life's small moments' in a way that resonates with all children. Bing celebrates the noisy, joyful, messy reality of preschool life.
In the UK, Bing is a chart-topping success, producing and delivering high-quality content across broadcast TV, digital platforms like YouTube, and its proprietary mobile app.
With over 100 episodes of Bing and a four-year deal with the BBC under its belt, Bing remains the most requested show on the BBC iPlayer with over 450 million lifetime streams. Bing ranked number nine on BBC iPlayer's top programmes of 2018 (ahead of the FIFA World Cup quarterfinal), and during Christmas 2019 Bing ranked number four.
Digital revenues have continued to show rapid growth from last year. The mobile app Bing: Watch, Play, Learn has been downloaded by over 300,000 people since its launch in 2019. More development is taking place – aiming to include educational games and songs, as well as developing foreign language versions.
The growing awareness of the Bing brand has made it possible to develop an increasingly valuable strategic rights business. Last year, Bing-licensed products sold for an estimated global retail value of £40 million, from which the Company earned £1.7 million in royalties.
Acamar's strategic rights revenue is forecast to grow significantly in this current year – not guaranteed.
Global health crisis impact
While the long-term growth strategy remains unchanged, in the short term costs have been intentionally scaled back or deferred where possible to protect the Company's staff and long-term future. An estimated £2.1 million of cost savings for the FY20 forecast have been identified and implemented, while up to £2.3 million of other expenditure including capital expenditure can be deferred until next year. There have been challenges, such as the closure of cinemas, theme parks and retail outlets, as well as an interrupted supply chain from China, which have impacted sales. However, there are also significant digital opportunities, indicated by the 25% increase in YouTube views (March-April vs January-February) and increased downloads of the Bing app. Overall, at this stage, the Company is not able to ascertain if there will be a material financial impact on the short-term revenue forecasts because of the pandemic, but it will continue to review the situation carefully and make adjustments as necessary.

International audience
Bing is currently broadcast in 120 territories including Italy, Benelux, Poland, Nordic countries, the Czech Republic, Spain, Portugal, Russia and Indonesia. Additionally, it has 2.3 million subscribers across 19 official language-specific YouTube channels.
In Italy, where the show was launched in February 2018, Bing has proved a particular success. Two TV channels air the show up to 45 times a day in total and it is the number one requested series on the CBeebies-equivalent RaiPlay Yoyo mobile app.
Bing has over 500 million views on YouTube in Italy.  In addition, there are 40 licensees, which generated over €25 million in retail sales value last year.
The Company has agreed commercial terms for a long-term deal with the largest Italian theme park for young children, Leolandia, for a dedicated Bing-themed area, expected to open in 2023.
Penetration into the USA market is a key priority for 2020
Acamar is in the process of creating a bespoke American version of Bing, so when Bing launches it will feel local and authentic to the American audience. Negotiations with a major US children's television partner continue towards securing a media broadcast deal in the USA. The Company is also pursuing partnerships with mobile, SVOD and AVOD platforms.
Management
Mikael Shields, Founder & CEO, is well connected in children's media production both in the UK and abroad, including the US. Mikael has led creative teams in senior roles at the BBC, EVA Entertainment, Pearson Television, Atom Films, Ealing Studios and now Acamar Films.
Over an award-winning career spanning 30 years, Mikael has established an international reputation for identifying and producing a wide range of hit film and television projects – including Nick Park's Oscar-winning Wallace & Gromit, Pingu, BAFTA-winning Hilltop Hospital, the multi-award-winning Flatworld and Aardman Animation's Rex The Runt. 
Before launching Bing, Mikael spent years developing and perfecting the characters and storyline. Mikael and his family have invested significant capital to date. Mikael is responsible for strategy, content and overall company success.
Sandra Vauthier-Cellier, CCO, has held senior positions at 4Kids Entertainment International and Fox. At Fox she oversaw the Fox Consumer Products London office, managing an extensive portfolio of key brands including Ice Age, The Simpsons, Alvin & The Chipmunks, Avatar, Family Guy, 24 and Marilyn Monroe. At Acamar, Sandra is responsible for the licensing, marketing and promotions teams.
Julie Fitzjohn, COO, is a qualified chartered accountant – having started her career at KPMG in the Financial Services Audit division – and has worked for the last 20 years in the media industry, holding senior roles at Universal Music, Sony Music UK, Global Talent Group (now Global Radio) and Metropolis Group. Julie heads the finance team.
The CEO, CCO and COO are supported by a highly skilled senior and second-tier management teams who draw their significant industry experience from previous roles at major media companies and franchises such as 20th Century Fox, Warner Bros. DHX Media and the BBC.
Target returns
Acamar is expecting to deliver £8 million sales in the current financial year, growing to £42 million by FY23 and £81 million by FY25, generating EBITDA of £29 million (not guaranteed). Predicated on achieving these forecasts, investors in this round could achieve mid-case returns of 3.2x before tax relief after three to five years (not guaranteed). The high-case target return is 5x before tax relief. 
Should things not go entirely to plan, investors can benefit from the capital structure with a premium on exit. Investors in this round could still achieve returns of 2x before tax relief even if the valuation on exit did not exceed this current round pre-money valuation of £100 million. Indeed, the equity value would need to fall below £50 million for investors to start losing their capital based on the current capital structure.
Exit options
As with all EIS companies, there is the option of a trade sale, a sale to another investor, refinancing or a stock market listing. Finding a strategic partner to take Bing global is an option. Bing is already a successful independent pre-school brand and could be highly attractive. Exit options and timeframes are not guaranteed. Note: if the Company did achieve an early exit, this could affect EIS tax relief. 
Risks – important
This, like all investments available through Wealth Club, is only for experienced investors happy to make their own investment decisions without advice.
EIS investments are high risk so should only form part of a balanced portfolio and you should not invest money you cannot afford to lose. They also tend to be illiquid and hard to sell and value. 
Before you invest, please carefully read the Information Memorandum which contains further details on the considerable risks, alongside the Wealth Club Risks and Commitments.  
This is a single company EIS offer with no diversification. It involves investing in an early-stage business which is by nature high risk and prone to failure. You could lose the amount you invest.
The value of tax benefits depends on circumstances and tax rules can change.
Fees
Investors are investing in the Company directly so will pay no direct initial or ongoing charges.
Acamar will pay an introducer fee to Wealth Club of 6% of funds raised. There is a performance fee of 10% on returns over 2x before tax relief. This is paid to Wealth Club out of proceeds due to the investor and is facilitated by Acamar on exit (e.g. Company sale). Please see the offer documents for more details on fees.
Our view
Since we first met the Company two years ago, we have been consistently impressed by the Management team. So far, they have done what they said they were going to do.
Under the leadership of Mikael Shields, the management team runs this business with great care, skill and passion and has achieved significant success. They appear ready to take a big leap forward. That said, the SCALE forecast is a higher-risk strategy than before because it requires significant investment in people and infrastructure to deliver the planned rapid growth but could deliver improved returns.
In our view, Bing is becoming an increasingly valuable, international children's Intellectual Property asset. There are very few comparable assets available to private investors in this way. It is managed by an exceptional team. The capital structure (including a 60% premium on exit) could be attractive for EIS shareholders. This could mean that even if the Company achieved an exit at the same valuation as this funding round, without any uplift, investors could still potentially double their money, although there are no guarantees and you should form your own view.
Register your interest – no obligation
All representations, statements and/or opinions made or expressed in relation to Acamar Films Limited (the Company) on this page and in any other medium by Wealth Club Limited (Wealth Club) with respect to the Company are those of Wealth Club only and are not made by the Company nor any of its directors, offices, employees or advisers. Any financial information or forecasts that are referred to on this page and in any other document prepared by Wealth Club have been taken from the Information Memorandum as approved by the Company, although are in summary form only and you should refer to the Information Memorandum for more detailed information.

Wealth Club aims to make it easier for experienced investors to find information on – and apply for – tax-efficient investments. You should base your investment decision on the provider's documents and ensure you have read and fully understand them before investing. This review is a marketing communication. It is not advice or a personal or research recommendation to buy the investment mentioned. It does not satisfy legal requirements promoting investment research independence and is thus not subject to prohibitions on dealing ahead of its dissemination.
The details
Type

Single company

Sector

Media

Target return

3.2x

Funds raised / sought

£3.0 million / £3.0 million

Minimum investment

£19,860

Deadline

28 Aug 2020 for next allotment
Downloads