Adapttech EIS
Update – overfunding, final close 31 January
Existing institutional investors Mercia Asset Management ("Mercia"), Angel CoFund ("ACF") and Wren Capital have increased their level of investment. As a result, the current round is now fully subscribed, having reached its £1.5 million target.
The Company is now overfunding with Wealth Club but with limited capacity. The final close is on 31 January 2022. Applications will be processed on a first-come, first-served basis.
Co-invest with Mercia: follow-on round for biomedical company aiming to disrupt prosthetics market in Europe and US
Several millions of people globally have to wear prosthetics, having undergone limb amputations as a result of disease or trauma. In Europe and North America, there are an estimated 6.5 million lower-limb amputees, expected to double by 2050. The US alone represents 50% of a global Orthotic & Prosthetic market valued at c.$2.15 billion in 2020 and growing at an around 5.5% p.a.

Biomedical innovator Adapttech Ltd ("Adapttech" or "the Company") has developed IP-rich technology enabling clinics to fit lower-limb prosthetics in half the time (weeks instead of months) and far more precisely – eliminating pain caused by ill-fitting prosthetics, a prevalent complaint.
In 2020 the Company launched its award-winning, proprietary INSIGHT system, comprised of 3D scanning, wearable pressure sensors and an iPad app. Management believes INSIGHT is the only technology to successfully combine 3D scanning with internal pressure visualisations, and the only product of its kind ready for wide scale clinical rollout. The system has a CE mark and FDA approval as a Class 1 medical device.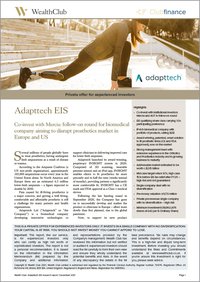 Following its last funding round in September 2020, Adapttech has gone on to successfully market the product to clinicians in Europe – albeit more slowly than first planned, due to the global pandemic. 
Now to support new product development and sales growth in Europe and the US, Adapttech is raising £1.5 million under EIS. 
The round has now been fully funded, with existing institutional investors Mercia Asset Management ("Mercia"), Angel CoFund ("ACF") and Wren Capital increasing their original commitment. The Company is now overfunding with Wealth Club but with limited capacity. The final close is on 31 January 2022.
In addition to the above, the Company has secured a €790k non-dilutive grant. Management expects this, together with funds raised in this round, to provide a 24-month cash runway. Subject to achieving key milestones, the Company may then launch a further round of fundraising to accelerate its expansion.
If all goes to plan, the Company forecasts to become cash generative in FY24, generating revenues of £24.6 million and EBITDA of £7.5 million by FY25. This could deliver mid-case returns to investors of 9.7x before tax relief – high-risk, and forecasts and timeframes not guaranteed.
Important: The information on this website is for experienced investors. It is not advice nor a research or personal recommendation to invest. If you're unsure, please seek advice. Investments are for the long term. They are high risk and illiquid and can fall as well as rise in value, so you could get back less than you invest.
Read important documents and apply
The deal at a glance

| | |
| --- | --- |
| Type | Single company EIS private offer |
| Stage | Follow-on round |
| Date started trading | 2015 |
| Funding to date | £3.6 million including £0.6 million from Wealth Club in September 2020 and €0.8 million in non-dilutive grant funding |
| Co-investors | Mercia Asset Management, Bionova Capital (previously known as Hovione Capital), Wren Capital, ACF |
| Sector | Biomedical |
| Fully diluted pre-money valuation | See research report |
| Market size | Global Orthotics & Prosthetics market worth $2.15 billion in 2020 |
| Business model | B2B |
| Revenue to date | Forecast revenues of £0.1 million to December 2021 |
| Revenue model | Licence sales and smart consumables |
| Profitability forecast from | FY24 |
| Forecast revenue in FY25 | £24.6 million |
| Forecast EBITDA in FY25 | £7.5 million |
| Target return in FY25 | 9.7x mid-case |
| Target IRR | 76% IRR |
Projections and targets are for illustration only and are not guaranteed
Highlights
Co-invest with institutional investors Mercia and ACF in follow-on round

EIS qualifying share class carrying 1.0x participating preference
IP-rich biomedical company with portfolio of products, selling B2B
Award-winning, patented, smart solution to fit prosthetic limbs (CE and FDA approved), now on the market
Strong management team with extensive experience in the Orthotics and Prosthetics industry and in growing business to maturity
Addressable market estimated to be worth c.$2.15 billion 
Mid-case target return 9.7x, high case 15.1x before EIS tax relief after FY25 – high risk and not guaranteed
Single-company deal with no diversification
Private pre-revenue single company with no diversification – high risk 

Minimum investment for new investors £19,992 (476 shares at £42 per B Ordinary Share) – there is no minimum for existing shareholders
The overview provided on this website is based on the information available in the Information Memorandum prepared by the Company and additional information and representations provided by the Management upon request. Wealth Club has reviewed the information provided but not verified or audited it. Please read the offer documents carefully to form your own view and ensure you wholly understand the potential benefits and risks.

What does Adapttech do?
Adapttech was founded by CEO Frederico Carbinteiro and his co-founder, Mario Espinoza, out of two merged research projects at the University of Porto, Portugal. The founders were respectively developing an internal scanner for prosthetic sockets and pressure sensors for foot insoles. 
Adapttech is an EIS-qualifying, biomedical innovation company headquartered in Birmingham (UK), with an R&D facility in Porto (Portugal) and sales office in South Carolina (USA). 
Following eight years of R&D and £3.6 million of venture capital and €0.8m grant funding, in August 2020, Adapttech launched its initial product, INSIGHT – an award-winning patented smart solution to fitting prosthetic limbs. Using a combination of 3D scanning, wearable pressure sensors and an iPad app, Adapttech's INSIGHT system allows clinics to fit prosthetics far more precisely and in half the time, whilst giving patients a better, more comfortable fit.
The Company currently has patents in the US and Europe for INSIGHT Sensors and INSIGHT Digitizer, with two pending patents for products in development. These sit alongside trademarks registered on 'Adapttech' and 'INSIGHT'.
To accompany the ready-to-market INSIGHT system, the Company is currently developing three other products to deliver value to clinics and patients from initial consultation through to the building and ongoing use of a prosthesis.
How does the INSIGHT system work? Video produced and published by Adapttech (Oct 2019)
Risks – important 

This, like all investments available through Wealth Club, is only for experienced investors happy to make their own investment decisions without advice.
Before you invest, please carefully read the research report and the full investment documentation – including the Information Memorandum which contains further details on the considerable risks, alongside the Wealth Club Risks and Commitments.
This is a single company private offer with no diversification. It is an early-stage, loss-making business. You could lose the amount you invest.
Remember, any kind of early-stage investing is very high risk. If you invest in ten different early-stage companies, you should expect some to fail, some simply to return capital, and only one or two to do well, in some cases outweighing the losses of the others.
Structure and fees
Investors are investing in the Company directly via a nominee structure (Woodside Corporate Services Nominees) and will pay no direct initial or ongoing charges. Please read the Nominee Terms and Conditions before applying. 
Please refer to the Schedule of Charges for more details on charges. 

All the services Wealth Club and, where applicable, its subsidiaries provide are governed by the Terms and Conditions of the Wealth Club Services.
Our view
The award-winning, patented INSIGHT system has received a very encouraging and positive reception from clinics in Europe. Adapttech's sales plans were significantly disrupted by restricted travel to the US. With restrictions lifting and fully regulatory approvals received in the US and Europe, the Company should now be able to focus its efforts on proving its product in the US, its largest market – not guaranteed.
The Management and board have significant experience in the sector, commercialising innovative healthcare devices and scaling leading medical device and prosthetics businesses. The board is supported by reputable institutional investors with sector experience. 
In our view, this presents investors with an attractive, albeit high-risk, opportunity to invest now at the current share price alongside financial institutions. Experienced investors should form their own view.
Register your interest – no obligation
Wealth Club aims to make it easier for experienced investors to find information on – and apply for – tax-efficient investments. You should base your investment decision on the provider's documents and ensure you have read and fully understand them before investing. This review is a marketing communication. It is not advice or a personal or research recommendation to buy the investment mentioned. It does not satisfy legal requirements promoting investment research independence and is thus not subject to prohibitions on dealing ahead of its dissemination.
The details
Type

Single company

Sector

Healthcare & Technology

Target return

9.7x (76% IRR)

Funds raised / sought

£1.5 million / £1.5 million

Minimum investment

£19,992

Deadline

31 Jan 2022 for final close