Advanced Commerce EIS
Co-invest with Haatch Ventures, backing founder of £80m Attraqt Group plc in new award-winning B2B SaaS platform helping e-commerce retailers convert browsers to buyers

The e-commerce sector is booming (31% growth in 2020 ), spurred on by the lockdown surge in online buying – but retail websites that can't satisfy the sophisticated expectations of online customers could risk losing sales.
Poorer-performing retailers might see only 2% of website visits convert to sales, and up to 70% of shopping carts abandoned. An estimated 57% of potential customers will abandon a purchase if a page takes more than 3 seconds to load. 
To address this, André Brown, the founder of Attraqt (a successful merchandising platform used by the likes of ASOS, Marks & Spencer and Screwfix; now an £80 million AIM-quoted company), set up Advanced Commerce Limited ("AC" or "the Company") in 2018.
Its aim is to make a similar enterprise-grade merchandising functionality affordable for small and mid-tier retailers – a previously underserved part of the market – helping them convert browsers into buyers, reduce bounce rates, maximise up-sell or cross-sell opportunities, and drive up order values.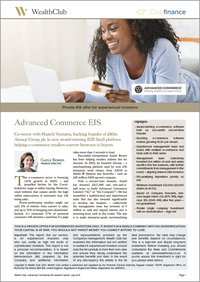 Second-time founder André and his highly experienced management team have invested significantly to develop the business – £1.4 million in cash and unpaid salaries, and more cash again in this round. 
The Company's SaaS platform has seen strong traction since launch in February 2021 – with contracts worth £42k ARR secured, and a current pipeline worth £1 million ARR (not guaranteed). 

To accelerate growth, the Company is now raising £1.5 million under EIS. £360k has been secured: £60k from management and £300k from e-commerce specialist Haatch Ventures. Wealth Club has an allocation of £500k, after which applications will be on a first-come, first-served basis. For the remainder, the Company is in discussion with other private and institutional investors, including one US investor who backed André in his previous venture. 
Based on the Company's forecasts, mid-case target return is 23x (IRR 87%), high-case 35x (IRR 104%) after five years (after performance fees but before EIS tax relief) – high risk and not guaranteed.
Important: The information on this website is for experienced investors. It is not advice nor a research or personal recommendation to invest. If you're unsure, please seek advice. Investments are for the long term. They are high risk and illiquid and can fall as well as rise in value, so you could get back less than you invest.
Read important documents and apply
The deal at a glance
| | |
| --- | --- |
| Type | Single company EIS private offer |
| Stage | Pre-revenue |
| Date started trading | 2018 |
| Funding to date | £1.6 million, including £1 million of salary sacrifice (excluding the current round) |
| Co-investors (new and existing) | Haatch Ventures and private investors |
| Sector | Technology: e-commerce |
| Fully diluted pre-money valuation | £5.5 million (fully diluted £7.5 million) |
| Market size | £17.6 billion addressable market |
| Business model | B2B |
| Revenue to date | £42k contractual revenue expected to be recognised in FY22 |
| Revenue model | Recurring revenue SaaS sales of e-commerce merchandising software |
| Profitability forecast from* | December 2023 |
| Forecast revenue in year 5* | £35 million (FY26) |
| Forecast EBITDA in year 5* | £19.4 million |
| Target return in year 5* | 23x |
| Target IRR* | 87% IRR |
*These are forecast and not guaranteed. Capital is at risk – you could lose the amount you invest.
Highlights
Award-winning e-commerce software built by successful second-time founder 

Booming e-commerce software sector, serving a rapidly growing online retail market (31% growth in the UK)        
Experienced management team and board with multiple e-commerce and SaaS exits to their name
Management team collectively invested £1.4 million of cash and salary sacrifice into the business, with further commitments from management in this round – aligning interest with investors 
EIS-qualifying liquidation priority on exit
Minimum investment £20,800 (40,000 shares at £0.52)
Based on Company forecasts, mid-case target return 23x (87% IRR), high-case 35x (104% IRR) after five years – not guaranteed
Private pre-revenue single company with no diversification – high risk
The overview provided on this website is based on the information available in the Information Memorandum prepared by the Company and additional information and representations provided by the Management upon request. Wealth Club has reviewed the information provided but not verified or audited it. Please read the offer documents carefully to form your own view and ensure you wholly understand the potential benefits and risks.

What does Advanced Commerce do?
Advanced Commerce is a provider of merchandising software for small and medium-sized online retailers. 
AC's platform, GrapheneHC™, helps retailers arrange their products on their websites to maximise results – the e-commerce equivalent of arranging shelf space in a physical store. This can help convert browsers into buyers, reduce bounce rates by taking customers to the products they are looking for (personalisation), plus optimise up-sell or cross-sell opportunities – driving online revenues, higher order values, and lower returns and cancellations. 
The Company was founded in 2018, the second venture in this space by Founder and CEO André Brown. Since then, over £1.6 million of cash and salary sacrifice has been invested to develop GrapheneHC™ – including £837k from founder and CEO André Brown.
GrapheneHC™ was launched in February 2021, and in March 2021 was recognised as one of the Top 10 merchandising solution companies in Europe by Retail Tech Insights. The GrapheneHC™ platform is trademarked in the UK and Europe, and pending in the US. The Company plans to use some of the funding in this round to patent its technology.
GrapheneHC™ has been built with flexible infrastructure – designed to integrate with customers' existing e-commerce software and allow for future integrations with new e-commerce software providers. 
Video produced and published by Advanced Commerce, April 2021.
The new platform's merchandising and e-commerce technology is the best we have seen in the market since founding Haatch.

Scott Weavers-Wright and Fred Soneya, Co-founders, Haatch Ventures
How does the business intend to generate revenue? 
AC sells B2B on a SaaS (software-as-a-service) basis. Customers pay a monthly subscription ranging from £500 - £4,000. There are no set-up costs and customers can choose flexible monthly or annual subscriptions.
The Company only started selling its products earlier this year and so far has signed SaaS contracts worth £42k ARR (expected to be recognised in FY22), with a further 75 in the pipeline, potentially worth £1 million ARR – not guaranteed. 
Customers are targeted in the UK and US across multiple sectors, including Fashion, Home & DIY, Health & Beauty, Sports, Fragrances and Jewellery. 
To date, the Company has acquired customers through outbound marketing, albeit on a limited marketing budget. Post funding, the Company aims to augment this by targeting significant growth through digital agencies – organisations that provide online retailers digital marketing services. The Company currently has three agencies signed up to help enter the US market and an extensive target list of over 300. 
EIS Private offer
AC is raising £1.5 million in this round under EIS. £360k has already been secured from Haatch Ventures (£300k) and management (£60k). Wealth Club has an allocation of £500k. The Company is in discussions with other funders, including an investor who previously backed André; any remaining capacity is expected to be taken up by this group.
A further £3 million of funding will be sought by Q3 2022, potentially at a higher valuation, if the valuation inflexion point of reaching £0.5 million+ signed ARR can be achieved. Follow-on funding from Haatch and other investors in this round is expected if the Company can achieve this milestone. Please note: the timing and the Company's ability to secure this funding and higher valuation are not guaranteed. 

The fully diluted pre-money valuation after options and warrants is £7.5 million. 
Investors will be subscribing for Ordinary C Shares (alongside Haatch Ventures). These shares have been effectively structured to provide the holders with a 1x liquidation preference on exit (called a "Liquidation Priority"). Liquidation preference is the right of an investor to priority in receiving the proceeds from the sale or liquidation of a company. This means holders of this share rank ahead of other shareholders. 
The Company received EIS Advanced Assurance from HMRC in May 2020 and most recently issued EIS certificates to investors in April 2021. 

How does the Company intend to use the funding?
Funding in this round is expected to be used to help grow the sales and marketing team and for further platform development. The Company plans to use some of the funding in this round to patent its technology.
Covid-19 and Brexit impact

The e-commerce market was estimated to be growing c.15% before the pandemic. The pandemic accelerated this growth, with lockdowns forcing many to shop online. UK online retail sales grew 31% during 2020. It is widely expected that growth in online shopping is established and unlikely to go back to pre-pandemic levels, although this is not guaranteed. 
Management will continue to follow EU GDPR requirements and does not believe Brexit represents a material risk to the business. All services can be provided remotely, and the Company's key target markets are the UK/US.
Financials
The Company is currently pre-revenue. It has secured contracts worth £42k to date but these are expected to be recognised in FY22.
Profitability is forecast from December 2023, after which the business expects to become cash-generative, generating total revenue of £35 million and EBITDA of £19.4 million by FY26. These are forecasts and not guaranteed. 
The latest filed accounts with Companies House for the year-ending 31 December 2020 (FY20) show brought-forward losses of £351k.

Exit options
The Company is targeting mid-case returns of 23x (87% IRR), high-case 35x (104% IRR) after five years (after performance fees but before EIS tax relief) – high risk and not guaranteed.
If the business can achieve its plan, Management believes there could be many exit opportunities, including an IPO or trade sale, for example to Microsoft or Adobe. The recurring revenue business model could also make the business attractive to private equity. None of these exit options is guaranteed.

Management 
CEO André Brown leads the executive team. He has over 30 years' e-commerce experience, including 15 years founding, scaling and listing Attraqt Group plc. André led the reverse takeover of Attraqt's main competitor in 2017, before seeing the opportunity to start AC in 2018. By the time André left, Attraqt had over 250 clients – including ASOS, Selfridges, Harvey Nichols, boohoo.com and The North Face. Attraqt has a market cap of £80+ million (July 2021).
CFO Mike Goldsworthy is a qualified chartered accountant and former investment banker at UBS, with 15 years' experience working with VC and PE-backed businesses.
Non-executive CTO Andy Dancer is a serial entrepreneur with a background in e-commerce. Andy has been involved in a number of start-ups and achieved several successful exits as founder/CTO, selling software business WriteWorks to Dialog plc in 1998 for $10.8 million, m2e2 to Crossbow Media in 2002, and Identum Ltd to Trend Micro in 2008. One venture, Innoverne Limited, was not successful. Andy has since taken various non-executive roles supporting technology firms with their growth plans. 
Board of directors
Chairman Ed Ewing has over 25 years' experience in the software industry, starting his career at Apple before moving to scoot.com plc as strategic planning Director. More recently, Ed established the digital division of Boat International Media, establishing it as a leading online marketplace for superyachts. Ed was previously a non-executive Director at Attraqt, alongside André. 
Non-executive Director James Lewis is a former investment banker and M&A partner with over 20 years' experience. James is a partner at boutique corporate finance advisory firm Cairn Financial Advisers and has completed over 45 deals with a combined value of £14 billion. James will chair the audit committee and provides the Company financial advice.
Haatch Ventures was founded in 2018 by four successful entrepreneurs who have between them founded, grown and sold businesses worth over $150 million. The team operates a "smart money" approach, aiming to add considerable value with experience across key sectors, including e-commerce and software as a service.
Fred Soneya will take a board observer position, post investment. Fred previously worked at Kiddicare.com, an e-commerce business founded by Haatch co-founder Scott Weavers Wright. That business grew rapidly before being acquired by Morrisons for £70 million in 2011. In 2014 Fred then invested in another business founded by Scott – e-commerce platform Elevaate – which allowed suppliers and online retailers to manage online promotions. The business was sold four years later for $25.7 million to listed Silicon Valley based Quotient Technology Inc.  
Risks – important 
This, like all investments available through Wealth Club, is only for experienced investors happy to make their own investment decisions without advice.
This investment is high risk so should only form part of a balanced portfolio and you should not invest money you cannot afford to lose. They also tend to be illiquid and hard to sell and value.
Before you invest, please carefully read the full investment documentation – including the Information Memorandum which contains further details on the considerable risks, alongside the Wealth Club Risks and Commitments.
This is a single company offer with no diversification. It involves investing in an early-stage, loss-making business, which is by nature high risk and prone to failure. You could lose the amount you invest.
The financial plan assumes £4.5 million of funding will be required to deliver the plan. Securing funding in this round, or any future funding rounds, is not guaranteed.

Wealth Club does not take a seat on the board so cannot influence the business the same way as is usually the case with institutional investors taking a full board position.

The value of tax benefits depends on circumstances and tax rules can change. 

An exit could take longer than the three-year minimum holding period. Conversely, an early exit could mean loss of EIS tax relief.
Structure and fees
Investors will pay no direct initial or ongoing charges to invest. Fundraising costs are being met by the Company. Wealth Club will be entitled to a performance fee on exit. 
Investors will invest using a nominee structure provided by Woodside Corporate Services Limited, using Woodside's nominee company, WCS Nominees Limited. Please refer to the IM for further details.
Please refer to the Schedule of Charges for more details on charges. 

All the services Wealth Club and, where applicable, its subsidiaries provide are governed by the Terms and Conditions of the Wealth Club Services.
Our view
The founder of AC, André Brown, knows what it takes to build a successful e-commerce software business – having successfully grown his previous venture, which he started from scratch, to one of Europe's leading merchandising software companies. 
AC's software has the potential to disrupt the search and merchandising market for small to mid-size retailers, and is now ready to roll out. If the Company can achieve its plan, high growth SaaS businesses with a proven market fit could potentially sell for attractive multiples – high risk and not guaranteed.
This successful second-time founder and his team have invested a significant amount of time and capital into the business – all motivated to create shareholder value, having interests aligned with those of external investors. The liquidation priority on exit is also an attractive feature of the structure. 
Initial traction from customers and securing investment from e-commerce specialists Haatch Ventures further appears to validate the potential of the business, in our view. 
AC appears to be a high potential – albeit early-stage and high-risk – opportunity with the benefits of EIS. As always, experienced investors should form their own view.
Register your interest – no obligation
Wealth Club aims to make it easier for experienced investors to find information on – and apply for – tax-efficient investments. You should base your investment decision on the provider's documents and ensure you have read and fully understand them before investing. This review is a marketing communication. It is not advice or a personal or research recommendation to buy the investment mentioned. It does not satisfy legal requirements promoting investment research independence and is thus not subject to prohibitions on dealing ahead of its dissemination.
The details
Type

Single company

Sector

Technology

Target return

23x (IRR 87%)

Funds raised / sought

£994,000 / £1.5 million

Minimum investment

£20,800

Deadline

15 Oct 2021 for next allotment