Anaphite EIS
Deadline 8 July, subject to capacity – applications accepted on a first come, first served basis
Co-invest with VCs in cleantech company using graphene to make electric vehicle batteries more powerful, faster to charge and lower cost
Global sales of electric vehicles (EVs) have more than tripled since 2019. By 2035 there will be a ban on all new sales of petrol and diesel cars in the UK, Europe and US, which should see this trend continue. It is estimated 50% of all cars in the US will be electric by 2050 and over 30% globally. 
Currently, the batteries that power EVs still have significant limitations – namely, a high cost of production and long charging times that yield a limited range of use.
Addressing this, Anaphite Limited ("Anaphite" or "the Company") is developing new technology, incorporating graphene into the core battery electrode materials that store energy. This could prolong battery life, improve charging speed, reduce manufacturing emissions and lower production costs. Anaphite is already in trials with a major EV battery gigafactory in Europe, testing its materials in their batteries. 
The Company believes its technology can be "dropped in" to current manufacturing processes – increasing the potential of widescale adoption. Anaphite aims for the technology to be used in commercial EV production by 2028. Note, timeframes and forecasts are not guaranteed.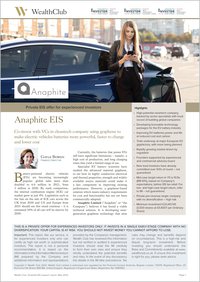 The Company's founders are supported by industry heavyweights such as Chair Dick Glover (former CTO at McLaren). Other existing investors include specialists Zero Carbon Capital and Bristol Private Equity Club (BPEC).
To fund its ongoing progress, Anaphite is now raising £4.0 million under EIS – over £2.5 million has already been committed by new and existing investors. Elbow Beach Capital Limited ("Elbow") is leading the round with a £1.5 million commitment, alongside Deeptech Labs (backed by multi-billion semiconductor company Arm, Cambridge Innovation Capital, Martlet Capital and the University of Cambridge) and Oxford Investment Opportunity Network (OION).
The offer is also available to non Wealth Club members – applications will be processed on a first come, first served basis. 
For experienced EIS investors, investing at this early stage means the rewards could be significant, but so are the risks. 
If the technology is proven at scale, the Company believes it may exit pre-revenue in four to five years. Based on the Company's forecasts, the mid-case target return for investors in this round could be 12.8x (IRR 67%) before EIS tax relief – high risk and not guaranteed. 
Important: The information on this website is for experienced investors. It is not advice nor a research or personal recommendation to invest. If you're unsure, please seek advice. Investments are for the long term. They are high risk and illiquid and can fall as well as rise in value, so you could get back less than you invest.
Read important documents and then apply
The deal at a glance
| | |
| --- | --- |
| Type | Single company EIS private offer |
| Stage | Early-stage IP commercialisation |
| Founded | August 2018 |
| Funding to date | £3.1 million (£2.0 million equity and £1.1 million grants from Innovate UK) |
| Existing investors | £2.0 million equity from Zero Carbon Capital, BPEC, Syndicate Room and high net worth investors |
| Investors in this round | Elbow Beach Capital, Deeptech Labs, OION, Wealth Club and existing investors |
| Sector | Clean technology – graphene and battery manufacture |
| Pre-money valuation | See research report |
| Market size | Li-ion battery market estimated at $36.7 billion in 2019 with 18% CAGR |
| Business model | B2B – technology licence/service provider |
| Revenue to date | Pre-revenue |
| Revenue model | Licence sales |
| Forecast revenue* | From FY28 |
| Forecast EBITDA* | From FY28 |
| Mid-case target return* | 12.8x (anticipated exit Y4/Y5) |
| Mid-case target IRR* | 67% (anticipated exit Y4/Y5) |
*These are forecast and not guaranteed. Capital is at risk – you could lose the amount you invest.
Watch our Zoom interview with Anaphite's co-founders:
Highlights
High-potential cleantech company, backed by sector specialists with track record of building global companies
Developing licensable technology packages for the EV battery industry
Improving EV battery power and life at reduced cost and carbon
Trials underway at major European EV gigafactory, with more being planned 
Rapidly growing market driven by regulation 
Founders supported by experienced and commercial advisory board
Investors have already committed over 50% of round – not guaranteed 
Mid-case target return in Y5 is 12.8x (IRR 67%), based on Company's expectations, not guaranteed, before EIS tax relief. See IM for low and high-case target return
Private pre-revenue single company with no diversification – high risk 
Minimum investment £20,069.60 (4,000 shares at £5.0174 per Ordinary Share)
The overview provided on this website is based on the information available in the Information Memorandum prepared by the Company and additional information and representations provided by the Management upon request. Wealth Club has reviewed the information provided but not verified or audited it. Please read the offer documents carefully to form your own view and ensure you wholly understand the potential benefits and risks. Private early-stage single company with no diversification – high risk.
What does Anaphite do?
Anaphite was founded in 2018 by Sam Burrow and Alex Hewitt, who both had a passion to develop next-generation clean technologies. 
Today, their vision for the company is to accelerate the mass adoption of battery electric vehicles, by developing and licensing technologies which enable faster-charging, increased-range and lower-cost batteries.
The Company is creating patent-pending self-assembly technology to develop graphene-enhanced cathodes and dry coating methods for EV batteries, in particular Li-ion batteries. 
The global battery market was at $108.4 billion in 2019. Li-ion batteries constituted $36.7 billion of this, with 18% CAGR. 
Anaphite's technology enables graphene to be a direct "drop-in" to battery manufacturers' existing production lines (not applicable for the dry coating process element), enabling easier adoption and incorporation into existing processes – not guaranteed.
Anaphite aims to sell its technology via a licence and for it to be in a production EV by 2028. The Company may lead this in partnership with a large industrial player – or it may sell to a large buyer to roll out mass deployment. 
The Company is currently pre-revenue and not expected to generate revenue in the five-year forecast period.
Risks – important
This is a single company offer with no diversification. It involves investing in an early-stage, loss-making business, which is by nature high risk and prone to failure. There is a risk that the capital raised may not be sufficient to achieve the Company's objectives. You could lose the amount you invest.
Like all investments available through Wealth Club, it is only for experienced investors happy to make their own investment decisions without advice.
There is no ready market for unlisted EIS shares: they are illiquid and hard to sell and value. There will need to be an exit for you to receive a realised return on your investment. Exits are likely to take considerably longer than the three-year minimum EIS holding period; equally, an exit within three years could impact tax relief. The value of tax benefits depends on circumstances and tax rules can change. 
Before you invest, please carefully read the Information Memorandum which contains further details on the considerable risks – alongside the Wealth Club Risks and Commitments.
Structure and fees
Investors will pay no direct initial or ongoing charges to invest. Fundraising costs are being met by the Company. Wealth Club will be entitled to a performance fee on exit. 
Wealth Club investors will invest using a nominee structure. This service is provided by Wealth Club's subsidiary companies Wealth Club Asset Management Limited (authorised and regulated by the FCA) and Wealth Club Nominees Limited. Wealth Club Nominees Ltd will be completing the share subscription documentation on investors' behalf.
Please refer to the Schedule of Charges for more details on charges. 
All the services Wealth Club and, where applicable, its subsidiaries provide are governed by the Terms and Conditions of the Wealth Club Services.
Our view
Anaphite is developing what could potentially be ground-breaking technology for use in electric-vehicle batteries, and may also have greater sector applications as graphene and dry coating technologies become more widely adopted. The Company is at the start of its commercial journey and there are no guarantees of success as set out in the forecasts. 
The founders have a mix of technical and entrepreneurial skills and benefit greatly from an experienced advisory board with scientific, industrial and commercial expertise. The Company's success so far has attracted substantial interest and it has backing from credible investors.
In our view, Anaphite presents an opportunity to invest in an exciting early-stage business with the benefits of EIS. This is a high-risk offer but returns could be commensurate for experienced investors willing to invest at this early stage. As always, you should form your own view and please remember you should not invest money you cannot afford to lose.
Register your interest – no obligation
Wealth Club aims to make it easier for experienced investors to find information on – and apply for – investments. You should base your investment decision on the offer documents and ensure you have read and fully understand them before investing. The information on this webpage is a marketing communication. It is not advice or a personal or research recommendation to buy any of the investments mentioned, nor does it include any opinion as to the present or future value or price of these investments. It does not satisfy legal requirements promoting investment research independence and is thus not subject to prohibitions on dealing ahead of its dissemination. 

The details
Type

Single company

Sector

Technology

Target return

12.8x (IRR 67%)

Funds raised / sought

£1.5 million sought

Minimum investment

£20,069

Deadline

8 Jul 2022 for next allotment
Downloads