Azoomee EIS
Update: As seen in the Sunday Times. Additional EIS capacity – offer closes on 31 January
Azoomee (the trading name of Tinizine Limited) completed the acquisition of Berlin-based Da Vinci Media GmbH on 30 December 2019. The acquisition was recently featured in a Sunday Times article. 
The combined group is expected to generate £2.2 million EBITDA in the current financial year. 
Wealth Club members acted quickly to invest even before the completion, and have more than fully taken up the £1.5 million Wealth Club allocation. 
In response to continuing demand, we have further negotiated for any remaining extra capacity to be made available to Wealth Club members on priority. Applications must be submitted before the final deadline – 31 January 2020.
This is a rare – but limited – opportunity to acquire shares in a private company expected to be profitable straightaway, with the added benefit of EIS tax relief.

You can prefill your application for Azoomee EIS online. Applications will be processed on a first-come, first-served basis.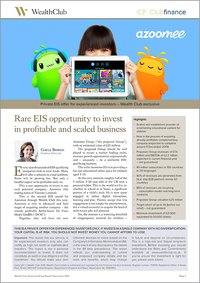 Highlights 
Scaled and established provider of entertaining educational content for children
Completed the acquisition of an already profitable complementary company 
Proposed Group revenues of £7.4 million and EBITDA of £2.2 million expected in current financial year – not guaranteed

55 million subscribers in 150 countries in 20 languages
90% of revenues are generated from blue-chip B2B partners across 50 countries
85% of revenues are recurring – subscription model and long-term contracts
Proposed Group valuation £25 million
Target return of up to 4x (before tax relief) – high risk and not guaranteed
Single company private deal with no diversification 
Minimum investment £21,500
Important: The information on this website is for experienced investors. It is not advice nor a research or personal recommendation to invest. If you're unsure, please seek advice. Investments are for the long term. They are high risk and illiquid and can fall as well as rise in value, so you could get back less than you invest.
Read important documents and apply
The offer
Out of the thousands of EIS-qualifying companies that look to raise funds each year, less than a handful may expect to be profitable early on.
This is a rare opportunity to invest in one such potential company: Azoomee (the trading name of Tinizine Limited).
On 30 December 2019 it completed the acquisition of another business – the already profitable Berlin-based Da Vinci Media GmbH ("DVM") – to form the Azoomee Group ("the Group"), which should be well placed to secure a market-leading niche and increase opportunities for growth and profitability.
Azoomee is seeking £3 million under EIS to provide growth capital to the proposed Group. Of the £3 million, £1.5 million was originally made available exclusively to Wealth Club members, but there is scope for an increased allocation. This growth capital will be invested in parent company Tinizine Limited Ltd, to be spent mainly on marketing, content, new hires, as well as contingency.

From a very young age, a significant portion of a child's daily life is now spent engaged in online interaction, learning and play. Parents value this not only as a form of entertainment, but as a virtual necessity enabling children to acquire the kind of skills future jobs will demand.

However, the internet being a minefield of inappropriate content for children, the question that concerns most parents is: "How can I ensure my child is only exposed to safe, meaningful, high-quality content online?"
With the welfare of their own little ones in mind, seasoned entrepreneurs Douglas and Estelle Lloyd founded Azoomee in 2015 and developed an award-winning online educational platform specifically for primary school-aged children.
In four years, Azoomee has gained the trust of parents and become one of the UK's fastest-growing young Education Technology ("EdTech") companies.
Azoomee (meaning "safe haven" in Japanese) is endorsed by the NSPCC. Families can subscribe to Azoomee on any device and get unlimited access to enjoyable games, videos and activities. The content is available in numerous languages and handpicked by educators with an emphasis on 21st-century skills.
High-profile partnerships with major global corporations, including Vodafone, O2 and Amazon, provide direct access to millions of customers in the family segment.
Now, by acquiring DVM, the resulting Azoomee Group aims to attract up to 55 million subscribers in 150 countries. 
Founded in 2007 by Ferdinand Habsburg, DVM is an independent media business dedicated to providing high-quality on-air and on-demand educational programming to children aged 7+, with the world's largest video library (1,000+ hours).
DVM has achieved 10% year-on-year growth by negotiating long-term contracts with public broadcasters, satellite companies and cable/internet providers. Its premier broadcast channel Da Vinci Learning is viewed daily by over 30 million homes all over the world.
In our view, this is a rare single company investment opportunity, given the entities' maturity, size and international reach. Please keep in mind that past performance is not a guarantee of future success and experienced investors must form their own opinion.
Management team
CEO Douglas Lloyd and COO Estelle Lloyd shared a skilled background as financiers as well as digital media entrepreneurs before they went on to found Tinizine Limited.
Major shareholder Ferdinand Habsburg, founder of Da Vinci Media, has 25 years of experience in media and digital education across Europe. He will continue to contribute to the success of the business.
They are supported by a team of highly experienced and proven media and tech leaders, as well as by non-executive directors who are major investors with relevant expertise.
New hires will include a Head of Finance and a Head of Marketing, additions to the marketing team, two infrastructure software engineers and a project manager to support software development – bringing together industry leaders in video, games, digital and business development to create the leading European kids' EdTech business.
Target returns 
Azoomee's acquisition of DVM has created a Group with expected revenues of £7.4 million and EBITDA of £2.2 million (not guaranteed) in the current financial year.
These two businesses together should enjoy significant cross-selling opportunities underpinned by streamlined costs and synergies of content and technologies.
By 2023, the Group is forecasting annual revenues of £23 million, EBITDA of £8.5million and target returns of up to 4x. 
It is important to remember that risks apply and that all forecasts, target returns and timeframes are not guaranteed, nor is success. Experienced investors should form their own view.
Exit options
Should Management be successful in delivering on the forecasts, in our view the Group is likely to be an attractive acquisition target for both large media companies and private equity firms.

Risks – important 
This, like all investments available through Wealth Club, is only for experienced investors happy to make their own investment decisions without advice.

EIS investments are high risk so should only form part of a balanced portfolio and you should not invest money you cannot afford to lose. They also tend to be illiquid and hard to sell and value. Before you invest, please carefully read the Risks and Commitments and the offer documents to ensure you fully understand the risks. 

This is a single company EIS offer with no diversification. It involves investing in an early-stage business which is by nature high risk and prone to failure. You could lose the amount you invest.

The value of tax benefits depends on circumstances and tax rules can change. 

Fees and charges
Investors are investing in the company directly so will pay no direct initial or ongoing charges. Tinizine Ltd (trading as Azoomee) will pay an introducer fee to Wealth Club of 6% as well as a performance fee on exit – please see the offer documents for more details on the fees.
Our view
In our opinion this is an exciting opportunity to invest in a commercially compelling global business with established routes to market, expected to deliver significant profits, all with the benefit of EIS tax relief.
Driving the growth of Azoomee and the Group are ambitious and proven entrepreneurs Douglas and Estelle Lloyd who have delivered attractive returns to investors before. We are reassured by the commitment the management team has shown in this deal. 
Douglas and Estelle have invested significant capital sums into Azoomee and the founder and major shareholder of DVM, Ferdinand Habsburg, is leaving considerable value in the Group, clearly with the expectation that further shareholder value can be created in future.
Read important documents and apply
Register your interest – no obligation
Wealth Club aims to make it easier for experienced investors to find information on – and apply for – tax-efficient investments. You should base your investment decision on the provider's documents and ensure you have read and fully understand them before investing. This review is a marketing communication. It is not advice or a personal or research recommendation to buy the investment mentioned. It does not satisfy legal requirements promoting investment research independence and is thus not subject to prohibitions on dealing ahead of its dissemination.
The details
Type

Single company

Sector

Education & Technology

Target return

4x

Funds raised / sought

£1.5 million / £1.5 million

Minimum investment

£21,500

Deadline

31 Jan 2020 for final allotment