BibliU EIS
Co-invest with Guinness, Oxford Science Enterprises, Stonehage Fleming and Nesta
Digital textbook and learning platform for universities which has grown annual recurring revenues 14x to $20 million in last three years
College students historically struggle with the exorbitant cost of textbooks. So, many turn to second-hand, rented or even pirated copies, causing book publishers to increase prices to cover the lost revenue – it's a vicious cycle.

BibliU Limited ("BibliU" or "the Company") has created a solution: a B2B learning resources platform now used by around 2 million students in 112 leading universities and colleges – from Oxford, Cambridge, and Imperial College in the UK to MIT, Cornell and Phoenix in the US.
Launched in 2015, BibliU's platform integrates with university and library systems, letting them license digital-format textbooks and courseware from 2,000+ academic publishers for a single, discounted fee.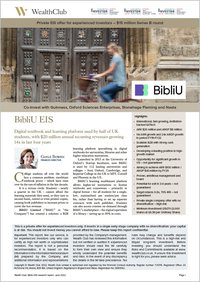 Based in London and New York, in the last three years the Company has grown annual recurring revenue (ARR) 14x and annual recurring gross profit (ARGP) 24x – past performance is not a guide to the future. This year, ending 31 July 2022, it is on track to generate c.$20 million ARR and $8 million ARGP. The Company expects to be profitable by FY24.
To help expand in the US (currently accounting for 30% of revenues), BibliU launched its $15 million Series B round in late 2021. Existing institutional investors Oxford Science Enterprises (OSE), Nesta Impact Investments (NII), Guinness Asset Management (GAM) and international family office Stonehage Fleming have already invested $11 million in the first close.
Wealth Club has an EIS allocation of up to £2 million – exclusive for four weeks only – at the same share price and valuation as the institutional investors, despite the Company having materially grown ARGP since the round launched. Download our Research Report to find out more. 
Based on the Company's forecasts, the target return is 6.9x (70% IRR) before EIS tax relief – high risk and not guaranteed.
We consider this is a rare EIS opportunity to invest in a fast-growing Company with an already proven product-market fit in both the UK and US. Experienced investors should form their own view.
Important: The information on this website is for experienced investors. It is not advice nor a research or personal recommendation to invest. If you're unsure, please seek advice. Investments are for the long term. They are high risk and illiquid and can fall as well as rise in value, so you could get back less than you invest.
Read important documents and then apply
The deal at a glance
| | |
| --- | --- |
| Type | Single company EIS private offer |
| Stage | Series B |
| Launched | 2015 |
| Funding to date | $17 million (excluding Series B) |
| Investors | Oxford Science Enterprises, Nesta Impact Investments, Guinness Asset Management, Stonehage Fleming, Oxford University Innovation Fund (Parkwalk) |
| Sector | EdTech |
| Valuation | See report |
| Market size | Global market for Digital Education estimated to reach $77.23 billion by 2028 |
| Business model | B2B |
| Revenue model | SaaS and subscription/licence fees |
| Current year ARR / ARGP | $20 million / $8 million |
| Forecast ARR / ARGP (FY25)* | $100 million / £43 million |
| Forecast EBITDA (FY25)* | $15 million |
| Target return (FY25/26)* | 6.9x |
| Target IRR (FY25/26)* | 70% |
*These are forecast and not guaranteed. Capital is at risk – you could lose the amount you invest.
Highlights
International, fast-growing, institution-backed EdTech

ARR $20 million and ARGP $8 million
14x ARR growth and 24x ARGP growth in period FY19-FY22

Scalable B2B with strong cash generation

Developing a leading position in high-growth market

Opportunity for significant growth in US – not guaranteed

Aiming to achieve ARR $100 million / ARGP $43 million by FY25

Proven, ambitious management and board

Target returns 6.9x, 70% IRR – not guaranteed

Private single company offer with no diversification – high risk

Minimum investment £19,170 (3,000 shares at £6.39 per C Ordinary Share)
The overview provided on this website is based on the information available in the Information Memorandum prepared by the Company and additional information and representations provided by the Management upon request. Wealth Club has reviewed the information provided but not verified or audited it. Please read the offer documents carefully to form your own view and ensure you wholly understand the potential benefits and risks. Private early-stage single company with no diversification – high risk.
What does BibliU do?
Launched in 2015 by former Oxford university student, CEO Dave Sherwood, in the University of Oxford's Startup Incubator, BibliU aims to help give all students equal, easier access to knowledge. 
It has created a digital learning platform that makes textbooks and course materials accessible and cost-effective. 
The Company is B2B and sells to universities and colleges. It has a mix of subscription, licence and SaaS revenues paid annually or biannually in advance. The platform integrates fully with library and university systems – and delivers advanced analytics giving insights into how students study. Students can also access textbooks directly from BibliU, saving up to 50% in costs
So far, around 2 million students – including half of the UK's higher education students – use BibliU to access materials from 2,000+ academic publishers – including global giants such as Pearson, McGraw-Hill Education, Macmillan, Elsevier and Wiley, which benefit from a protected sales channel and distribution to a wider audience. The Company is also gaining traction in the US. It launched there in 2019 and now serves 21 universities, generating $4 million ARR from the US alone – it hopes to significantly grow its market position in the US, where there are 5,300 higher education institutions.
This may be the last opportunity to invest under EIS: the Company considers it will be sufficiently capitalised after this round to reach its target $100 million ARR and $43 million ARGP by 2025 – not guaranteed. 

See a quick introduction to BibliU:
Video produced and issued by BibliU – September 2021.
Download your research report to find out more
What is the market opportunity?
What is the Company's valuation in this round?
What progress has BibliU made since its launch in 2015?
How does BibliU intend to use the funding?
What are the credentials of the founders and management team?
What might the possible exit options be?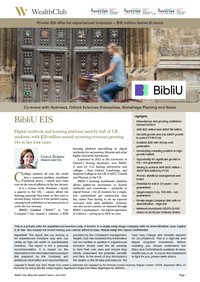 Risks – important
This is a single company offer with no diversification. It involves investing in an early-stage, loss-making business, which is by nature high risk and prone to failure. There is a risk that the capital raised may not be sufficient to achieve the Company's objectives. You could lose the amount you invest.
Like all investments available through Wealth Club, it is only for experienced investors happy to make their own investment decisions without advice.
There is no ready market for unlisted EIS shares: they are illiquid and hard to sell and value. There will need to be an exit for you to receive a realised return on your investment. Exits are likely to take considerably longer than the three-year minimum EIS holding period; equally, an exit within three years could impact tax relief. The value of tax benefits depends on circumstances and tax rules can change. 
Before you invest, please carefully read the Information Memorandum which contains further details on the considerable risks – alongside the Wealth Club Risks and Commitments.
Structure and fees
Investors will pay no direct initial or ongoing charges to invest. Fundraising costs are being met by the Company. Wealth Club will be entitled to a performance fee on exit. 
Wealth Club investors will invest using a nominee structure. This service is provided by Wealth Club's subsidiary companies Wealth Club Asset Management Limited (authorised and regulated by the FCA) and Wealth Club Nominees Limited. Wealth Club Nominees Ltd will be completing the share subscription documentation on investors' behalf.
Please refer to the Schedule of Charges for more details on charges. 
All the services Wealth Club and, where applicable, its subsidiaries provide are governed by the Terms and Conditions of the Wealth Club Services.
Our view
Unlike many earlier-stage EIS companies, BibliU has a proven product in a growing market.
Success in the UK and US (which already accounts for 30% of revenues) has been impressive, accelerated by the Covid-19 pandemic. Over the past three years, ARR has grown 14x and ARGP has grown 24x. To deliver its forecast for the next three to four years, the Company needs to grow 5x – which, whilst ambitious, should be within its reach, although there are no guarantees. 
EIS investors might consider the valuation represents good value, as it was set prior to the Company achieving material ARGP growth through the Series B offer period – see details in our Research Report. 
The Company is backed by a strong and credible investor group, and the management team and Board appear to have the skills and ambition to take the Company to its next stage.
In our view, BibliU represents a rare opportunity for experienced investors happy with the risks to support a proven high-growth business with a sophisticated team, strong corporate governance, and still with the benefit of EIS.
Please note, the Company expects to reach profitability in FY24. As always, you should form your own view and please remember capital is at risk, you should not invest money you cannot afford to lose.
Register your interest – no obligation
Wealth Club aims to make it easier for experienced investors to find information on – and apply for – investments. You should base your investment decision on the offer documents and ensure you have read and fully understand them before investing. The information on this webpage is a marketing communication. It is not advice or a personal or research recommendation to buy any of the investments mentioned, nor does it include any opinion as to the present or future value or price of these investments. It does not satisfy legal requirements promoting investment research independence and is thus not subject to prohibitions on dealing ahead of its dissemination. 

The details
Type

Single company

Sector

Education & Technology

Target return

6.9x (IRR 70%)

Funds raised / sought

£2.0 million sought

Minimum investment

£19,170

Deadline

12 Jul 2022 for first allotment
Downloads