Bond Digital Health EIS – at capacity
Unfortunately, it is no longer possible to apply for Bond Digital Health EIS.
The offer proved very popular and Bond Digital Health has already received applications for the full fundraising target of £400k. 
If you wish to be placed on a waiting list, please complete your details below. Should any applications fail to complete, we shall contact you. 

Join the waiting list
Important: The information on this website is for experienced investors. It is not advice nor a research or personal recommendation to invest. If you're unsure, please seek advice. Investments are for the long term. They are high risk and illiquid and can fall as well as rise in value, so you could get back less than you invest.
Bond Digital Health ("Bond", or the "Company") is a market-leading SaaS MedTech company. 
Its medical-grade technology is first-to-market in capturing and analysing data from diagnostic 'stick tests' used for diseases ranging from cystic fibrosis to bovine TB.
Now, its technology is being integrated with a mass-deployable lateral flow test specific to Covid-19. This is being developed by Canadian partner Sona Nanotech Inc.
Bond is in advanced stages of finalising a Series A funding round, in which Development Bank of Wales and other institutions have agreed to invest, subject to due diligence, at a valuation of £5 million. Bond already has a confirmed pipeline of just under £1 million expected in the current year, and strong forecast growth – not guaranteed. However, in order to fast-track its response to demand for its technology, it is looking to raise £600k immediately – ahead of the Series A round. Bond needs this to build out its tech team and provide sufficient cash headroom to fulfil its pipeline.
£300k (extended to £400k) is available under EIS exclusively through Wealth Club. Development Bank of Wales has committed to match that investment up to £300k through a convertible loan – subject to the EIS fundraising target being met. 
Bond is making this one-off private deal available at a 50% discount to its Series A valuation. In other words, Wealth Club investors happy with the risks can now invest at a valuation of £2.5 million – but should act swiftly if they wish to take advantage of the offer.
Wealth Club investors have until 21 April to submit a commitment – funds must be transferred by 24 April 2020.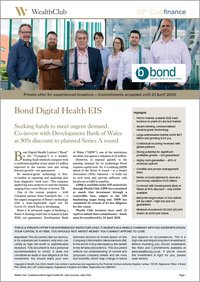 Highlights 

First to market, scalable B2B SaaS business in point-of-care test market

Award-winning, commercialised medical-grade technology 
Large addressable market worth $8.7 billion and growing 8.2% p.a.
Contractual recurring revenues with global partners 
Strong potential for significant profitable growth – not guaranteed
Highly cash-generative – 40% of revenues upfront
Credible and proven management team 
Series A round planned in June at a pre-money valuation of £5 million
Co-invest with Development Bank of Wales at 50% discount
Mid-point target return of 20x before EIS tax relief – high risk and not guaranteed
Minimum investment £10,000 (20,000 shares at £0.50 per share)
Single company private offer with no diversification
Example current project: partnership with Sona Nanotech Inc. to fast-track Covid-19 'stick' test
One of Bond's current projects is providing the digital platform for a Covid-19 fast-response test. Bond forecasts this contract to be worth approximately £875k in the first year alone.
The test is being developed by Bond's Canadian client, Sona Nanotech Inc., with a consortium of international partners. Sona has recently received a grant of over CAD $4 million to fast-track the development. 
Darren Rowles, CEO, Sona Nanotech Inc., comments: 
"Bond Digital Health's data capture system will help us visually interpret quantitative test results and back them up to a secure cloud. Once enough data has been collected, we can use existing algorithms and machine learning to predict how advanced the infection is, allowing the correct level of care to be carried out.

"In combination with Sona's Covid-19 test, Bond's technology could ultimately help authorities detect, manage and control the spread of the outbreak by using a visual dashboard with a heatmap and real-time updates." 
The offer
Bond is a first-to-market provider of a medical-grade digital platform for companies that develop diagnostic point-of-care tests. 
Properly known as lateral flow tests, point-of-care 'stick tests' – such as diabetes or pregnancy test kits – are used to diagnose conditions cheaply and almost instantaneously. Billions of these tests are used every year across healthcare, agriculture, food safety, environmental studies and more.
Bond uses mobile app technology to upload individual test results to cloud servers for analysis and secure storage. The analysis is instantaneously fed back to the test user. Meanwhile, harnessing the stored data, the platform's powerful data analytics dashboard can be used by medical professionals, researchers and other stakeholders to monitor situations such as disease outbreaks – enabling timely interventions. 
In healthcare alone, this could help improve individual patient care as well as the detection, management and control of widespread diseases, including the current coronavirus outbreak.
Bond has a highly scalable business model with significant traction in a fast-growing segment of healthcare, providing lab-quality data in real time and at a fraction of the cost to major blue-chips and government agencies. 
If the Company achieves its plan, investors in this round could see returns of up to 20x, before the EIS tax relief – high risk and not guaranteed. 
In our view, this is an exceptional one-off opportunity to invest in a high-quality, high-potential company alongside institutions at a deeply discounted valuation, with the added benefit of EIS tax relief. Please remember tax rules can change and benefits depend on circumstances. Capital is at risk and you should not invest money you cannot afford to lose. 
Watch a video explaining Bond's technology in brief:
Video produced and published by Bond Digital Health, filmed in January 2020
The business
Set up by Ian Bond and Dave Taylor in 2015, the Company has invested £250k into developing its technology and TRANSFORM™ platform, which is classified as Software as a Medical Device (SaMD) and satisfies current EU and US regulations. 
Clients can white-label (i.e. apply their own branding to) Bond's platform, which integrates easily with their own systems. 
Since commercialisation, Bond's award-winning technology has acquired global customers and partners including leading lateral flow test multinationals and USA and UK government departments.
Bond charges a fee to develop the platform for each new customer project (paid 40% upfront, 30% midway and the balance on completion) as well as recurring revenues (it charges a fee per test). The company has achieved sales of £0.6 million to date. Sales pipeline for the next 12 months currently stands at around £1 million and is underpinned by both contractual revenue and several projects in advanced stages.
Bond has ambitions of growing sales to over £9 million (more than 50% of which will be recurring revenue) within five years and creating a business it estimates could be worth over £50 million. These are forecast and not guaranteed.
The market
Market growth is driven by two main forces:
Increased demand for easy-to-use diagnostic tests that deliver lab-quality results within minutes 
Increasing pressures on government agencies worldwide to alleviate overloaded healthcare systems
To achieve its sales forecasts, Bond only needs to provide digital services for less than 1% of the lateral flow market.
Target returns 
Predicated on delivering its forecasts, the Company aims to be worth over £50 million by FY25. 
Experienced investors in this discounted round could potentially make returns of approximately 20x before tax relief. Please note, these are forecasts and not guaranteed. 
Management team
Bond's core team has a blend of technology, medical and commercial expertise. 
Ian Bond, CEO & Co-Founder, is a serial entrepreneur and marketer. He previously set up cutting-edge biopharmaceutical Medivation, on the principle that patient-centric solutions enabled through digital technology have the potential to change lives for the better.
Ian is a chronic obstructive pulmonary disease (COPD) sufferer. Due to this condition, he plans to step down from his CEO role over the next six months, switching to a role of executive chairman. A succession plan is in place and it is hoped Ian's successor will join in time for the Series A round. 
Dave Taylor, COO & Co-Founder, is a digital technology entrepreneur with 30 years' experience working globally in complex web and app development. 
Phil Groom, Commercial Director, has 25 years' senior management experience in the pharmaceutical industry and is driving the commercial direction of Bond. 
Prof. Keir Lewis, Clinical Lead & NED, is a renowned professor of pulmonary medicine. Keir is Clinical Director of Respiratory Innovation Wales and Bond's clinical lead, providing valuable insights, contacts and clinical guidance to ensure solutions are both commercial and compliant. 
Board meetings will take place at least every other month. Development Bank of Wales will exercise its board observer rights. Wealth Club also has the right to appoint an independent Non Executive Director to represent the interests of the minority shareholders.
Risks – important
This, like all investments available through Wealth Club, is only for experienced investors happy to make their own investment decisions without advice.
EIS investments are high risk so should only form part of a balanced portfolio and you should not invest money you cannot afford to lose. They also tend to be illiquid and hard to sell and value. Before you invest, please carefully read the Risks and Commitments and the offer documents to ensure you fully understand the risks. 
This is a single company EIS offer with no diversification. A minimum of £300k of EIS investment needs to be secured for Development Bank of Wales to invest. If that is not reached, investor funds may be returned. A £600k investment is expected to give the Company cash runway until the end of the calendar year. 
Forecasts and target return are predicated on Bond successfully completing a £1 million Series A funding round in June 2020, which is not guaranteed. Should the funding round be delayed or cancelled, investor returns will be affected. 
The value of tax benefits depends on circumstances and tax rules can change.
Fees and charges
There is no direct fee charged to the investor. Bond will pay a fee of 6% of the funds raised to Wealth Club. Wealth Club has a warrant option, whereby it can reinvest its fee into shares in the business. 
Wealth Club is acting as a broker in this fundraise. Wealth Club does not take a seat on the board so cannot influence the business.
The key commercial terms of Development Bank of Wales convertible loan investment are summarised in the deal overview document. Detailed bi-annual trading updates will be produced to keep investors informed.

Our view
Bond has achieved a huge amount since it was founded in 2015 on very little capital, which demonstrates the huge unmet market demand across the full range of testing scenarios in human, animal health, environment and food security. The addressable market is significant and currently Bond has limited competition. Bond has gained the highest level of compliance and regulation, which should act as a significant barrier to entry for newcomers. 
The business model is underpinned by contractual recurring revenues and we are encouraged by the strength of the current order book.
In our view, this is an exceptional one-off opportunity to invest in a high-quality, high-potential company alongside institutions, at a heavily discounted valuation, all with the added benefit of EIS tax relief. However, there are considerable risks and experienced investors should form their own view.
Wealth Club aims to make it easier for experienced investors to find information on – and apply for – tax-efficient investments. You should base your investment decision on the provider's documents and ensure you have read and fully understand them before investing. This review is a marketing communication. It is not advice or a personal or research recommendation to buy the investment mentioned. It does not satisfy legal requirements promoting investment research independence and is thus not subject to prohibitions on dealing ahead of its dissemination.
The details
Type

Single company

Sector

Healthcare & Technology

Target return

20x

Funds raised / sought

£400,000 sought

Minimum investment

£10,000

Deadline

Limited capacity