Help Me Stop EIS
Only eligible for allotment in the 2020/21 tax year
Update (17 March 2020)
Due to the current uncertainty, we expect the fundraise to take longer than anticipated. This will impact the Company's ability to deliver its forecasts and, in turn, investor potential returns. 
Help Me Stop has confirmed its first site Acton is almost at break-even stage. In addition, the Company has taken action to control cash, including:
It has scaled back discretionary costs and cap-ex on new site openings
It has slowed down the planned rollout
It has deferred its plan to acquire a freehold site
The business has also announced the launch of an online treatment service for drug and alcohol addiction, the first of its kind in the UK. Available from 25 March 2020, it will offer intensive treatment to existing clients unable to leave their homes during the COVID-19 crisis and to new clients who wish to take advantage of this option.
Apply online only
Please apply online and send funds by bank transfer. We will accept and process online applications until the advertised deadline for each investment.
An estimated one in five adults in the UK is drinking at levels that pose some risk to their health. At the same time, government funding for alcohol and drug services has been drastically cut.
Private residential rehabilitation can be prohibitively expensive – costing on average £12–40k for four weeks. The result of this and the stretched NHS is that only 18% of the estimated 586,780 problem drinkers in the UK have access to the treatment they need. 
Help Me Stop seeks to redress this by providing non-residential, effective "Dayhab" treatment for alcohol and drug addiction – at around a tenth of the price of residential rehab.
Help Me Stop is now raising £2 million under EIS to grow from one to 12 sites across London and the South of England, including potentially a freehold site.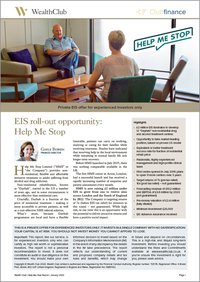 Highlights 
£2 million EIS fundraise to develop 12 "Dayhab" non-residential drug and alcohol treatment centres 
Opportunity to take market-leading position, based on proven US model
Equivalent or better treatment success rate for fraction of residential rehab price
Passionate, highly experienced management and high-profile clinical team
First centre opened in July 2019: plans to open 11 more centres over 3 years 
Target returns of 7x (pre tax relief) 10x (post tax relief) – not guaranteed
Forecasting revenue of £10.2 million and EBITDA of £3.6 million by 2023 (not guaranteed)
Pre-money valuation of £2.4 million (fully diluted)
Minimum investment £20,000, EIS Advance Assurance received
High risk, single early stage company with no diversification
Important: The information on this website is for experienced investors. It is not advice nor a research or personal recommendation to invest. If you're unsure, please seek advice. Investments are for the long term. They are high risk and illiquid and can fall as well as rise in value, so you could get back less than you invest.
Read important documents and apply
The offer
Driven by his personal experiences, Founder and CEO Tim Smith set up Help Me Stop Limited ("HMS" or the "Company") in 2018 to provide highly effective yet affordable treatment for adults suffering from addiction. Inspired by the "Dayhab" treatment model he had seen successfully proven in the US, Tim opened the UK's first treatment centre of this kind in Acton, West London, in July 2019.
HMS offers a safe, comfortable environment for people to undertake a 12-step treatment programme, split across 160 hours, within their local community. 
The treatment is designed to fit in around a patient's life and family schedule, helping patients get over addiction while coping with the stresses of their daily lives. This is in contrast to a residential rehabilitation centre, where patients are often isolated from normal life for four to six weeks.
Not only is Dayhab treatment more affordable (residential rehab treatment can cost as much as ten times more), studies indicate that receiving help in the local environment while remaining in normal family life aids longer-term recovery. 
Watch a video interview with CEO Tim Smith and clinical director Chip Somers:
Dayhab is most suited to functioning addicts who recognise they need to seek help. Patients who require a medical detox or medical treatment will be referred to other partners, such as their GPs or appropriate specialists. HMS is happy to treat patients following any medical help they need first.
HMS has experienced management to drive the business, complemented by a highly regarded, reputable and experienced clinical team. 
Since launch, the Company has successfully demonstrated proof of concept and market demand for its service, receiving a rapidly increasing number of enquiries and patient assessments every month at its treatment centre in Acton.
HMS is now raising £2 million under EIS to roll out further 11 centres, replicating the Acton model. The aim is to have 12 sites in London and across Southern England by 2022, generating forecast revenue of £10.2 million and EBITDA of £3.6 million (not guaranteed). Investor capital will be deployed directly in HMS to support this expansion. Please note, though, this is an early-stage company, so there are no guarantees and capital is at risk. 
It was unbelievable what I had in my life, and the mayhem I was causing. I came here, and something happened. Today, I have completed the main programme and I'm just over 3 and a half months clean, I'm the happiest client in the world

Terry, Help Me Stop patient
This video has been produced by Help Me Stop and published on 6 December 2019.
Target returns
The Company is targeting returns of 7x in year 4 before EIS tax relief, after fees (not guaranteed). 
In the current healthcare market, if the business can achieve its business plan and demonstrate excellent care and growth track record, it could attract a double-digit EBITDA multiple based on recent deals. 
To break even at site level, the Company estimates it will need to treat 12 clients per month per site. Breakeven for the Company as a whole is expected during FY21, not guaranteed. 
The Company aims to achieve sales of £10.2 million and EBITDA of £3.6 million by FY23, not guaranteed. 
Please remember, this is a very early-stage single company with a great deal still to prove and should be considered a high-risk investment.
Management team
Tim Smith (Founder and CEO) has over 40 years' experience in the marketing, media and finance sectors – including founding marketing services business Foresight, acquired by Primedia in 2000, and producing/financing major film and television projects. After personal experience with addiction, Tim has also served as a trustee for drug and alcohol charities, including the Addiction Recovery Foundation.
Stephen Bradshaw (Executive Chairman) has been involved in behavioural healthcare for the past 35 years. Stephen brings significant experience in starting up and growing multi-site operations in the healthcare and education sectors, along with a resume of leadership roles in The Priory Group, The Options Group, Cambian and his own group Aurora Care.
Clinical team
The Company has an experienced and high-profile clinical team. Chip Somers is Clinical Director and a renowned expert with 30 years' experience in the field of addiction and recovery, helping several celebrities get clean. Chris Cordell (General Manager) has spent over 25 years in healthcare management, both in the private and public sector roles, including Head of Drug Strategy at the Home Office. Vernon Hartshorne (Senior Psychotherapist) is an experienced and qualified person-centred therapist and has worked in a variety of 12-step rehabs globally, including The Priory and Life Works in England and Castle Craig in Scotland. 
Exit options
The management team intends to stay in the business for the long term to fulfil its growth ambitions. 
Management considers a trade sale to a large healthcare provider looking to broaden their offering to be a likely exit route. However, a refinancing via debt or purchase by private equity represent other potential exit options. Timeframes and exits are not guaranteed. 
Risks – important 
This, like all investments available through Wealth Club, is only for experienced investors happy to make their own investment decisions without advice. EIS investments are high risk so should only form part of a balanced portfolio and you should not invest money you cannot afford to lose. They tend to be illiquid and hard to sell and value. Before you invest, please carefully read the Risks and Commitments on the Wealth Club website and the Information Memorandum to ensure you fully understand the risks.
This is a single company EIS offer with no diversification. It involves investing in an early stage business which is by nature high risk and prone to failure.
The value of tax benefits depends on circumstances and tax rules can change.
Fees and charges
There is no direct initial fee charged to the investor. Help Me Stop Limited will pay Wealth Club a fee of 6% of the funds raised, and 3% to the sponsor of the offer, Kin Capital. Please see the research report for further details of fees.
Our view
HMS provides otherwise hard-to-afford treatment for adults suffering from the effects of drug or alcohol addiction. This is a big social problem in the UK.
Evidence from the US shows that Dayhab treatment programmes can be as good as – if not better than – residential rehab for long-term recovery, for a fraction of the price.
So far, the Company has proven the concept and has had an encouraging start to trading since opening in July 2019. Multiple patients have completed its programme, with no instances of relapse to date.
There are very few other comparable UK Dayhab treatment centres and the Company has a good opportunity to secure a market-leading position if it can execute its plan and maintain the highest quality care while going through rapid growth.
We consider this to be a high-impact EIS opportunity that also has the potential to deliver attractive returns if successful. However, the Company is still very early stage and therefore high risk; experienced investors should form their own view. 
Register your interest – no obligation
Wealth Club aims to make it easier for experienced investors to find information on – and apply for – tax-efficient investments. You should base your investment decision on the provider's documents and ensure you have read and fully understand them before investing. This review is a marketing communication. It is not advice or a personal or research recommendation to buy the investment mentioned. It does not satisfy legal requirements promoting investment research independence and is thus not subject to prohibitions on dealing ahead of its dissemination.
The details
Type

Single company

Sector

Consumer

Target return

7x

Funds raised / sought

£410,000 / £2.0 million

Minimum investment

£20,000

Deadline

Discretionary
Downloads