Inotec EIS
Wealth Club's exclusive £1 million allocation has now been filled (4 January 2021). Any new applications will be accepted strictly on a first-come, first-served basis. The deadline for the next close is 29 January, subject to capacity.
Co-invest alongside Amadeus Capital Partners and Abcam's Jonathan Milner in a global MedTech wound care business with unprecedented healing rates
Over 100 million people worldwide suffer from chronic wounds – wounds that don't heal properly after injury or surgery, despite the best available care. To date, most treatments only manage to "contain" rather than heal such wounds – adding huge cost to healthcare budgets and lives.
To address this, Cambridge University spinout Inotec AMD Ltd ("Inotec" or "the Company") has developed patented technology that achieves unprecedented healing rates for a fraction the cost of conventional alternatives.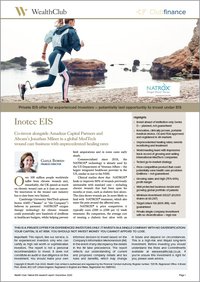 Patented NATROX® wearable technology applies oxygen therapy – healing or improving 88% of previously untreatable wounds, even those that had been open for months or years (e.g. diabetic foot ulcers). Wounds are 3x more likely to heal, and the treatment eases pain around the affected area. 
In addition, NATROX® is price competitive. For instance, managing a severe wound with standard care could cost on average $27,449 a year. As NATROX® can close 57% of the most expensive wounds to manage, it could save health care systems 38%.
The company is backed by sector specialists, including Amadeus Capital Partners ("ACP") and super angel, Abcam founder Jonathan Milner. Inotec already supplies the US Department of Veterans Affairs – the largest integrated healthcare provider in the US, similar in size to the NHS.
Now to extend commercial progress in the US and other markets, Inotec is raising £8 million in a Series C round. A third of this capital has already been secured. EIS investors can participate directly in this round, exclusively through Wealth Club. 
This is in all likelihood the last opportunity for private investors to invest directly under EIS, as the Series D planned for mid-2022 is to be aimed at institutional investors (timing and round not guaranteed).
If all goes to plan – and £58 million of sales can be achieved by 2025 – the Company is targeting returns of up to 10x, 60% IRR for investors in this round, after performance fees but before tax relief (these are forecasts, high risk and not guaranteed). 
Important: The information on this website is for experienced investors. It is not advice nor a research or personal recommendation to invest. If you're unsure, please seek advice. Investments are for the long term. They are high risk and illiquid and can fall as well as rise in value, so you could get back less than you invest.
Read important documents and apply
The deal at a glance
| | |
| --- | --- |
| Type | Single company EIS private offer |
| Stage | Series C – Global scale-up |
| Date started trading | 2018 (first sale after regulation) |
| Funding to date | £14 million |
| Co-investors | Amadeus, Praetura, Boundary Capital, Jonathan Milner |
| Sector | Medical technology / medical devices |
| Fully diluted pre-money valuation | £45 million |
| Market size | $25 billion |
| Business model | B2B |
| Revenue to date | £0.4 million in current year, £1.3 million expected in FY21 – not guaranteed |
| Revenue model | Medical device sales |
| Profitability forecast from | Dec 2023 |
| Forecast revenue in year 5 | £58 million |
| Forecast EBITDA in year 5 | £35 million |
| Target return in year 5 | 10x |
| Target IRR | 60% IRR |
Projections and targets are for illustration only and are not guaranteed
Highlights
Invest ahead of institution-only Series D – planned, not guaranteed

Innovative, clinically proven, portable medical device. CE and FDA-approved and registered in 46 markets 
Unprecedented healing rates; remote monitoring and treatment 
World-leading team with impressive track record of growing and selling international MedTech companies 
Tested go-to-market strategy 
Price competitive product that could potentially save health care providers £millions – not guaranteed
Growing sales and high (75%-90%) profit margin 
Well protected business model and growing global portfolio of patents
Minimum investment £10,127 (41,000 shares at £0.247)
Target return 10x (60% IRR) – not guaranteed
Private single company investment with no diversification – high risk
I was an early investor in Inotec AMD because I believe in both the technology but also the impact NATROX will have in the wound care space. We have followed our investment several times as I am convinced the company is moving in the right direction to become major disruptors in the wound care market which is in desperate need of advanced therapies like NATROX. I am excited about this next phase in the company's growth.

Jonathan Milner – Abcam founder, serial entrepreneur and investor
The technology
NATROX® Oxygen Wound Therapy is a Class IIb medical device that enables clinicians to apply pure humidified oxygen directly to a wound to treat complex and chronic wounds.
No larger than a mobile phone, the NATROX® device extracts moisture from the surrounding air and converts it to oxygen. A small web-like attachment then diffuses this oxygen continuously and evenly over the wound; this can be placed underneath any dressing, to create a constant oxygen-enriched environment which accelerates the healing process. 

Easy to use and less invasive or cumbersome than alternative solutions, the device can be worn throughout the day and night, providing constant treatment. 
Key to its success in the wound therapy market, in Inotec's view, is the fact the device can be used to treat patients in any setting – at home or in-clinic. Furthermore, its proprietary AI platform NATROX® Home Advantage provides wound analytics – allowing clinicians to diagnose, predict, treat and monitor remotely.
NATROX® is CE and FDA-approved product and registered in 46 markets.

How the NATROX® technology works, at a glance

The Oxygen Generator delivers continuous pure humidified oxygen to the wound bed through water electrolysis.
The device is supplied with two rechargeable batteries and a charging kit, so the user has freedom of movement.
The single-use Oxygen Delivery System connects directly to the Oxygen Generator. Its 'web'-like design optimises the flow of oxygen across the wound bed.
How does the business make money and acquire customers?
Inotec sells its technology to healthcare operators. Currently, its primary market is the US: the US Department of Veterans Affairs (VA) and the Centres for Medicare & Medicaid Services (CMS) reimbursement. 
The VA is the largest integrated healthcare system in the US, providing care at 1,255 facilities. 
CMS reimbursement covers the general US healthcare market and is estimated to be worth $4.8 billion. Healthcare providers purchase medical products and claim reimbursement, typically through patient health insurance or through Government agencies, using a CMS code specific to the product. The Company expects to be assigned a CMS code in 2022. Until then, sales to this market will be limited to local reimbursed areas such as New York City. 
The Company aims to sell the NATROX® product to healthcare practitioners worldwide through distributors or sales teams into multiple territories – including the UK, Asia, Europe and North America.

So far the Company has treated over 1,000 patients. It has achieved sales of £0.4 million in the current year and expects this to grow to £1.3 million in 2021 (not guaranteed).
Market 
The global wound care market is estimated to be worth approximately $25 billion by 2024.
Remarkably, the UK spends as much on chronic wound care as it does on cancer. Meanwhile, in the US alone, spending on wound care patients comes to $97 billion every year once clinical time, hospitalisations and materials are included.  
Despite this, there has been little innovation in the sector for years and consequently few alternative effective therapies that are comparable with NATROX®. Other competing products in the market only manage the wound, whereas NATROX® heals it. 
Covid-19 impact
Covid-19 has caused some delays in signing new partnerships and hindered sales efforts, as many health facilities remained closed.
However, market awareness for the product has increased, and there appears to be pent-up demand for the NATROX® product: many patients, kept away from hospitals over lockdown, did not get treatment and have now developed chronic wounds. In addition, health providers are recognising the need to diagnose and treat remotely – addressable with the NATROX® technology. 
How is the funding going to be used?
Capital raised in the funding round will be used to:
Support sales and commercial activities in primary markets (mainly US) 
Fund the rollout of NATROX® Home Advantage to the VA
Fund ongoing R&D, product development and collation of clinical data
Management 
Inotec has assembled a world-leading team of experts who have previously launched over 250 medical products and technologies and are behind some of the biggest success stories in the wound care industry, including $1.7 billion in cumulated global sales. The Company's Chairman and management team have also collectively invested over £1 million.
The Company is backed by sector specialists – including Amadeus Capital Partners and Abcam founder Jonathan Milner. 
Financials
The Company has so far raised over £14 million, of which £4.9 million under EIS. To date, EIS certificates have been issued without delay.

Inotec forecasts £0.4 million revenue in the current financial year, growing to £1.3 million in 2021. It aims to achieve revenue of £58 million and EBITDA of £35 million in five years. Target return for investors is 10x (60% IRR) after 5 years (before tax relief). Please note: these are forecast, high risk and not guaranteed. 
The financial forecasts do not include the Series D round planned for mid-2022. Nor do they factor in the potential for recurring revenue from offering subscriptions to the digital health platform. 
The gross margins achieved (75% to 90%) appear to be exceptional in the industry. If they can be maintained, the business could potentially reach profitability at a faster rate than typical in the sector – not guaranteed. 
Please read the IM for further detail regarding growth assumptions, risks and exit options. 
Risks – important 
This, like all investments available through Wealth Club, is only for experienced investors happy to make their own investment decisions without advice.
EIS investments are high risk so should only form part of a balanced portfolio and you should not invest money you cannot afford to lose. They also tend to be illiquid and hard to sell and value. 

Before you invest, please carefully read the Information Memorandum, which contains further details on the considerable risks, alongside the Wealth Club Risks and Commitments. 

This is a single company EIS offer – there is no diversification. It involves investing in a loss-making, early-stage business. Businesses of this nature are high risk and prone to failure. You could lose the amount you invest.

If successful, funding in this round will fund the business until mid 2022, when it plans to launch its Series D round targeting a higher valuation. This is not guaranteed – if this funding is not secured this will impact the Company's ability to deliver its forecasts.

Wealth Club does not take a seat on the board so cannot influence the business post-investment. The board includes representation from Amadeus and other institutional investors.

The value of tax benefits depends on circumstances and tax rules can change. 

If the Company were to achieve an early exit, this could affect EIS tax relief. However, an exit may also take considerably longer than the three-year minimum holding period.

Structure and fees
The pre-money valuation is £45 million.
Wealth Club investors will invest using a nominee structure. This service is provided by Woodside Nominees and is covered in a separate Nominee Services agreement. 
The Company will pay a fundraising fee of 5% of the funds raised to Wealth Club Ltd for arranging the investment. 
Wealth Club is entitled to a 10% performance fee if investors achieve an exit greater than 2x subscription amount (before tax relief): the fee will be deducted on exit. 
Our view
The Company has the potential to occupy a leading market position in wound care, one of the most concentrated and largest healthcare markets in the world in our view. 
It appears to have a real opportunity to become the gold standard in the industry and has a very impressive and sophisticated management team, clinical advisory board and investor base that could help deliver the ambitious plan.
Clinical evidence demonstrates the technology is far better (and less expensive) than any of its competitors. It is the first innovation in the sector for years, operating in a market where acquirers have historically paid huge multiples for scaled companies of this quality (although there is no guarantee this will be the case). 
We believe investing in this round could be an attractive consideration for experienced EIS investors, with a proven product already in place and a tested go-to-market strategy; the business is slightly de-risked whilst promising attractive returns (not guaranteed). 
We believe this could be the last opportunity to invest directly under EIS, as the planned Series D will almost certainly be for institutional investors only. At a lower than usual £10k entry point, this could be an attractive – albeit high risk – investment in our view: you should form your own view.
Register your interest – no obligation
Wealth Club aims to make it easier for experienced investors to find information on – and apply for – tax-efficient investments. You should base your investment decision on the provider's documents and ensure you have read and fully understand them before investing. This review is a marketing communication. It is not advice or a personal or research recommendation to buy the investment mentioned. It does not satisfy legal requirements promoting investment research independence and is thus not subject to prohibitions on dealing ahead of its dissemination.
The details
Type

Single company

Sector

Healthcare & Technology

Target return

10x (60% IRR)

Funds raised / sought

£1.0 million / £1.0 million

Minimum investment

£10,127

Deadline

29 Jan 2021 for next close