Just Move In EIS
Offer closed
This offer is now fully subscribed (9 March 2020).
Moving home is a frustratingly time-consuming process, what with having to notify the council, your utility and broadband providers, etc. of your move, then having to look for and set up new suppliers. If only someone would just do all that for you, for free.
Just Move In does precisely this – not only taking care of all move-related admin, but also ensuring the best and most ethically focused deal.
Now, to accelerate its growth, Just Move In has secured approximately £1 million from a group of new and existing investors and aims to raise a further £1 million under EIS, exclusively through Wealth Club.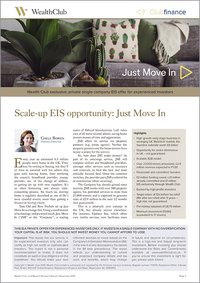 Highlights 
High-growth early-stage business in emerging 'ReloTech' (Relocation Technology) market, estimated by the founders to be worth £6 billion in the UK alone 

Opportunity for sector dominance in the UK – not guaranteed 
Scalable B2B model 
Over 27,000 moves processed, £2.9 million revenue expected in FY20 
Passionate and committed founders 
£2 million funding round: approximately £1 million already committed and £1 million EIS exclusively through Wealth Club 
Backed by high-profile investors, including the two founders of Octopus Investments 
Target return of 12x before tax relief (18x after tax relief) after 5 years – high risk, not guaranteed 
Pre-money valuation of £8.75 million 
Minimum investment £10,171.61 (equivalent to 17 shares)
High-risk, single company private investment with no diversification
Important: The information on this website is for experienced investors. It is not advice nor a research or personal recommendation to invest. If you're unsure, please seek advice. Investments are for the long term. They are high risk and illiquid and can fall as well as rise in value, so you could get back less than you invest.
The offer
Every year an estimated 4.5 million people move home in the UK – and have to contend with the admin that goes with it. 
Just Move In ("JMI" or "the Company", a trading name of Ethical Introductions Ltd) offers a tech-enabled concierge service, via property partners (e.g. estate agents) and corporates (e.g. John Lewis & Partners), to deal with this admin. At no charge to either property partners or home movers, the service includes: 
providing change of address notifications to necessary parties (council, broadband provider, water, energy providers, etc.)
comparing offers from utilities, broadband, TV/media and removal providers and recommending the most competitively priced and ethically focused 
setting up new accounts with each provider.
In return, JMI earns a referral fee or commission from providers. 
The Company already works with over 500 property agents, has provided services to more than 27,000 movers and is expected to generate sales of £2.9 million in the next 12 months (note future success is not guaranteed).
To increase the average order value per customer to up to £1,000 – and tap into an estimated UK ReloTech market potential value of up to £6 billion – JMI intends to start offering a wider range of services, both pre and post-move. 
JMI's service has attracted an impressive average review rating of 4.9/5 (based on over 500 reviews on Trustpilot).
Furthermore, JMI is now a certified B Corporation. To be awarded this international accreditation, a company must demonstrate high social and environmental standards, transparency and accountability. For example, all energy suppliers on the JMI panel use 100% sustainable energy. 
In the budding UK ReloTech market, JMI differentiates itself through the breadth of its offering and the high quality of its customer service. It could also be better placed to move to profitability given its focus on automation. It is the only supplier to be fully integrated with the water and sewerage industry and has the greatest level of integration with property management systems amongst its competitors. It is regulated by the Financial Conduct Authority to sell insurance and consumer credit.
JMI has been funded to date by its founders and private investors, notably Octopus Investments founders Simon Rogerson and Chris Hulatt, who have also followed on in this round. 
Investment to date has been used to develop the JMI platform and recruit the customer-facing and back-office staff to deliver the customer journey. Wealth Club investor capital is expected to be deployed in the following three key areas: 
Investment in technology to automate the core move service and deliver more agency services and post-move services 
Investment in the distribution and sales (delivery) team, aiming to grow it from 26 to 145 
Working capital to deliver the five-year plan. 
We have enjoyed working with the Just Move In team to ensure a smooth and streamlined service for our Partners where nothing is too much trouble and we are confident that what is promised is delivered.

John Lewis & Partners
Target returns
The Company forecasts sales of £25.6 million and EBITDA of £11.0 million by 2023. It targets a return of 12x after year 5 after fees but before EIS tax relief.
Recent M&A activity in the sector suggests that, if the Company successfully delivers its forecasts, multiples of 3-5x revenue could be achievable. The management case valuation multiple of 5x revenue is based on management's assessment of what businesses in the PropTech/ReloTech sectors are currently achieving. 
It is important to remember that these target returns and timeframes are not guaranteed.
Management team
Respectively, the Company's two co-founders and CEOs Tom Old and Ross Nichols have over 15 years' commercial and product experience, and 14 years' marketing and sales experience across technology startups and large media brands.
The management team includes directors who bring expertise in corporate finance, digital strategy and web design, and sales growth strategies in PropTech business.
The business is also supported by an experienced and high-profile advisory board, including two of the original or early investors.
Exit options
The management team intends to stay in the business for the mid to long term in order to fulfil its growth ambitions. 
An IPO, trade sale or sale to private equity are some of the options, but timeframes and exits are not guaranteed. 
Risks – important 
This, like all investments available through Wealth Club, is only for experienced investors happy to make their own investment decisions without advice. EIS investments are high risk so should only form part of a balanced portfolio and you should not invest money you cannot afford to lose. They tend to be illiquid and hard to sell and value. Before you invest, please carefully read the Risks and Commitments on the Wealth Club website and the Information Memorandum to ensure you fully understand the risks.
This is a single company EIS offer with no diversification. It involves investing in an early stage business which is by nature high risk and prone to failure.
The value of tax benefits depends on circumstances and tax rules can change.
Fees and charges
There is no direct initial fee charged to the investor. JMI will pay a fee of 6% of the funds raised to Wealth Club. Please see the research report for further details.
Our view
We believe this is an exciting opportunity for experienced investors to co-invest alongside angel investors in a high growth company operating in an emerging market, with no dominant competitor.
The Company has made encouraging progress processing over 27,000 moves from a combination of over 500 partners to date, including household names such as Knight Frank and Pickfords and John Lewis & Partners. Customers love the service, giving an exceptional average rating of 4.9/5 on Trustpilot. This is testament to the high-quality service delivered and the dedication of the management team, in our view. 
The ReloTech market is less mature in the UK than in the US but is growing. The growth of similar provider Updater Inc in the US demonstrates the opportunity for a market leader that can achieve scale first. In our opinion, the key to success will be driving the B2B model by securing new property and corporate partners to rapidly increase the number of moves referred, rather than targeting movers directly. The challenge will be delivering profitable growth by widening the services sold to customers while growing.
The opportunity to invest alongside high-profile investors who have experience in the sector, including early investors into Updater Inc and Simon Rogerson and Chris Hulatt (founders of Octopus Group) further validates, in our view, the credibility of management, growth opportunity and scalable business model.
There are significant risks to investing in early-stage companies in this still-developing market, so this is for experienced investors only. You should not invest money you cannot afford to lose, as there are no guarantees of success. If Just Move In achieves its ambitious plans, the returns to investors could be significant – there are, however, no guarantees and experienced investors should form their own view.
Wealth Club aims to make it easier for experienced investors to find information on – and apply for – tax-efficient investments. You should base your investment decision on the provider's documents and ensure you have read and fully understand them before investing. This review is a marketing communication. It is not advice or a personal or research recommendation to buy the investment mentioned. It does not satisfy legal requirements promoting investment research independence and is thus not subject to prohibitions on dealing ahead of its dissemination.
The details
Type

Single company

Sector

Consumer

Target return

-

Funds raised / sought

-

Minimum investment

-

Deadline

CLOSED