Oxford Capital Growth EIS
This fund is currently unavailable for new investment
Browse other EIS funds you can invest in now:
The Oxford Capital Growth EIS aims to back ambitious entrepreneurs who are building companies in sectors where the UK leads the world. It seeks to invest in small businesses that are solving commercial, technological or scientific problems in innovative ways. Oxford Capital typically invests at the first round of institutional funding for these early stage businesses.
Highlights
Early-stage technology focused EIS fund

Wide range of sectors covered

Investors will typically hold a portfolio of 12-15 companies 

High growth opportunity: target return of 2x (not guaranteed)
£25,000 minimum investment
Important: The information on this website is for experienced investors. It is not advice nor a research or personal recommendation to invest. If you're unsure, please seek advice. Investments are for the long term. They are high risk and illiquid and can fall as well as rise in value, so you could get back less than you invest.
The manager
Oxford Capital was founded in 1999 by Ted and David Mott as a venture capital investment company typically looking at early-stage opportunities coming out of Oxford University. The scope was widened to encompass the whole of the UK. 
To start, Oxford Capital invested in the life sciences sector. It then rode the renewable energy wave (and still does) and delivered some excellent returns to investors. Oxford Capital has now come full circle to return to early-stage technology investments.
In 2015 Tom Bradley joined as Partner to refocus Oxford Capital's growth strategy and to ensure it was investing in the best areas with the best expertise. Mr Bradley leads the Ventures team, whose members have more than 70 years of Venture Capital experience combined.
Watch an exclusive video interview with Tom Bradley of Oxford Capital:
The offer 

The Growth EIS seeks to invest in early stage businesses that are solving commercial, technological or scientific problems in innovative ways. It looks for entrepreneurs in sectors where the UK has global strength. The focus is on technology, specifically the software, ecommerce, fintech, artificial intelligence (AI), health tech, gaming, and retail technology sectors. 
Oxford Capital typically invests at the Series A round of funding. It is the first institutional round of investing, after the entrepreneur has received friends, family and maybe grant based funding. Often the company has no revenue at that point. 
The team looks at well over 2,000 companies a year and generally has about 600-700 first round meetings. Obviously not many pass the first round and only about 5 or 6 a month are looked at in more depth. Overall Oxford Capital makes about 4-6 new investments a year. 

A typical initial investment is £0.5 million, but it can be up to £2 million. Over time, with companies that succeed, up to £9 million could be invested. Oxford Capital tries to provide companies with sufficient capital to last over 12-24 months so management can focus on running the business rather than having to raise capital constantly. 
The team likes starting with small investments and adding more to the successful ones over time. They are fully engaged "hands on" investors with early stage companies as that's when they believe they can have the most influence on a business's success and it helps them assess the quality of management.
In companies with high growth potential, a lot of the investment goes into R&D. However, in the majority of companies it goes into widening out the product range, sales and marketing. The companies invested in often benefit from the wider knowledge-based EIS rules that allow a greater level of investment and into older companies than other more traditional EIS companies.
Typically, 40-50% each year goes into new investments, and the balance into follow-on investments. Each investor will typical invest in 12-15 companies. The follow-on investments tend to be bigger investments. Some examples of portfolio holdings include Push Doctor (a provider of online video GP appointments – profiled below), Moneybox (a digital savings service), Spoke (a clothing ecommerce business), Import.io (a data extraction service for AI applications), Attest (a provider of smartphone-enabled market research services) and UltraSoC (a silicon IP company designing debugging technology for the next generation of silicon chips). 
Please note that due to the nature of EIS portfolio funds, new investors will not necessarily see funds invested into these companies unless follow-on investments are made. New money will be deployed into new and follow-on investments.
Push Doctor – an example investee company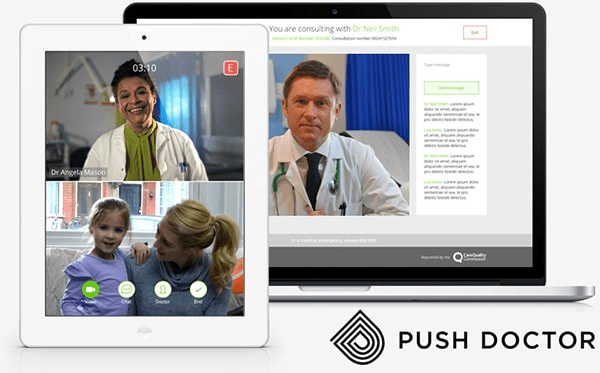 Push Doctor is a digital health business, allowing patients to have video appointments with GPs via its mobile app or website. Patients can see a GP in as little as 6 minutes. The company has a network of more than 7,000 GMC-registered GPs who fit time on Push Doctor around their daily lives and normal NHS and private practice work.
Users can pay per appointment or join on an inclusive monthly subscription. Doctors are available from 6am to 11pm, seven days a week. At the end of the consultation, the GP can provide a prescription, a sick note or a GP referral – charged extra for pay-per-appointment patients. The fees are split between the GPs and Push Doctor. 
The company also offers services to businesses, providing consultations as part of employee/customer benefit packages. Current clients include Uber, STA travel and Danone. In addition, Push Doctor is an NHS commissioned technology provider, helping the NHS deliver better digital healthcare affordably, safely and sustainably.
Oxford Capital first backed the business in January 2016 when it led an $8.2 million Series A investment round. Tom Bradley joined the board as a non-executive director. The company had previously received $1.2 million in seed funding. In July 2017, Oxford Capital made a follow-on investment as part of Push Doctor's $26.1 million Series B round, which was led by Accelerated Digital Ventures (ADV), the venture investment company backed by Legal & General, Woodford Investment Management and the British Business Bank.
Target return
There is a target return of 2x initial investments excluding tax benefits. This is variable and not guaranteed.
Exit strategy
Oxford Capital has a specific team member whose role is to drive exits, Robin Lincoln. The recent refocusing of new investments means it is too early for exits under the new strategy. It is difficult to time exits, and as a company gets more mature, if it needs more funding Oxford typically uses its "co-invest" partners rather than EIS money so it is then not tied in for a further three years. Generally speaking, the majority of exits are expected to be a full sale of the business to strategic buyers, typically in the US. Exit routes, and timeframes, are not guaranteed.
Risks – important
This, like all investments available through Wealth Club, is only for experienced investors happy to make their own investment decisions without advice.
EIS investments are high-risk so should only form part of a balanced portfolio and you should not invest money you cannot afford to lose. They also tend to be illiquid and hard to sell and value. Before you invest, please carefully read the Risks and Commitments and the offer documents to ensure you fully understand the risks. 
Tax rules can change and benefits depend on circumstances.
This EIS fund invests in early-stage businesses which are more likely to fail than larger ones. So you should expect a number of failures in the portfolio.
Fees and charges
A summary of the fees and charges is shown below. Please see the provider's documents for more details. 
| | |
| --- | --- |
| Initial charge | 4.5% |
| Annual management charge | 2% |
| Annual custodian charge | £50 plus VAT |
| Dealing fee | 0.35% |
| EIS3 Certificate fee | £15 plus VAT |
| Performance fee | 20% |
More detail on the charges
Wealth Club aims to make it easier for experienced investors to find information on – and apply for – tax-efficient investments. You should base your investment decision on the provider's documents and ensure you have read and fully understand them before investing. This review is a marketing communication. It is not advice or a personal or research recommendation to buy the investment mentioned. It does not satisfy legal requirements promoting investment research independence and is thus not subject to prohibitions on dealing ahead of its dissemination.
The details
Type

Fund

Sector

Technology

Target return

-

Funds raised / sought

-

Minimum investment

£25,000

Deadline

CLOSED