Salus Optima EIS
Fast-growing B2B data-analytics platform backed by Formula 1's McLaren, with multi-year blue-chip contracts
Millions of people make unhealthy choices – smoking, poor diet and exercise, excessive drinking, etc. Changing these habits could help prevent illness. Every year in England, poor diet alone costs 64,000 lives and the economy an estimated £74 billion, while smoking claims 77,600 lives and costs the UK economy over £19 billion.
Salus Optima, the trading name of L3M Technologies Limited ("Salus" or the "Company")  believes its data analytics platform, developed in partnership with Formula 1's McLaren Racing, can help people manage and improve health and wellbeing. 
Salus has created customised apps for global blue-chip clients, including PepsiCo, Walgreens Boots Alliance, McLaren and Under Armour – all currently in multi-year licence contracts. These companies' customers, the end-users, receive personalised health guidance. The companies themselves benefit by collecting consumer data and receiving actionable insights.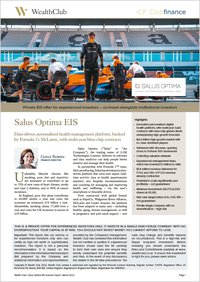 In an estimated $4.4 trillion wellness industry market, with currently no direct competitors, Salus's platform has so far been used to support healthy ageing, disease management, the pregnancy and post-natal journey, and F1 race team burnout and injury prevention.
Wealth Club investors first invested in the Company in April 2021. Founded in 2018, Salus believes it will meet its targeted FY22 revenues of $1.8 million. It forecasts sales of $3.2 million in FY23 (35% of which is underpinned by existing contracts), reaching over $60 million by FY27 – forecasts not guaranteed. 
Now to expand its technical development and customer care teams, and support its growing number of major contracts, the Company is raising £3.0 million in an extended Series A round. Approximately £2 million has been already secured from existing investors, including Deepbridge Capital and the British Business Bank, subject to contract. Wealth Club has an exclusive allocation of £1.0 million.
Provided it can meet its forecasts, the Company targets mid-case returns of 8.3x in 5 years, after performance fees but before EIS tax relief – high risk and not guaranteed.
Important: The information on this website is for experienced investors. It is not advice nor a research or personal recommendation to invest. If you're unsure, please seek advice. Investments are for the long term. They are high risk and illiquid and can fall as well as rise in value, so you could get back less than you invest.
Read important documents and then apply
The deal at a glance
| | |
| --- | --- |
| Type | Single company EIS private offer |
| Stage | Follow-on round |
| Date started trading | 2018 |
| Funding to date | £7.2 million (£1.7 million raised from Wealth Club investors in 2021) |
| Existing investors | McLaren, Deepbridge, British Business Bank, family office, founders |
| Investors in this round | Deepbridge, British Business Bank, Wealth Club |
| Sector | Personalised health and wellness technology |
| Pre-money valuation | See research report |
| Market size | $4.4 trillion |
| Business model | B2B |
| Revenue to date | $1.8 million |
| Revenue model | SaaS, software licences, product sales, recurring multi-year contracts with blue-chip clients |
| Profitability forecast from* | 2025 |
| Forecast revenue in year 5* | $62.2 million |
| Forecast EBITDA in year 5* | $40.5 million |
| Target return in year 5* | 8.3x |
| Target IRR* | 53% IRR |
*These are forecast and not guaranteed. Capital is at risk – you could lose the amount you invest.
Meet the founder & CEO: Zoom interview with Rodrigo Jesus
Highlights
Innovative personalised digital health platform, with multi-year SaaS contracts with blue-chip global clients underpinning high growth forecasts

$4.4 trillion high-growth market with no clear dominant players
Partnered with McLaren, opening doors to Fortune 500 businesses
Collecting valuable datasets
Experienced management team, which has invested £1 million to date
$1.8 million revenue delivered for FY22 and 35% of FY23 revenue already contracted
Potential to scale significantly and profitably – not guaranteed
Minimum investment £19,775 (3,500 shares at £5.65)
Mid-case target return 8.3x, 53% IRR – not guaranteed
Private single company with no diversification – high risk
The overview provided on this website is based on the information available in the Information Memorandum prepared by the Company and additional information and representations provided by the Management upon request. Wealth Club has reviewed the information provided but not verified or audited it. Please read the offer documents carefully to form your own view and ensure you wholly understand the potential benefits and risks. Private early-stage single company with no diversification – high risk.

What does Salus Optima do?
London-based digital health company L3M Technologies Ltd, trading as Salus Optima, was founded in 2018 by a team of serial tech entrepreneurs. They invested £1 million of their own capital to get the Company started. That same year, Salus entered a technical and strategic partnership with McLaren. 
Salus has developed a data-driven platform that gives consumers bespoke, evidence-based recommendations to help manage and improve their health and wellbeing. 
Leveraging McLaren's expertise in high-performance data analytics and artificial intelligence (AI), Salus's technology can transform data from a wide range of data points (usually a consumer's smartphone or wearable device) into habit-changing advice which could prevent chronic disease.
The Company has contracts with global corporations to license these applications on a white-label basis, collecting user license fees and an initial development and onboarding fee.
To date, Salus has launched three products: BiaMother (focused on pre- and post-natal care, see video below) in 2020, McLaren's race performance programme in May 2021 and Aspire2B for PepsiCo in December 2021. Two additional products are in development – one focused on gut health for Walgreens Boots Alliance and one focused on elite athlete performance for Under Armour. In the Company's pipeline are a number of large multinationals in pharmaceuticals and consumer packaged goods. 
Through its global contracts and anticipated millions of users, the Company aims to collect large, highly valuable health-related datasets. The data should drive increasingly accurate and meaningful algorithms and AI. Salus is co-owner of this data.

The Company believes it is on target to hit its forecast FY22 revenues of $1.8 million, and is expecting sales of $3.2 million in FY23 (not guaranteed), 35% of which underpinned by existing contracts. Management forecasts sales to continue growing rapidly, to reach over $60 million by FY27 – not guaranteed. Predicated on meeting these forecasts, management is targeting mid-case returns of 8.3x in 5 years, after performance fees but before EIS tax relief – high risk and not guaranteed.
See a quick introduction to BiaMother:
Risks – important 

This, like all investments available through Wealth Club, is only for experienced investors happy to make their own investment decisions without advice.
This investment is high risk so should only form part of a balanced portfolio and you should not invest money you cannot afford to lose. They also tend to be illiquid and hard to sell and value.
Before you invest, please carefully read the full investment pack – including the Information Memorandum which contains further details on the considerable risks, alongside the Wealth Club Risks and Commitments and our full research report. 
This is a single company offer with no diversification. It involves investing in an early-stage, loss-making business, which is by nature high risk and prone to failure. You could lose the amount you invest.
The value of tax benefits depends on circumstances and tax rules can change. 

An exit could take longer than the three-year minimum holding period. Equally, an early exit could affect tax relief.
Wealth Club does not take a seat on the board so cannot influence the business the same way as is usually the case with institutional investors taking a full board position. 

Structure and fees
Investors will pay no direct initial or ongoing charges to invest. Fundraising costs are being met by the Company. Wealth Club will be entitled to a performance fee on exit. 
Wealth Club investors will invest using a nominee structure. This service is provided by Wealth Club's subsidiary companies Wealth Club Asset Management Limited (authorised and regulated by the FCA) and Wealth Club Nominees Limited. Wealth Club Nominees Ltd will be completing the share subscription documentation on investors' behalf.

Please refer to the Schedule of Charges for more details on charges. 

All the services Wealth Club and, where applicable, its subsidiaries provide are governed by the Terms and Conditions of the Wealth Club Services.
Our view
In our view, Salus appears to be successfully building a highly scalable business where it could deliver substantial value to both its customers and consumers. 
Having delivered on its FY22 revenue forecast, Salus has demonstrated the demand from large corporations for its product in this growing market, and the team's capability to deliver the business plan.
Besides a potential conventional exit based on financial results, Salus could achieve an exit based on the value of its anonymised user data. This may provide an attractive alternative exit route for a valuation unconnected to the financials of the business. 
As with all EIS investments, there are considerable risks. For instance, the loss of McLaren or the failure to deliver a contract could cause long-term damage and impact the execution of the business plan. Experienced investors should form their own view.
Register your interest – no obligation
Wealth Club aims to make it easier for experienced investors to find information on – and apply for – tax-efficient investments. You should base your investment decision on the provider's documents and ensure you have read and fully understand them before investing. This review is a marketing communication. It is not advice or a personal or research recommendation to buy the investment mentioned. It does not satisfy legal requirements promoting investment research independence and is thus not subject to prohibitions on dealing ahead of its dissemination.
The details
Type

Single company

Sector

Healthcare & Technology

Target return

8.3x (53% IRR)

Funds raised / sought

£2.5 million / £3.0 million

Minimum investment

£19,775

Deadline

6 Jun 2022 for 2022/23 allotment
Downloads