TravelNest EIS
Marketing platform for holiday lets, helping property owners and rental businesses significantly boost bookings and earnings
The global market for holiday lets is around USD75 billion and growing. Tourists often prefer these to hotels, for a more private or child- and pet-friendly stay. 
Despite the demand, however, over half of holiday-home nights tend to go unsold. The majority of holiday lets are sideline businesses comprising just a few properties, and owners haven't the time or expertise to maximise occupancy. They also struggle with managing listings on multiple booking platforms, from Booking.com to Airbnb.
TravelNest Limited ("TravelNest" or "the Company") has developed an innovative platform that both simplifies holiday home letting and helps drive up bookings. To date,  it has increased owners' earnings by up to 4x, whilst cutting their administrative costs by 75%.
Since launching the platform in 2018, the Company has grown rapidly (145% CAGR between FY18 and FY21). The Company is currently trading to budget, and in May achieved a record weekly booking value of £1 million – an 18% increase on the prior period.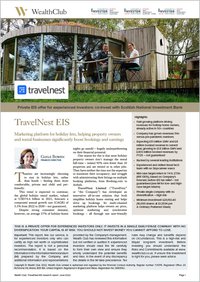 To accelerate growth, the Company has launched a £15 million Series A round. £10.5 million has already been secured by existing institutional investors – including Mangrove Capital Partners (early backers of unicorns Skype, Wix, WalkMe, K Health and The Bank of London) and Pentech Ventures (an early investor in FanDuel and Nutmeg) – and new investor Scottish National Investment Bank (SNIB). 
The Company is now seeking to raise the remaining £4.5 million in a second close. Wealth Club has secured an exclusive allocation of £1.5 million for four weeks, enabling EIS investors to participate at the same price as institutional backers in the Series A round.
For experienced EIS investors, investing at this early stage means the rewards could be significant, but so are the risks. 
If it can achieve its targets, the Company forecasts the target mid-case return for investors in this round could be 27.9x (IRR 130%) after four years, before EIS tax relief – high risk and not guaranteed
This takes into account an anticipated £25 million funding round in 2024.
Important: The information on this website is for experienced investors. It is not advice nor a research or personal recommendation to invest. If you're unsure, please seek advice. Investments are for the long term. They are high risk and illiquid and can fall as well as rise in value, so you could get back less than you invest.
Read important documents and then apply
The deal at a glance
| | |
| --- | --- |
| Type | Single company EIS private offer |
| Stage | Series A |
| Founded | 2014 |
| Funding to date | £10.9 million equity (prior to Series A) and £2.3 million R&D and RSA grant funding from Scottish Enterprise |
| Investors in this round | SNIB, Mangrove Capital Partners, Pentech Ventures, Frontline Ventures, Scottish Enterprise Venture Fund, Scottish Enterprise ESCF, Wealth Club EIS investors |
| Sector | TravelTech |
| Fully diluted pre-money valuation | See research report |
| Market size | £64 billion global holiday rental industry |
| Business model | B2B |
| Booked revenue to date | £7.7 million |
| Revenue growth per accounts | 145% CAGR between FY18 and FY21, forecast to grow at 215% CAGR from FY21 to FY25 |
| Revenue model | Commission |
| Forecast realised revenue in year 4* | £245.7 million |
| Forecast EBITDA in year 4* | £57.4 million |
| Mid-case target return in year 4* | 27.9x |
| Mid-case target IRR in year 4* | 130% |
*These are forecast and not guaranteed. Capital is at risk – you could lose the amount you invest.
Highlights
Fast-growing platform driving revenues for holiday home owners, already active in 50+ countries
Run-rate booked revenues have grown 56x versus pre-pandemic numbers
Expecting £51 million GMV and £8 million booked revenue in current year, growing to £1.5 billion and £300 million respectively by FY25 – not guaranteed
Backed by several leading institutions
Experienced and skilled travel tech team with ex Skyscanner execs 
Mid-case target return in Year 4 is 27.9x (IRR 130%), based on Company's forecast, before EIS tax relief – not guaranteed (see IM for low- and high-case target returns) 
Private single company with no diversification – high risk 
Minimum investment £20,150.40 (16,000 shares at £1.2594 per A Ordinary Preferred Share)
The overview provided on this website is based on the information available in the Information Memorandum prepared by the Company and additional information and representations provided by the Management upon request. Wealth Club has reviewed the information provided but not verified or audited it. Please read the offer documents carefully to form your own view and ensure you wholly understand the potential benefits and risks. Private early-stage single company with no diversification – high risk.
What does TravelNest do?
TravelNest was founded in 2014 by Doug Stephenson after experiencing first-hand the time and effort required from property owners to manage and promote holiday lets. 
To address this, TravelNest developed a comprehensive, user-friendly platform that allows holiday property owners to manage bookings from multiple sites through a single portal. TravelNest's proprietary technology helps owners set prices, optimise marketing and synchronise bookings.
Property owners pay no subscription or set-up costs – the Company takes a fixed 20% commission of the total booking value. 
TravelNest works with the world's biggest and best-known online travel sites, including Booking.com, Expedia, Airbnb, Tripadvisor and Vrbo. The Company also has affiliate partnerships with other popular, local booking sites (such as KAYAK, trivago and Hotels.com), giving clients exposure to over 30 sites. TravelNest is active in over 50 countries and is looking to expand its international presence. 
Despite the impact on the travel industry caused by the Covid-19 pandemic, the Company has grown rapidly with booking values increasing 39x and run-rate booked revenues by 56x compared to pre-pandemic numbers – past performance is not a guide to the future. 
In May 2022, it achieved a record weekly booking value of £1 million. It is currently on track to deliver the FY22 Gross Merchandise Value (GMV) target of £51.8 million, with profitability forecast from FY24 – not guaranteed. If mid-case forecasts are reached, TravelNest's revenue could be £246 million by FY25, equating to a return for investors of 27.9x, before tax relief – high risk and not guaranteed. 
Watch a video case study: Joanne, owner, Punch Tree Lodge, South Lanarkshire
Risks – important
This is a single company offer with no diversification. It involves investing in an early-stage, loss-making business, which is by nature high risk and prone to failure. There is a risk that the capital raised may not be sufficient to achieve the Company's objectives. You could lose the amount you invest.
Like all investments available through Wealth Club, it is only for experienced investors happy to make their own investment decisions without advice.
There is no ready market for unlisted EIS shares: they are illiquid and hard to sell and value. There will need to be an exit for you to receive a realised return on your investment. Exits are likely to take considerably longer than the three-year minimum EIS holding period; equally, an exit within three years could impact tax relief. The value of tax benefits depends on circumstances and tax rules can change. 
Before you invest, please carefully read the Information Memorandum which contains further details on the considerable risks – alongside the Wealth Club Risks and Commitments.
Structure and fees
Investors will pay no direct initial or ongoing charges to invest. Fundraising costs are being met by the Company. Wealth Club will be entitled to a performance fee on exit. 
Wealth Club investors will invest using a nominee structure. This service is provided by Wealth Club's subsidiary companies Wealth Club Asset Management Limited (authorised and regulated by the FCA) and Wealth Club Nominees Limited. Wealth Club Nominees Ltd will be completing the share subscription documentation on investors' behalf.
Please refer to the Schedule of Charges for more details on charges. 
All the services Wealth Club and, where applicable, its subsidiaries provide are governed by the Terms and Conditions of the Wealth Club Services.
Our view
TravelNest has made some significant commercial progress over the last few years despite the challenging trading conditions created by the Covid-19 pandemic. Experts still believe the holiday home market will achieve strong growth despite geopolitical and global inflationary pressures – time will tell if this growth slows. However, what is certain is that holiday property owners will be more motivated than ever to access the advantages the TravelNest technology can bring to drive their revenues. 
TravelNest has ambitious growth plans predicated on international growth, product development and upselling. They have done well so far but they need to continue this to achieve the plan – not guaranteed. They appear to be a skilled team and backed by credible institutions.
In our view, TravelNest presents an opportunity to invest alongside institutional investors in a Series A round in an exciting business with the benefits of EIS. This is a high-risk offer but returns could be commensurate for experienced investors willing to invest at this early stage. As always, you should form your own view and please remember you should not invest
Register your interest – no obligation
Wealth Club aims to make it easier for experienced investors to find information on – and apply for – investments. You should base your investment decision on the offer documents and ensure you have read and fully understand them before investing. The information on this webpage is a marketing communication. It is not advice or a personal or research recommendation to buy any of the investments mentioned, nor does it include any opinion as to the present or future value or price of these investments. It does not satisfy legal requirements promoting investment research independence and is thus not subject to prohibitions on dealing ahead of its dissemination. 

The details
Type

Single company

Sector

Technology

Target return

27.9x (IRR 130%)

Funds raised / sought

£1.5 million sought

Minimum investment

£20,150

Deadline

8 Jul 2022 for first allotment
Downloads