West Berkshire Brewery
This is a rare opportunity to co-invest with a very experienced investor – David Bruce, Co-Founder of The City Pub Company – with the additional benefit of EIS tax relief. The deal is exclusively available through Wealth Club. The deadline is 25 August. 
West Berkshire Brewery – an established regional brewer and pub operator – is raising £2 million to acquire at least 10 new pubs. The business is expected to be profitable even if there is no further growth. Investors could benefit from returns of over 3x after EIS tax relief, not guaranteed.

Our research report explains the details, potential benefits and risks.
Investment Highlights
Exclusive opportunity to participate in an established brewery's growth including pub estate

Diversified revenues, known brands and award-winning British beers

Current valuation £10.3 million (3x revenue 2x net assets)
£2.2 million target EBITDA by 2021

Business expected to be profitable even without growth due to improvement in margin

Highly experienced management team led by David Bruce

Mid-point target return – over 3x after EIS tax relief, not guaranteed

Exit targeted from year 4

EIS advance assurance in place

Minimum investment – £10,000

Deadline 25 August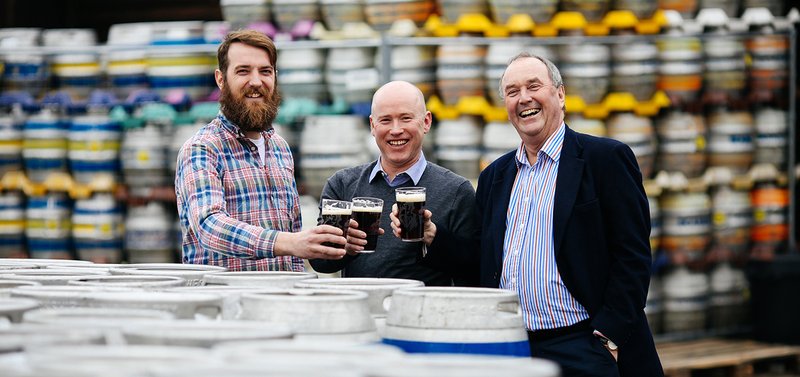 From left: Will Twomey, Head Brewer, Simon Lewis, CEO, and David Bruce, Chairman
Why has David Bruce invested in West Berkshire Brewery?
"When in March 2013 the founders of West Berkshire Brewery decided to retire after 18 years, they invited me to become Chairman to take their company forward. Armed with my 51 years' experience in the international brewing industry, I was delighted to accept the exciting challenge and work with the Brewery's existing team to help them realise the true potential of the business.
Due to my confidence in the Company's portfolio of award-winning brands and the excellence of all its staff, I am now delighted to personally own 7% of the equity [another 3% is owned by David's family].
The past four years have been a transformational time. Having raised so far £6.7 million of new equity under the Enterprise Investment Scheme, we are about to open one of the most pre-eminent and cutting-edge new breweries in Europe, together with state-of-the-art bottling, kegging and canning facilities. In addition to this £5.5 million development of our new 38,000 sq ft site, we are embarking on the rapid expansion of our pub estate to showcase our beers and lagers across Southern England.
Having co-founded and invested in many breweries from London to Seattle via Paris and New York, I am hugely excited about realising the true potential of West Berkshire Brewery and creating real value for our shareholders before achieving an exit for them within the next five years".
What to consider
Despite the strong management team and the proven business, capital is still at risk. You should not invest money you cannot afford to lose. Returns are not guaranteed. The value of tax benefits depends on circumstances and tax rules can change. 
How to apply
This deal is available exclusively through Wealth Club and the deadline is 25 August. If you are interested you should:
The details
Min. Investment

£10,000

Strategy

Growth

Amount Raising

£2m

Type

single company EIS

Deadline

25 Aug 2017