Foresight Accelerated Inheritance Tax Solution
This offer is now closed. It will reopen with updated terms shortly.
Foresight is one of the most popular choices for investors wishing to protect their wealth from IHT. In our view this is deservedly so. £386 million has been invested in its Inheritance Tax Solution since launch in 2012 (figures at 23.04.2018). The Foresight IHT Solution makes use of Business Property Relief (BPR) where investments in certain businesses should be free of IHT after two years.
This new award-winning offer makes a successful product even more appealing. You can invest in the same expertly managed mature portfolio and also benefit from a refreshingly simple insurance policy which could effectively make your investment IHT free from day one.
To benefit from the current terms and insurance policy, Foresight requires cleared funds and applications before 18 May 2018.

Highlights
Capital preservation focus

"IHT free" from day one – no medical underwriting required

One of the most diversified IHT portfolios, uncorrelated to stock markets and investing across various infrastructure areas

Highly experienced manager

Target return of 3.5% p.a. (not guaranteed) with a history of delivering this over the past three years

After two year initial period, the annual management charge is only applied after a return of 3.5% has been met

Minimum investment £25,000

The offer
The Foresight Accelerated Inheritance Tax Solution is a managed service investing in unquoted companies which should qualify for BPR and therefore benefit from IHT relief after two years. However, the addition of the insurance effectively delivers IHT protection from day one.
When you invest you acquire shares in a trading company operating in a way that is focused on capital preservation and designed to qualify for BPR. 

Each investor is exposed to a range of projects in various infrastructure areas, including solar infrastructure, energy efficiency, smart metering and Private Finance Initiative ('PFI'), making this one of the most diversified services in the market. 

Irrespective of the sector, all projects share two characteristics which should be very valuable to investors seeking IHT protection:

They are secured either against long-term contracts with the government and blue chip companies or against assets or loans – tying in with the capital preservation objective 

They produce contractual revenue streams – so your investment should not suffer from high volatility and returns should not be affected by stock market movements
A closer look at some of the sectors will clarify how this works in practice. 
Solar infrastructure
Solar power has long been a staple of tax-efficient investing, largely because it produces relatively stable and predictable risk-adjusted returns. 
Foresight ITS has acquired 20 solar trading plants. Each plant benefits from the income produced by selling the electricity generated. In addition, solar power plants accredited under the government's RO or FIT schemes receive 20 years of index-linked income from the subsidies, which substantially increases their returns and provides some inflation proofing. 
Smart metering
The UK government in conjunction with Ofgem, the energy market regulator, has mandated that by 2020 all properties (residential and commercial) should have a smart/advanced meter.
Energy suppliers are responsible for the roll-out the installations, but they're reluctant to own smart meters – partly because customers are now encouraged to switch supply with ease. Instead, they lease the meters from specialist companies (known as Meter Asset Providers) for a set period, with the cost passed on to consumers. So, once installed, smart meters are a source of contractually secured income. 
Therein lies the opportunity. Foresight works in partnership with an established Meter Asset Provider. It acquires fully installed and tested smart meters that are under long-term contracts with energy suppliers and receives the rental yield for the duration of the contract, typically up to 10 years. This yield is sufficient to repay the capital used to acquire the meters and to cover interest payments, thereby mitigating the investment risk. 
At the end of the contract, the Meter Asset Provider can continue to rent the meters or buy them for a nominal sum. There is also a growing secondary market, which could provide the opportunity for an exit before the end of the lease. 
Private Finance Initiative ('PFI')
PFI is an established scheme introduced by the government 24 years ago to enable private funding of public sector infrastructure projects. So far around 900 projects have been procured through PFI with capital value of over £70 billion.
Typically a local authority (e.g. a council) enters into contract with a consortium of private investors to build and maintain an infrastructure project (e.g. a school or a hospital). Projects have a high-risk construction phase, followed by a lower-risk operational phase. It is common that as the project enters the lower-risk phase, the original investors are keen to sell their holdings, thereby creating a secondary market. 
It is the secondary PFI market that interests Foresight. An investment in secondary PFI offers long-term inflation-linked revenues, predictable cash flows (the interest rate is typically fixed for the duration of the investment) and low correlation to equity markets. Moreover, the debt is underwritten by the UK government. 
Secondary PFI is popular amongst pension funds and other institutional investors.
Foresight ITS invests in three educational projects (comprising seven schools) and four healthcare projects.
Energy efficiency
Energy efficiency projects typically involve helping corporations and public sector bodies lower their energy usage and costs. 
Investment returns come from the financial value of the energy savings which are apportioned between the customer and the company established by Foresight. The cash flow returns to investors are amortising with no exit required at the end of the investment. Moreover, the investment is underpinned by the physical ownership of the energy saving or energy generation equipment. 
An example is the fuel switching project Foresight undertook for CEMEX UK, the UK arm of the global building material company. Foresight invested £4.5 million in 2014 to replace dirty, expensive and inefficient diesel oil with gas and electricity connections at nine CEMEX sites across the UK. The installation is projected to deliver more than 7,500 tonnes of CO2 savings per year over the course of the five-year contract. This project is so far performing in line with projections.
Target returns
At a gross level, i.e. before any fees are taken, Foresight requires each project to be able to deliver annual returns of 6.2%-8.2%. Once management fees, administration fees and corporation tax are considered Foresight aims to deliver a minimum return of 3.5% each year to investors, although this is not guaranteed. The return is uncapped, and any outperformance accrues to investors. 
Importantly, Foresight's interests are aligned with investors'. The annual management charge is refunded to investors if they have not received a cumulative priority return of 3.5% in each year after the second year. 

Performance
The portfolio currently invests in trading company Averon Park Ltd. In the past three years it has produced average returns of 3.7%. The graph below shows performance to 31 December each year, based on most recently available figures.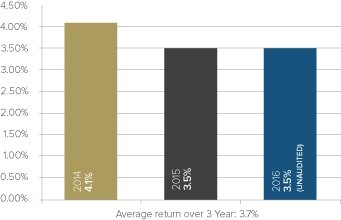 Source: Foresight. Averon Park was set up in 2013 so full year data is not available before 2014. This is an unquoted company so returns and share price are based on internal valuations. Please note, past performance is not a guide to the future. 
Insurance delivering IHT protection from day one
Normally when you invest in an unquoted company that qualifies for BPR, your investment becomes IHT free after two years. So for the first two years there is a liability. 
To bridge this gap, Foresight Accelerated ITS automatically includes an insurance policy to provide a payment of 40% of the net Investment Amount (which is equal to the rate at which inheritance tax could be charged) if you die within the first two years. After two years, the insurance will cease. So whilst your portfolio would still be liable for IHT, the payout from the insurance should cover this. 
The eligibility criteria are refreshingly simple. Investors are simply asked to confirm they're aged between 18 and 89 and have no knowledge that they're suffering from a terminal illness. No medical underwriting is required. The maximum subscription is £500,000 per individual investor (£1 million for joint applications). However, investors wishing to invest more than this can invest the excess in the Foresight ITS without insurance.
The insurance is only available to investors applying before 18 May 2018.
The manager

Foresight's Richard Kelly runs the Foresight ITS and acts as the initial screen for new investments. He is supported by three investment teams within Foresight (Infrastructure, Environmental, Smart Metering) who source opportunities. Around 60 a year are considered to meet the investment criteria for this product and sent on to Foresight's Investment Committee for the final decision. The Investment Committee comprises Foresight's founder, Bernard Fairman, David Hughes and Gary Fraser. Around 30 new investments are made each year. 
Foresight Group started as a technology specialist in 1984 and launched one of the first VCTs in the 1990s. It then diversified and became one of the leading renewable energy, infrastructure and PFI investors. 

Today Foresight manages c.£2.8 billion across a range of VCT, EIS, IHT and institutional products. Its clients include more than 15,000 private investors and some of the world's leading financial institutions (Blackrock, Schroders and Baillie Gifford to name but a few), public sector organisations, pension funds and insurance companies.
Risks
As with many unquoted IHT products – and unquoted shares generally – there may be limited liquidity, however Foresight endeavours to effect withdrawals within 15 working days of written receipt. Foresight is keen to ensure all the underlying investments can stand on their own irrespective of BPR and have sufficient attraction to be sold within 6-12 months at fair prices. However, this is an investment making a series of unquoted investments therefore liquidity is a risk.
Your capital is at risk and you should not invest money you cannot afford to lose.

Under current rules, BPR-qualifying investments held for at least two years on death are exempt from IHT, but remember tax rules can change and tax benefits depend on circumstances.
Fees
There is an initial charge of 5.5%, before Wealth Club saving. Foresight's annual management charge per investor is 4.64% per annum for the first two years (to cover the cost of the insurance policy) and thereafter 1%. The annual management charge is refunded to investors if they have not received a cumulative priority return of 3.5% in each year after the second year. 
There is no performance fee. There are also arrangement fees charged to the underlying companies.
Please read the provider's documents, and the Key Information Document, for more information on fees.
Our view

In our view the Foresight ITS is well thought through, keenly priced and has thus far delivered on its objectives. Foresight has a capable and credible management team and the product sufficient scale to give a wide range of underlying investments. The nature of these investments should mean that long-term returns are consistent, though of course there are no guarantees. This IHT service comes highly commended. 
Important
The Chancellor has requested a review of a range of aspects of IHT to simplify the tax system. The review timescales, its scope and impact are unknown. Currently, investments qualifying for Business Property Relief should be free from IHT after two years. Tax rules can and do change and benefits depend on circumstances.
Wealth Club aims to highlight investments we believe have merit, but you should form your own view. You should decide based on the provider's documents and ensure you have read and fully understand them before investing. This review is a marketing communication. It is not advice or a personal or research recommendation to buy the investment mentioned. It does not satisfy legal requirements promoting investment research independence and is thus not subject to prohibitions on dealing ahead of its dissemination. 26.04.2018

The details
Sector

Lending & renewables

Portfolio size

£386.0 million

Initial charge

-

Saving via Wealth Club

-

Net initial charge

None

AMC

-
Downloads