Dimensions Care EIS
Scale-up capital to support expansion of established provider of children's care experiencing high demand
Local authorities have for years struggled to keep up with the demand for children's social care – grown more acute since the outbreak of the pandemic. 
The number of children in care is now at a decade high, with nearly 90 children entering the care system every day. However, many local authorities no longer run their own children's homes, finding it more cost-efficient to use specialist private providers.
Dimensions Care Limited ("Dimensions" or the "Company") is a well regarded provider of children's specialist residential care services, with staff highly trained to look after children with complex care needs. Its revenues are underpinned by multi-year contractual agreements with local authorities. 
Dimensions launched its first specialist residential children's home in September, in the Midlands. The home already has 75% occupancy and the remaining placements are in the referral process from local authorities.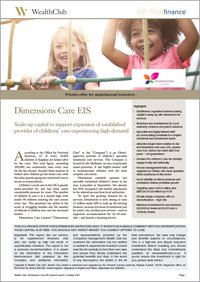 To meet the growing demand for its services, Dimensions is now aiming to raise a minimum of £385,000, up to a maximum of £1 million under EIS to scale up the existing business, increase provision of residential care for under-16s, develop new services – such as supported accommodation for 16–18-year-olds – and launch a fostering service. 
Dimensions Care forecasts to be profitable from FY23 and achieve revenues of £5.5 million and EBITDA of £1.9 million in FY25 – not guaranteed. Based on the Company's forecasts, the targeted return is 4.5x (45% IRR) in four years, before EIS tax relief – high risk and not guaranteed.

Important: The information on this website is for experienced investors. It is not advice nor a research or personal recommendation to invest. If you're unsure, please seek advice. Investments are for the long term. They are high risk and illiquid and can fall as well as rise in value, so you could get back less than you invest.
Read important documents and apply
The deal at a glance
| | |
| --- | --- |
| Type | Single company EIS private offer |
| Stage | Scale-up |
| Date started trading | September 2019 |
| Funding to date | £365k equity |
| Co-investors | Wealth Club |
| Sector | Children's care services |
| Fully diluted pre-money valuation | See research report |
| Market size | 2019-2020 child social care spend was £9.9 billion, a 5.1% increase over the previous year |
| Business model | B2B |
| Revenue to date | Revenue-generating since September 2021, forecast to generate £0.4 million in year to March 2022 |
| Revenue model | Contracted placement revenues from local authorities |
| Profitability forecast from | FY23 |
| Forecast revenue in year 4 | £5.5 million |
| Forecast EBITDA in year 4 | £1.9 million |
| Target return in year 4 | 4.5x mid-case |
| Target IRR | 45% IRR |
Projections and targets are for illustration only and are not guaranteed
Highlights
Established, regulated business raising capital to keep up with demand for its services

Revenues are underpinned by Local Authority contracts 
Specialist and highly trained staff accommodating moderate-to-complex emotional and behavioural needs
Attractive target return, relative to risk and timeframe: mid case 4.5x, upside case 6.1x, before tax relief after four years – not guaranteed
Demand for children's care far outstrips supply locally and nationally
Proven management team, well regarded by Ofsted, who have operated other businesses in the sector
Good visibility on future revenues and potential to deliver profitable growth
Targeting sales of £5.5 million and EBITDA of £1.9 million by FY25
Private single company with no diversification – high risk
Minimum investment for new investors £20,000 (4 shares at £5,000 per A Ordinary Share)
The overview provided on this website is based on the information available in the Information Memorandum prepared by the Company and additional information and representations provided by the Management upon request. Wealth Club has reviewed the information provided but not verified or audited it. Please read the offer documents carefully to form your own view and ensure you wholly understand the potential benefits and risks.
What does Dimensions Care do?
Dimensions Care is a regulated provider of children's care services based in the Midlands. 
The business was set up by three co-founders, with significant experience in the sector.
With the principles of ethical capitalism at the heart of their businesses, the directors believe that the role of the Company is to deliver value to all stakeholders. They are committed to improving outcomes for vulnerable children, growing a high-quality business that delivers positive social impact at fair prices to referring local authorities while delivering returns to investors.
Since it was set up in 2019, the Company has obtained Ofsted approval and operates children's residential services, currently through its first home. 
Following its early success and strong demand for care services, the Company has already identified the site of a second home. Over the next three years it intends to open a total of four residential homes and from FY23 launch a fostering service and up to seven Supported Accommodation placements for care leavers. 
Local Authorities place the children and pay for the services upfront, underpinned by a contractual agreement. Typically, contracts are expected to last over two to three years. 

Dimensions has adopted the highly regarded Dyadic Development Practice ("DDP") – a therapeutic approach to care for vulnerable children. This allows Dimensions to place children with higher levels of need, and allows Local Authorities to feel confident that those children will be given an appropriate level of care.
Management expects the Company to begin the process of applying for DDP accreditation in January 2022 and this process to be complete before the end of that year – not guaranteed.
Download your research report to find out more
What has the business achieved so far?
What is its growth plan?
How does it intend to use the funding?
What developments have there been since the last funding round?
What might the possible exit options be?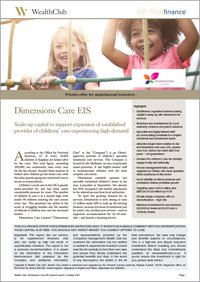 Risks – important 
This, like all investments available through Wealth Club, is only for experienced investors happy to make their own investment decisions without advice.
Before you invest, please carefully read the research report and the full investment documentation – including the Information Memorandum which contains further details on the considerable risks, alongside the Wealth Club Risks and Commitments.

This is a single company private offer with no diversification. It is an early-stage business. You could lose the amount you invest.
Remember, any kind of early-stage investing is very high risk. If you invest in ten different early-stage companies, you should expect some to fail, some simply to return capital, and only one or two to do well, in some cases outweighing the losses of the others.
The first allotment is expected to take place only after the minimum fundraising amount of £385k is raised – not guaranteed. 
The value of tax benefits depends on circumstances and tax rules can change. 
An exit could take longer than the three-year minimum holding period.

Structure and fees
Please refer to the Schedule of Charges for more detail on fees paid by investors. 
Investors in the current offer will be investing in EIS-qualifying A Ordinary shares, a different share class from Tristone and management. 
For the existing rights attached to each class of share, please refer to the Articles and Association, available within the IM.
Wealth Club has agreed a number of 'conditions subsequent' with the Company, designed to protect interests of minority shareholders.  Once the minimum investment has been raised, upon the first allotment the following rights will be incorporated into a new set of Articles. 
Voting rights over an exit, expenditure and salary increases over and above the forecasts
Furthermore, Wealth Club will hold two Board Observer seats
Investors are investing in the Company directly via a nominee structure (Woodside Nominees).  Please read the Nominee Terms and Conditions before applying.
All the services Wealth Club and, where applicable, its subsidiaries provide are governed by the Terms and Conditions of the Wealth Club Services.

Our view
In our view, Dimensions Care is an attractive opportunity, relative to the risk and given its predictable contractual cash flows – not guaranteed. It may add diversification to a portfolio of other early-stage businesses. 
The Company has demonstrated its ability to deliver a single home and now seeks capital to replicate this process and build scale. In the 18 months since the previous fundraise, the management team has made alterations to the care model and as a result has been able to secure Local Authority revenues at a higher rate and with higher projected margins than the industry average.
We consider this an opportunity to leverage the knowledge and skills of the senior management team and of the executive directors in delivering high-quality care to generate potential returns – not guaranteed.
As always, experienced investors should form their own view, and please remember you should not invest money you cannot afford to lose.
Register your interest – no obligation
Wealth Club aims to make it easier for experienced investors to find information on – and apply for – tax-efficient investments. You should base your investment decision on the provider's documents and ensure you have read and fully understand them before investing. This review is a marketing communication. It is not advice or a personal or research recommendation to buy the investment mentioned. It does not satisfy legal requirements promoting investment research independence and is thus not subject to prohibitions on dealing ahead of its dissemination.
The details
Type

Single company

Sector

Support Services

Target return

4.5x (45% IRR)

Funds raised / sought

£1.0 million sought

Minimum investment

£20,000

Deadline

–