Pavegen Systems EIS
Commercialised CleanTech business with blue-chip customers across 36 countries, including Google, Siemens, BNP Paribas and Shell
Pavegen Systems ("Pavegen") has created patented smart floor tiles that turn footsteps into electricity and business insight data. 
Pavegen started trading in 2013 and has since recorded 500+ million footsteps through 200+ installations across 36 countries, generating over £8 million in revenue (£2.1 million expected this year, with a current pipeline of £9 million, not guaranteed). 
Pavegen's ability to "harness the power of footfall" has been applied by the likes of Google, Siemens, Shell, Coca Cola, Adidas, JP Morgan, BNP Paribas, Abu Dhabi International Airport, Transport for London and the Hong Kong Urban Renewal Authority.
In 2018, Pavegen entered into a partnership with Siemens to work together, targeting airport infrastructure, mixed-use developments, hospitals and to integrate Pavegen technology into local distributed energy grids.
Watch how Pavegen harnesses the power of footfall
Video produced by Casual Films for Pavegen – September 2019.

Important: The information on this website is for experienced investors. It is not advice nor a research or personal recommendation to invest. If you're unsure, please seek advice. Investments are for the long term. They are high risk and illiquid and can fall as well as rise in value, so you could get back less than you invest.
Read important documents and apply
In addition to turning footsteps into off-grid electricity, Pavegen's tiles can capture footfall data and supply valuable analytics that client corporations can use to reward their customers. One retail client, The Mercury shopping centre, for instance, saw a 15% increase in end-user engagement with its digital rewards program as a result of a Pavegen installation at the entrance. 
The business targets B2B sales of its smart tile technology and from next year plans to start generating recurring revenue from customers paying cents-for-footsteps for customer analytics. If all goes to plan, the company expects to become profitable in 2023, growing to £38 million revenue in 2024 with EBITDA of £8.3 million (these are all forecasts, not guaranteed).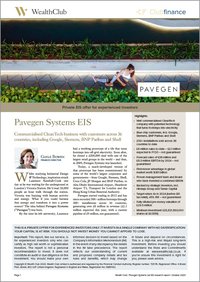 The aim is to make Pavegen's patented technology a core component of smart cities infrastructure – a market worth an estimated $381 billion and forecast to grow at 40% per annum. The technology also has wide and potentially lucrative applications across retail, education and brand engagement.

To help achieve that, Laurence has brought together an experienced management team – and a board that includes Jeff Martin, former Apple senior executive, who worked alongside Steve Jobs to launch iTunes.
Now, to support its growth ambitions, Pavegen is raising £5 million in a Series A funding round led by multi-billion British-Indian conglomerate Hinduja Group, owned by the Hinduja brothers (in the second spot of the Sunday Times Rich List in 2020). £3.9 million has already been funded. The remaining £1.1 million under EIS has been reserved exclusively for Wealth Club investors.
Target return is 4x in 2024 (before EIS tax relief), 43% IRR – not guaranteed.
The company is planning a £10 million Series B round in late 2021, aimed at institutional investors and at an expected higher valuation (success, timing and higher valuation not guaranteed). If this plan comes to fruition, the current round could be the last opportunity to invest under EIS. 
Highlights
Well commercialised CleanTech company with patented technology that turns footsteps into electricity

Blue-chip customers, incl. Google, Siemens, BNP Paribas and Shell 
200+ installations sold across 36 countries to date
£8 million sales to date – £2.1 million expected in FY20 – not guaranteed
Forecast sales of £38 million and £8.3 million EBITDA by 2024 – not guaranteed
First-mover advantage in global market worth $381 billion
Proven management team and Board who have invested a combined £800k
Backed by strategic investors, incl. Hinduja Group and Tamar Capital
Target return 4x in 2024 (before EIS tax relief), 43% IRR – not guaranteed
Fully diluted pre-money valuation of £30.4 million
High-risk single company private offer with no diversification

Minimum investment £25,821 (190,000 shares at £0.1359) 
The technology
Pavegen's product is a patented combination of robust tiles and electromagnetic generators, with low-power Bluetooth beacons to connect with smartphone apps and building management systems. The system has a use life of 20 years.

As pedestrians walk across the Pavegen installation, each footstep on any floor tile presses it down slightly, causing a rotary motion in the mechanism beneath it. Each step generates up to 5 watts, enough to power an LED lightbulb for 20 seconds. 
Pedestrians can then be rewarded in exchange for their contribution. At present, this is done through client corporations' existing reward program apps. From 2021, this is expected to be administered through Pavegen's proprietary smartphone app. This data can then be used to drive footfall to retail locations and increase customer loyalty. 
The business 
Pavegen is an EIS-qualifying, innovative clean-technology company headquartered in London, with R&D offices in Cambridge.
Award-winning entrepreneur Laurence Kemball-Cook founded the Company in 2009, after spending several years designing prototypes while studying Industrial Design & Technology at Loughborough University. His management team includes CTO Craig Webster, who has a background in clean technologies, as well as previous experience as a founder of start-up Aveillant, for which he raised venture capital from Draper Esprit – the business was later acquired by Thales. 
Nearly £7 million has been invested into the technology from private equity, strategic investors, family offices and angels. This includes funds raised in this round to date.
The Company currently employs 29 people: the majority who make up the core commercial and operations teams are based in London, while the engineering team headed by CTO Craig Webster is based in Cambridge. 
The Pavegen product is currently assembled in London, comprising custom-built and off-the-shelf components.
Business model
Currently, around 90% of revenue comes from the sale of installations and the remaining 10% from non-recurring data and software services.
Upfront revenue & margin
Typically, 50% of the installation cost is paid upfront by Pavegen's customers, who currently pay approximately £3,500 per square metre for the manufacture and installation. The average contract size is around £100,000. The largest contract to date has been £0.9 million, with BNP Paribas. 
Pavegen installations are high margin. At present, the cost per square metre is £1,250 (giving a gross margin of c.65%). Following investment in this round and with the support of Hinduja Group, Pavegen plans to implement measures to cut costs and drive efficiencies. 
Data revenues 
Customers are currently charged on a non-recurring basis for the bespoke set-up of the Pavegen display screen and, where required, an API data link to a customer's existing rewards platform. This currently accounts for c.10% of total revenues. 
Growth strategy
The growth strategy includes: developing the sale of software licences to build a recurring revenue business stream; continuing to grow the number of installations in smart cities, travel destinations and universities; while achieving a small increase in gross margin as the business goes through rapid growth. 
From 2021, all software services are expected to be provided via the Pavegen app, and recurring SaaS revenues will be charged – not guaranteed. Data and software revenues are forecast to increase and account for 28% of revenues by 2024.
Sales to date have mainly been achieved through inbound enquiries. Pavegen's forecast growth is predicated on recruiting a sales and marketing team to convert its significant pipeline, both directly and through its partnership with Siemens. 

The market
Large tech businesses and industrial corporations appear to be in a race to provide the energy and information architecture for the smart cities of tomorrow. In 2016, Microsoft invested $500 million to create a smart city in Washington DC, in 2017 Cisco announced its $1 billion program for smart cities, in 2018 Siemens announced its plan to spend €600 million to create a smart city in Berlin and in 2019 Huawei announced its plans to invest $1.5 billion into new smart city technologies.
Current spending on smart cities is estimated at $1.27 trillion, expected to grow 40% per annum to $2.57 trillion by 2025. Grandview research estimates that 30% of this spending relates to smart buildings and infrastructure. This gives a global addressable market estimated to be worth $381 billion in this vertical alone. In addition, there is a market opportunity in Pavegen's other verticals – education, retail and experiential brand events.
Energy Floors, headquartered in Rotterdam is, as far as Pavegen's management is aware, the only business with competing technology. However, the company appears to operate in a different market to Pavegen, primarily focusing on temporary installations for the experiential sector. Pavegen appears to be the most established player in its chosen markets and wants to accelerate growth quickly to maintain this advantage. 
Covid-19 impact
Covid-19 has caused some customers in severely impacted industries (e.g. retail) to put orders on hold. However, Pavegen has experienced only a limited number of cancelled sales in the period, due to its long sales cycle and its installations usually forming part of larger infrastructure projects. 
As assembly is in-house and key stock components were held, production levels were not materially impacted during lockdown. All contracts closed pre- and during lockdown have been delivered. 
Management believes there is now more focus than ever to make urban environments perform more efficiently. Indeed, Pavegen has recently seen an increase in leads from retailers looking for innovative ways to combat competition from online retailers, by offering innovative customer experiences not available online.
The offer
Pavegen aims to raise £5 million in this Series A round. £3.9 million of this capital has been funded from strategic investors, family offices and private investors, led by $50 billion-revenue British-Indian conglomerate Hinduja Group. The remaining £1.1 million under EIS has been reserved for Wealth Club investors. Any additional allocation would require board approval.
Funding will be used to expand sales and marketing efforts, invest in manufacturing to reduce production costs, and to build out the digital team to improve data sophistication and to launch the Pavegen app and SaaS offering. 

The Company is planning a larger, £10 million Series B round in late 2021, expected to be at a higher valuation, aimed at strategic investors, private equity and later-stage growth funds – the timing, certainty and valuation of future funding rounds are not guaranteed. 
The Company is forecasting £2.1 million of sales in the current year ending 31 December 2020 and Management has confirmed Pavegen is materially on track to deliver this. Sales are forecast to grow rapidly to £38 million in 2024 with EBITDA of £8.3 million. Pavegen targets a return of 4x in year 4 (before tax relief), an IRR of 43%. Assuming the business continues on its growth trajectory into 2025, it targets returns of 8x in year 5 (before tax relief), an IRR of 52%. Please note, these are all forecasts and not guaranteed. This is a high-risk investment into a single company with no diversification. Capital is at risk.
Management 
Founder and CEO Laurence Kemball-Cook leads the executive team. Laurence has established a high profile within the renewables and smart city sectors, completing several TED talks and gaining significant brand exposure for Pavegen globally. Laurence graduated in Industrial Design & Technology at Loughborough University. As part of his studies, he spent two years working on a project at German energy giant E.ON. He launched Pavegen in 2009.
Laurence has recruited an experienced management team to assist in scaling the business.
CTO Craig Webster, formerly head of innovation at Black & Decker, spent 14 years at Cambridge Consultants, latterly setting up and running its CleanTech practice. Craig went on to launch Aveillant, a high-tech start-up, securing venture capital from Draper Esprit. The business was latterly acquired by Thales. CFO Jonathan Lee provides CFO services to several start-up businesses. Previously he participated in an MBO of global B2B software business Planit, growing the business with a string of acquisitions, and achieving a £41 million exit 5 years later to a private equity buyer. COO Naomi Matthewman and Head of Sales David Light complete the senior management team.
Board of Directors
The board is headed by experienced Executive Chairman and co-founder, Richard Kemball-Cook (Laurence's father). Richard is a chartered accountant and had a long and varied career in finance before seed funding the business. 
Three experienced former executives have joined the board as non-executive directors and have all invested in the business.
Jeff Martin, an advisor to Pavegen since 2015, became a NED and joined the board in 2017. A former senior executive at Apple who worked directly with Steve Jobs to launch iTunes, Jeff is now CEO and founder of Tribal Planet, a Silicon Valley-based provider of mobile e-commerce solutions. Fellow board members Charlotte Mason and Don Eungblut have both significant experience in advising, raising funds for, and investing in innovative technology businesses. Don Eungblut acts as the independent Investor Director on the board, representing the interests of all investors, including minorities. There is a comprehensive set of Board controls and consent issues to which the management team need to adhere. 
Hinduja Group
Hinduja Group is a $50 billion-revenue British-Indian conglomerate, headquartered in London. The group employs over 150,000 people and operates across multiple sectors including Automotive, IT, Infrastructure and Real Estate. Hinduja first invested in Pavegen in 2019 and is a strategic investor – its engineering arm Hinduja Tech is already helping reduce build costs for the Pavegen product. Hinduja is leading this funding round.
As part of its diligence conducted in 2019, Hinduja reviewed the IP and technical specifications of Pavegen through its engineering arm, Hinduja Tech. The review also covered the management team, competitive landscape and commercial contracts. Hinduja completed the investment based on the Pavegen product appearing to be novel in the market, showing good synergies with Hinduja, having many potential markets to exploit for growth and on the strength of the management team and customer contracts. Despite the impact of Covid-19, Hinduja has confirmed it remains supportive of the business and committed to its longer-term success (September 2020).
We believe there's a tremendous applicability for Pavegen as a product alongside our own initiatives in sustainable transport and renewable energy. The group verticals like Hinduja Tech may be quite instrumental in reducing costs of the Pavegen product, rather than it being produced the UK, in time for a rollout in India and other emerging economies.

Vivek Nanda, CEO Hinduja Investments
Target returns
Predicated on achieving its FY24 forecasts, the Company is targeting base-case returns in year 4 of 4x (before EIS tax relief), an IRR of 43%, high risk and not guaranteed. 
For illustrative purposes only, assuming the business continues on the same growth trajectory in FY25, management has provided indicative base-case returns in year 5 of 8x (before EIS tax relief), an IRR of 52%, not guaranteed. 

Exit options
The management team intends to stay in the business for the mid to long term to fulfil its growth ambitions and will aim to seek an exit in 3 to 5 years, not guaranteed. Management believes the most likely exit route will be via a trade sale to a large tech company, multinational infrastructure business, or to a large but less innovative flooring business. Management believes the Company could also be attractive to private equity buyers if its SaaS offering starts to generate material recurring revenues.
Structure and fees
Wealth Club investors will be subscribing for A Ordinary shares. Pavegen has two classes of share: A Ordinary Shares, which hold full rights, and B Investment Shares, which hold no voting rights, pre-emption rights or rights to receive notices for general meetings. 
The Company last received EIS advanced assurance from HMRC in September 2020, and last issued EIS3 certificates to investors in January 2020. 
Investors are investing in the company directly via a nominee structure (Woodside Nominees) and will pay no direct initial or ongoing charges. 
Pavegen will pay a fee of 4.75% of the funds raised to Wealth Club. On exit, Wealth Club is entitled to a 10% performance fee deducted from net proceeds by the nominee. The hurdle is investors achieving an exit greater than 2x subscription amount (before tax relief).
Wealth Club is acting as a broker in this fundraise. Wealth Club does not take a seat on the board so cannot influence the business.
Please read the Woodside's Terms and Conditions (for receiving agent and nominee services) before applying. 
Risks – important 
This, like all investments available through Wealth Club, is only for experienced investors happy to make their own investment decisions without advice.
EIS investments are high risk so should only form part of a balanced portfolio and you should not invest money you cannot afford to lose. They also tend to be illiquid and hard to sell and value. 
Before you invest, please carefully read the Information Memorandum, which contains further details on the considerable risks, alongside the Wealth Club Risks and Commitments. 
This is a single company EIS offer with no diversification. It involves investing in an early-stage loss-making business which is by nature high risk and prone to failure. You could lose the amount you invest.
The Company is currently loss-making and forecasts becoming profitable in 2023. It currently has £600k of debt on its balance sheet – comprised of a £500k convertible loan note and accrued interest due to Jeff Martin, £50k due to Chairman Richard Kemball-Cook and a £50k bounce back loan due to Lloyds. All debt balances are planned to be repaid as part of the Series B funding round in 2021 – not guaranteed.
While the Company has an experienced and diverse shareholder group, please note 44% of the business is held by the Kemball-Cook family, who therefore have significant influence and control. To counter this, Don Eungblut has been appointed as Independent Investor Director to represent the interests and rights of all investors, including minorities. In accordance with the shareholder investment agreement, Don must consent before any material corporate actions are undertaken. These include (but are not limited to) issuing shares, repurchasing shares, selling or liquidating the business, making acquisitions, paying dividends or materially changing the nature of the business.
The quantum, timing and success of the proposed Series B round in 2021 are not guaranteed. If the business fails to raise further funds, this could impact forecast performance.
Exit options and timeframes are not guaranteed. Note: if the Company did achieve an early exit, this would affect EIS tax relief.
The value of tax benefits depends on circumstances and tax rules can change. 
Our view
Pavegen has invested significant time and capital developing and commercialising its patented technology. Still pre-profit, it has generated sales of over £8 million, with £2.1 million expected this year – not guaranteed. 
Pavegen's customer list is impressive, boasting dozens of high-profile, multinational, high-tech businesses across a wide range of sectors and geographical locations.
The Company believes it has well protected IP, patents have been secured and the company has first-mover advantage in its chosen markets.
The growth plan for Pavegen appears clear: reduce manufacturing costs, convert its significant pipeline, and develop its SaaS offering. If the business can achieve this, which is by no means guaranteed, it could be well placed to take a market-leading position in this segment of the multibillion-pound smart cities sector.
The management team and Board have individually invested significant capital into the business, aligning their interests with investors.
The Company has secured capital from several strategic investors, who provide manufacturing know-how and access to markets in the Middle East and Asia.
In our view, Pavegen has high-calibre customers and investors, and the founders and management team have vision and commitment. You should form your own view on this high-risk, single-company EIS offer.
Register your interest – no obligation
Wealth Club aims to make it easier for experienced investors to find information on – and apply for – tax-efficient investments. You should base your investment decision on the provider's documents and ensure you have read and fully understand them before investing. This review is a marketing communication. It is not advice or a personal or research recommendation to buy the investment mentioned. It does not satisfy legal requirements promoting investment research independence and is thus not subject to prohibitions on dealing ahead of its dissemination.
The details
Type

Single company

Sector

Technology

Target return

4x (43% IRR)

Funds raised / sought

£1.1 million sought

Minimum investment

£25,821

Deadline

30 Oct for next allotment