Hargreave Hale AIM VCT 2
The Hargreave Hale AIM VCT 2 plc ("HH2") overallotment is now closed. 
Hargreave Hale AIM VCT 1 plc ("HH1") is expected to announce a new offer for subscription in December 2017.
Below is our review of the most recent prospectus offer for both Hargreave Hale AIM VCTs.

---
Highlights
Well-resourced investment team headed by renowned manager Giles Hargreave

Dividend target of 5% per annum

Portfolio of growth companies

Bias towards IT, healthcare and consumer discretionary

The manager
Hargreave Hale is a well-established fund manager that specialises in smaller companies investing. As well as these two VCTs, it is well known for its flagship fund Marlborough Special Situations. Giles Hargreave is the lead manager on the VCTs and Marlborough funds. He also chairs Hargreave Hale's investment committee and is Chairman of Hargreave Hale. Oliver Bedford is co-manager of the VCTs. In total Hargreave Hale manages £6 billion with £2.3 billion invested in UK smaller companies, of which £85 million is in its VCTs. It has a 14 strong investment team. 
Target return and strategy
The target for both VCTs is to pay a dividend of 5% of the year end net asset value. This is variable and not guaranteed. One third is paid as an interim dividend with the balance in the final dividend. The philosophy behind the VCTs is to have diversified portfolios, not to take excessive risk, pay consistent dividends and provide shareholders with an exit as they need it. The final point is important and both VCTs have consistently bought back shares at a discount of 5% to the prevailing net asset value. 
As the chart below shows, the dividend record of both VCTs is strong, although please remember past performance is not a guide to the future and dividends are variable and not guaranteed.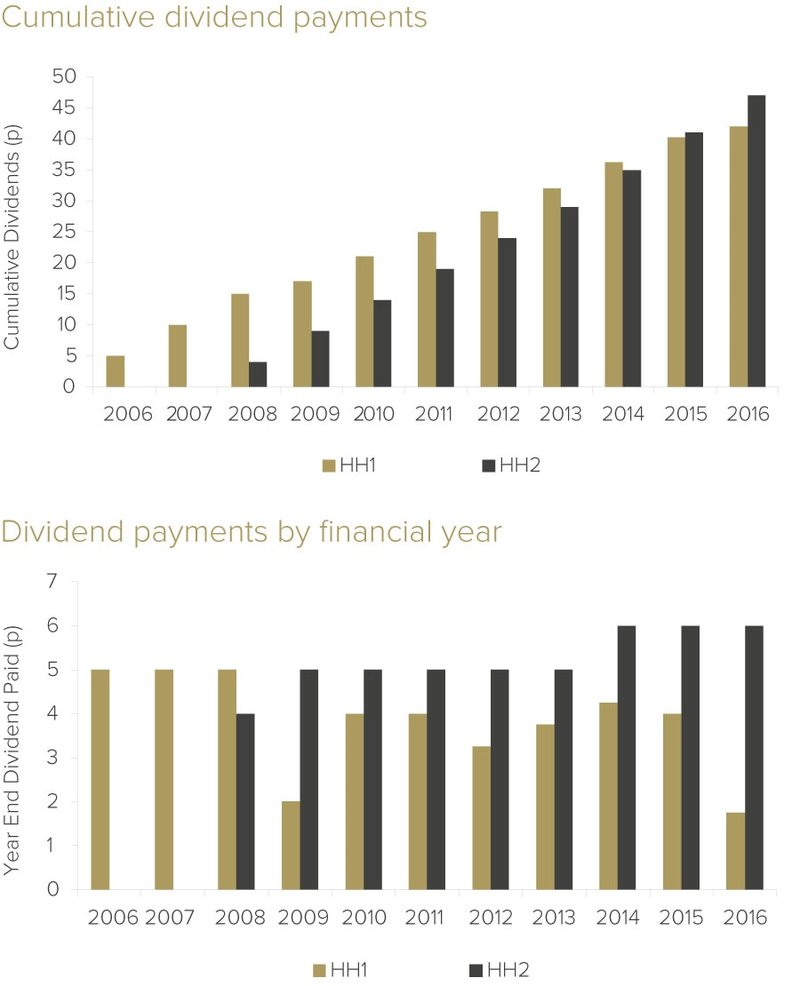 The managers look to invest in a good spread of exciting growth companies. The perfect company is one where they know the management and have backed them to deliver previously. An ideal example is with restaurant chain Tasty PLC, which owns the Wildwood chain. The entrepreneurs behind Tasty originally set up the ASK chain making it a nationwide favourite before selling up and setting up Prezzo. After selling that, Wildwood was the next venture. They are serial entrepreneurs who refine and improve their offer each time. This is the third time Hargreave Hale has backed the management. 

Whilst building a new position in a company, the initial stake can often be as low as 0.6% (of the VCT), however if successful the holding will increase over time and the manager will let it grow up to 5% of the value of the VCT. It aims to avoid investing in companies that operate in a crowded market and ones that have no real intellectual property. The largest holding in HH1 is currently Cohort PLC with a 3.9% stake and in HH2 Mexican Grill Ltd is the largest at 3.1%.
During 2016, £10.4 million was invested into 20 qualifying holdings. Four of the deals were into unquoted companies. 
Unlike some other VCTs, the managers are happy to invest in early-stage AIM companies that might not have revenue or profit, however in this scenario, they would probably take a very small position. As mentioned, the managers favour long-term growth businesses that are profitable and although they are sector agnostic, they have in the past favoured healthcare, life sciences and technology.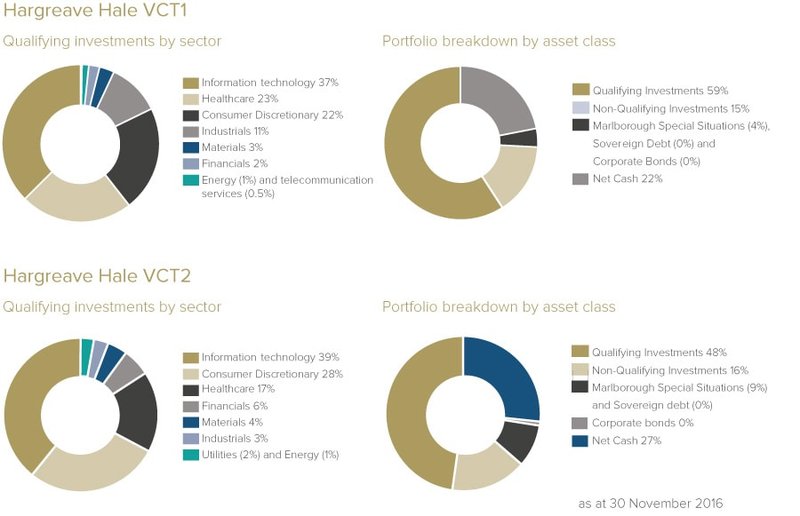 Within the non-qualifying portfolio, the manager will strategically invest in the Marlborough Special Situations fund, Hargreave Hale's flagship fund, as well as selective individual equities and some fixed interest securities. The Marlborough Special Situations holding will be typically up to 5% of the VCT unless there have been significant cash inflows. Investing in this fund helps reduce the effect of having too much cash in the portfolio. Currently HH1 has 4.9% in the Special Situations fund whereas HH2 has 9%. Both currently have 16% in non-qualifying holdings.

Exit strategy
As the shares are listed there is a natural exit, however the management style is buy and hold for the long term. 
Risks
Some of the underlying investments have no profits or revenue, therefore there is a higher risk of failure, however the stake will usually be small. As with all AIM VCTs, the underlying net asset value may be more volatile than with generalist VCTs that invest in unquoted companies. 
Please remember capital is at risk. VCTs are high risk investments and are not suitable for everyone. Investors should not invest money they cannot afford to lose.
Fees
The initial charge is 3.5% before any Wealth Club discount. Both VCTs have annual fees of 1.5% and total annual running costs are approximately 2.2%. There is a performance fee equivalent to 20% of dividends over 6p per share per annum. The net asset value needs to be at least 95p per share and any dividends missed in a year need to be caught up before any performance fee is payable. Hargreave Hale also receives £100,000 in administration and secretarial fees annually per VCT.
Deadline
Unless fully subscribed beforehand, the offer will close on 17 November 2017.
Summary
The Hargreave Hale team, led by Giles Hargreave, is one of the most experienced and capable smaller company fund management teams in our view with an excellent long term record. These VCTs are managed in a similar manner to their more mainstream quoted equity funds. These well diversified VCTs are highly commended and over time their portfolios should become more aligned as new money is invested. 
---
Wealth Club aims to highlight investments we believe have merit, but you should form your own view. You should decide based on the provider's documents and ensure you have read and fully understand them before investing. This review is a marketing communication. It is not advice or a personal or research recommendation to buy the investment mentioned. It does not satisfy legal requirements promoting investment research independence and is thus not subject to prohibitions on dealing ahead of its dissemination. 20.12.2016

The details
Type

AIM

Target dividend

-

Initial charge

-

Initial saving via Wealth Club

-

Net initial charge

-

Annual rebate

Funds raised / sought

-

Deadline

CLOSED
Downloads