Northern VCTs
The Northern VCTs have an extremely loyal base of shareholders. Their last share offer, in Autumn 2017, raised £60 million in just under two months. Their previous top-up offer, in February 2017, sold out in under 48 hours. 
The VCTs have announced the intention to launch a top-up offer for subscription in 2018-19. The amount of the offer is not yet known. Shares are usually allotted on a first come, first served basis and offers are frequently oversubscribed.
Register your interest here to be alerted as soon as VCT offers open.
Highlights
Longstanding and highly respected VCT manager

Good track record of dividends – although dividends are not guaranteed and past performance is not a guide to the future

A diverse portfolio of around 50 companies – 11 of which are in newer growth capital investments. The rest is a mature existing portfolio, predominantly from management buy-outs, which should support dividend and interest payments
Register your interest:
The manager
The three Northern VCTs – Northern Venture Trust plc, Northern 2 VCT plc and Northern 3 VCT plc – are managed by NVM Private Equity, based in Newcastle-upon-Tyne. Northern Venture Trust is one of the UK's first venture capital trusts. The three trusts hold around 50 companies, of which around two-thirds are private and the remainder are AIM-listed.  
Launched
Net Asset Value (31 March 2017)
Northern Venture Trust
1995
£76.9 million
Northern 2 VCT
1999
£71.6 million
Northern 3 VCT
2001
£69.9 million
TOTAL
£218.4 million
Source: NVM Private Equity LLP
The team is very experienced, with over 155 years of private equity investment experience between them. Recently, NVM further strengthened its growth investment hand by hiring Charles Winward, previously of IP Group, where he was involved in deals such as Tracsis plc and Xeros Technology.
Strategy

The manager will invest in businesses it thinks represent good value, have strong growth potential and a management team in which it has conviction. To provide investors with diversification, NVM looks to invest in companies in a range of sectors at different stages of their development. Typically, the VCTs aim to hold businesses for three to ten years.
Members of the NVM investment team are required to invest in any investment the VCTs make, which can align their interests with other shareholders.

Example of a portfolio company
Rockar, an innovative car dealership, is typical of the kind of growth companies in which Northern will be looking to make new investments. Rockar is the brainchild of Simon Dixon, who spent 20 years building the UK's third largest car retail group, Dixon Motors plc. He sold Dixon Motors to RBS in 2004 for £110 million.
Nobody really likes the traditional process of buying a car: it's something to be endured rather than relished. Dealing with car salespeople is an aspect we love to hate. Rockar aims to turn this car-buying experience on its head.
Firstly, its stores are in shopping centres, rather than the more traditional out-of-town areas. This might seem odd, but the sites attract high footfall. Rockar has two stores, yet estimates a total of 52 million people have walked past them. They are designed as boutiques, akin to an Apple Store for cars, with few cars on display and interactive touchscreen tablets so customers can browse the product range independently, book test drives or even buy a car in a matter of minutes.
There are no pushy salespeople. Instead, there are Rockar Angels: knowledgeable staff whose job is to serve rather than to sell. You can buy in-store or complete the whole car buying process online: finding information about a car, ordering it to your exact specifications, booking a test drive, paying for it, part-exchanging your old car or arranging finance.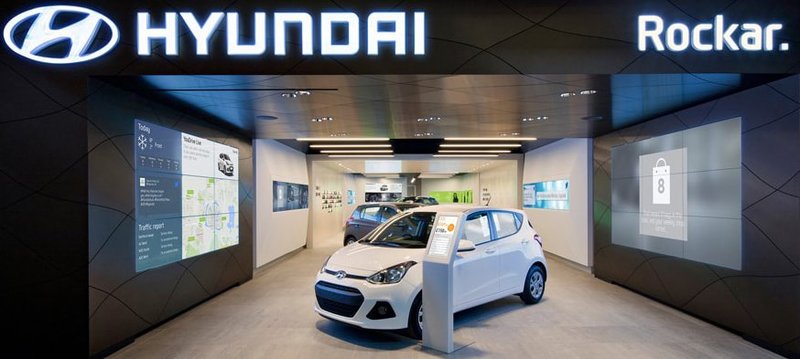 The first car manufacturer to sign up was Hyundai in 2014 with an outlet in the Bluewater shopping centre in Kent. Within three weeks it had become the most visited Hyundai dealer in the UK. A second Rockar location was added in 2015 at the Westfield shopping centre in west London. In the 18 months to January 2017, almost 2,000 people bought a car from Rockar. Jaguar Land Rover followed as Rockar's first premium franchise at Westfield in October 2016.

In June 2017 Rockar announced it is "actively engaged" with four other franchises and is close to developing a used car concept. It is also planning the launch of new Tesco Express-style Hyundai local dealerships on busy shopping streets.
The real key to Rockar's success, and a likely source of future growth, is its innovative online technology that facilitates the vehicle purchase. This has potential to be licensed to other manufacturers and dealer groups.
Northern VCTs invested £2.5 million of development capital in July 2016 alongside Maven Capital Partners who also invested £2.5 million. If successful, the investment will enable Rockar to partner with new car manufacturers, open more stores in high footfall shopping areas and grow its technology platform.
Risks
Please remember your capital is at risk. VCTs are high risk investments and are not suitable for everyone: they are long term and illiquid. Investors should not invest money they cannot afford to lose. 
Tax rules can change and tax benefits depend on individual circumstances.
A specific risk with these VCTs is the change in investment strategy due to changes to VCT rules. NVM has grown its investment team with an emphasis on recruiting experienced early stage investors. The VCT managers are faced with the necessity of adapting to rule changes, as are all managers who made their name with MBO investments.
How to invest
Details are expected in the coming months regarding the amount and timing of year's top-up offers. The last two offers have sold out quickly. 
If you would like to be notified as soon as the offer documents become available, click here to make a no-obligation registration. 
---
Wealth Club aims to highlight investments we believe have merit, but you should form your own view. You should decide based on the provider's documents and ensure you have read and fully understand them before investing. This review is a marketing communication. It is not advice or a personal or research recommendation to buy the investment mentioned. It does not satisfy legal requirements promoting investment research independence and is thus not subject to prohibitions on dealing ahead of its dissemination. 26.09.2018
The details
Type

Generalist

Target dividend

-

Initial charge

-

Initial saving via Wealth Club

-

Net initial charge

-

Annual rebate

-

Funds raised / sought

-

Deadline

Coming soon