FIM Timberland LP "D" Partnership Shares
For professional or very experienced investors only
This is an opportunity to invest in an established, large and growing portfolio of UK commercial forests. It is managed by FIM, now part of Gresham House. 
Gresham House currently manages a total of £1.2 billion in forestry assets on behalf of institutions, endowments, family offices and private investors and is the UK's largest commercial forestry manager.
Investors could benefit from attractive and largely tax-free long-term income with a substantial degree of inflation protection and the added benefit of IHT relief.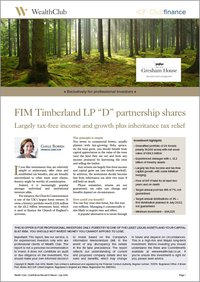 Highlights
Diversified portfolio of 20 UK forests (nearly 19,000 acres) with net asset value of £84.3 million 

Experienced manager with c. £1.2 billion of forestry assets 
Largely tax-free income and tax-free capital growth, with some inflation hedging
Free of IHT if held for at least two years and on death
Target annual IRR of 7%, not guaranteed
Target annual distributions of 3% – first distribution for "D" shares planned in July 2022, not guaranteed
Minimum investment – £94,325
Important: The information on this website is for experienced investors. It is not advice nor a research or personal recommendation to invest. If you're unsure, please seek advice. Investments are for the long term. They are high risk and illiquid and can fall as well as rise in value, so you could get back less than you invest. Whilst Wealth Club and the investment manager are authorised and regulated by the Financial Conduct Authority, the investment itself is unregulated, so you do not have the usual investor protections, including recourse to the UK Financial Services Compensation Scheme.
The offer
FIM, now Gresham House Asset Management ("GHAM"), is the UK's largest and longest-established forestry manager. It has been operating for 40 years.
Its latest share issue, FIM Timberland LP "D" Limited Partnership Shares, aims to raise £40 million. The funds will be used to acquire additional large-scale freehold UK commercial forests. 
This is a Scottish Limited Partnership. Investors will be allotted "D" Limited Partnership Shares. It is anticipated 32,653 shares will be issued (£1,225 per share). 
This investment is available to Wealth Club clients who have successfully completed an Elective Professional Client Application. 
Target returns and distributions
The fund aims to provide a balance between capital growth and income. It targets a long-term IRR of 7%, net of all fees and costs. 
Target distributions
The Manager plans to make annual distributions, which will be largely tax free.
The current target distribution is 3% of the July 2018 NAV (£31.38 per Partnership Share), planned for payment in both July 2019 and July 2020 to all existing Limited Partners (excluding "D" Limited Partners). "D" Partnership Shares as issued under this offer will first qualify for the distribution planned to be paid in July 2022, in relation to earnings in the Partnership's 2021/2022 financial year. The Partnership's policy is to increase the distribution annually by 0.5% over the rate of inflation (CPI). 
Please note distributions are not guaranteed. The level of any planned distribution may vary or may not be paid at all and Limited Partners may not get back the capital invested.
Historic returns of the asset class
Historically, UK forestry has been a top-performing asset class over both a five and 10-year period and the second-best over a 25-year period, producing an annualised return of 9.3% (to December 2017). Please remember, past performance is not a guide to the future.
Annual performance total return – to 31 December of each year
| | 2017 | 2016 | 2015 | 2014 | 2013 |
| --- | --- | --- | --- | --- | --- |
| UK forestry | 13.9% | 10.7% | 10.8% | 18.4% | 15.8% |
| UK equities | 11.8% | 19.2% | -2.2% | 0.5% | 18.5% |
| UK Bonds / Gilts | 1.8% | 7.9% | 1% | 11.8% | -5.2% |
| UK commercial property | 9.6% | 3.9% | 13.1% | 17.8% | 10.7% |
Source: GHAM, to 31 December 2017 (figures to December 2018 not yet available). Please remember, returns are not guaranteed and past performance is not a guide to the future.
Termination dates and liquidity
Forestry is a long-term and illiquid investment. The fund has set termination dates (the first on 31 July 2032). A secondary share sale procedure exists which matches willing vendors and buyers at an agreed price. Whilst there are no guarantees, over the two years to 30 April 2019, transactions of shares in similar funds have totalled just over £6.1 million, with an average transaction time of 32 days and all shares trading at a premium to the last published NAV.
Tax benefits 
Investment in UK commercial forestry can provide significant tax benefits. 
Inheritance tax: 100% IHT relief after two years due to Business Property Relief ("BPR"), provided you still hold the investment on death. 
Capital gains tax: no CGT on gain in value of timber. The underlying land is subject to CGT although most of the gain would be in the value of the timber.

Income tax: no income tax on timber revenue. 
Please remember, tax rules can and do change and benefits depend on circumstances.
Current portfolio and business plan
The portfolio currently comprises a high-quality portfolio of 20 commercial forests, with a total area of 7,546 hectares (nearly 19,000 acres). The forests are spread across the UK, but mostly in Scotland, which offers ideal growing conditions for Sitka spruce, the predominant species. 
It is a mature portfolio: it has a weighted average age of 28 years and more than 60% is over 31 years old, so could be harvested to generate tax-free revenue. Any felled areas are replanted.
If the current fundraise is successful, the manager aims to acquire further high-quality plantations of Sitka spruce. 
FIM Timberland will target large-scale freehold commercial forests, to benefit from economies of scale, with good access to road networks and well located for timber markets.
Subject to availability, the Manager will look to acquire forests with a mid to late rotation crop age, which should be able to provide timber income between 2020 and 2040.
Risks
This is a long-term and very illiquid investment, only available to Wealth Club clients who have successfully completed an Elective Professional Client Application. It is an unregulated collective investment scheme. Capital is at risk. Returns are not guaranteed.
Many factors could affect the performance of the fund. Please read carefully the relevant section of the Information Memorandum for more details on the risks. 

The Chancellor has asked the Office for Tax Simplification to review a range of aspects of IHT, including BPR. A report has been published in July 2019. It is as yet unknown if or when any of the recommendations will lead to a change in rules. Currently, investments qualifying for Business Property Relief (such as forestry) should be free from IHT after two years. 

Fees
GHAM charges an initial fee of 2%, discounted for investments of over £1 million. Of this, Wealth Club will be paid initial commission of 1.75% (so GHAM retains 0.25%). GHAM also charges a 2% transaction fee to the fund every time it makes an acquisition or sale of an asset. GHAM will charge an annual management fee of 0.75% pegged to an external valuation of the NAV of the fund. An estimate of the total ongoing charges figure (including the 0.75% annual management fee) for the Partnership once fully invested is 0.81%. There may be additional fees and expenses, please see the Information Memorandum for full details. All fees may be subject to VAT.
Our view
There are many appealing features to UK forestry, including a track record of steady tax-free income and capital gains as well as environmental benefits. 
While there is clearly a high degree of reliance on the price of timber to drive returns, there are relatively few risks associated with the biological growth and harvesting of the forests which underpin value. Remember, however, forestry is one of the most illiquid investments you can make.
The flexibility available with the timing of harvesting timber is a great safety mechanism not afforded to many other sectors of crop growing which allows the manager more control. 
GHAM is a long-established well proven fund manager and investing with them in a large forestry fund mitigates some of the operational and market risks.
This is a long-term investment with no annual income for over two years. 
Wealth Club aims to make it easier for experienced investors to find information on – and apply for – tax-efficient investments. You should base your investment decision on the provider's documents and ensure you have read and fully understand them before investing. This review is a marketing communication. It is not advice or a personal or research recommendation to buy the investment mentioned. It does not satisfy legal requirements promoting investment research independence and is thus not subject to prohibitions on dealing ahead of its dissemination.
The details
Type

Forestry fund

Target raise

£40 million

Minimum investment

£94,325

Target IRR

7%

Closing date

30 Nov 2019