Forestry: could this be the ultimate tax-efficient investment?
Over ten years to December 2015, forestry has delivered an annualised return of 18.4%.
Added to this, after two years it can become IHT free plus any growth or income from the trees are tax free. It is little surprise forestry is increasingly attracting investment from individual investors, family offices, pension funds – even the Church of England.

Annualised Returns to December 2015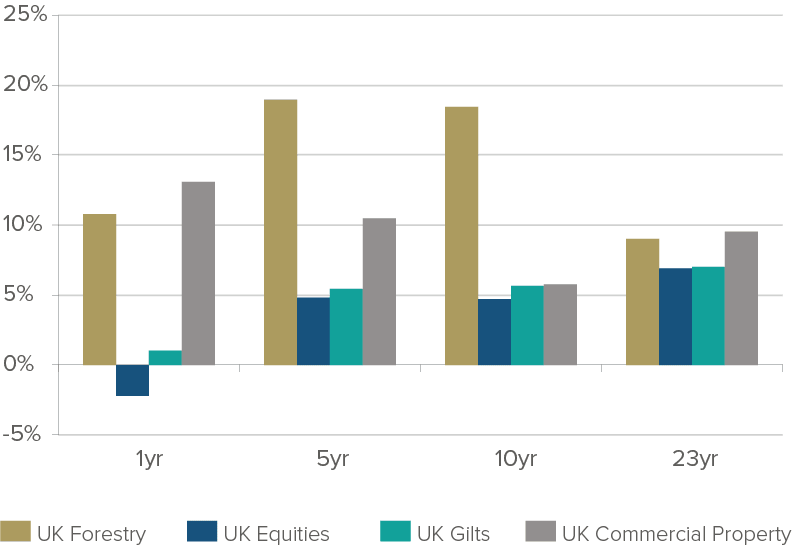 Source: IPD Index. Past performance is not a guide to the future.

How do forestry investments work?
The principle is simple. You invest in commercial forests for the long term. The trees – predominantly Sitka Spruce, a hardy, fast-growing conifer well suited to Britain's temperate climate – sit on the hillside and grow. As they do so, you should benefit from capital appreciation in the value of the trees (and the land they are on) and from any income produced by felling the trees and selling the timber – from the main part of the tree which is used for construction, down to the offcuts, twigs and chippings which are used for biomass.
Investment in forestry is a long-term commitment – possibly 7 years or more – and a forest is by its nature a very illiquid asset. But if you're comfortable with that, it can have significant tax benefits and once established requires comparatively little upkeep.

Tax benefits of forestry investments
Investment in UK commercial forestry has significant tax benefits: 
Inheritance tax: 100% IHT relief after two years due to Business Property Relief, provided you still hold the investment on death 

Dividend tax: none. All distributions are paid gross prior to the deduction of any tax

Income tax: there is no liability to income tax on timber revenue

Capital gains tax: no CGT on any gain made on the value of the timber. The underlying land is subject to CGT although most of the gain would be in the value of the timber 

Tax benefits depend on circumstances and tax rules can change.
How could you invest in forestry?
You could buy and manage a forest yourself. This could set you back at least £500,000. A popular alternative is to invest through a forestry fund: for a much smaller outlay you could buy into a large and diversified forestry portfolio, run by a professional manager.
Find out more – for experienced investors only with a minimum of £50,000 to invest
If you would like to find out more about investing in a forestry fund, please email us or call us on 0117 9290511. For this kind of investment we are required to treat you as a "professional investor" so before sending you more details, we need to ask you some questions about your investment experience – we have a short questionnaire to complete. If you have any questions please call us.