Review: Amati VCT & Amati VCT 2
This top-up offer for the existing Amati VCT and VCT 2 is seeking £8 million in new investment. It will predominantly invest in companies listed on AIM, although it may also buy unquoted ones.
Highlights
Run by Dr Paul Jourdan, an 18-year veteran of investing in smaller companies

Focus on cash-generative and growing companies

Targets an annual dividend of 5-6% of year-end NAV

Diversified portfolio of over 40 holdings with a growth bias

£3,000 minimum investment

The manager
Dr Paul Jourdan is chief executive and co-founder of Amati Global Investors (also previously a professional violinist playing for the City of Birmingham symphony orchestra). He has been a specialist smaller company fund manager for over 18 years having started at Stewart Ivory, before First State took Stewart Ivory over and then Noble Fund Managers. Dr Jourdan launched the First State AIM VCT in 2005, which is now known as Amati VCT. The other managers are Douglas Lawson, who co-founded Amati, and David Stevenson. Both are very experienced. In total Amati manages £116 million, of which £78 million is invested in the VCTs. Amati partners have invested approximately £1.3 million of their own money in the two VCTs.
Target return and strategy
The annual dividend target for these VCTs is 5-6% of the year-end net asset value. Therefore, this dividend could fluctuate more than other VCTs which are targeted on a "pence per share" basis. This is a target and is not guaranteed. Other than dividends, capital growth is an objective. To achieve these aims, Dr Jourdan will invest in a range of AIM-listed companies and the occasional unquoted one.
As both the Amati VCT and the Amati VCT 2 are longstanding VCTs, they already have fully invested portfolios. The average market value of companies in Amati VCT is £133 million and £144 million for companies in VCT 2. As at 30 September, there were 45 investments in Amati and 48 in VCT 2. Although these VCTs are managed separately, they are becoming more aligned and differences are mainly now due to historical investments. 
The rule change allowing AIM stocks to be held in ISAs for IHT purposes has had a massive impact in the market, especially on companies that are profitable, have good management, strong cash flow and pay dividends. However, according to Dr Jourdan, these stocks are expensive. Within the VCT, he is targeting companies he thinks will become 'IHT-friendly' stocks in a few years, but now still need to generate cash and make profits.
Dr Jourdan looks for several attributes in companies he is considering. High barriers to entry and a sustainable competitive advantage are important as is revenue visibility and growth. A strong balance sheet is also desirable so the company can self-finance future growth. Attention will also be paid to areas of the market which he believes are overlooked, for example due to lack of broker coverage, or because the company is operating in an out of favour sector. 
The VCTs invested almost £6m of new money into qualifying companies in 2015, interestingly mostly as "follow-on" investment into existing portfolio companies. So far in 2016, five new investments have been made from a much smaller pool of new qualifying deals (one of the consequences of the new VCT rules).
One of the new investments in 2015 was into Bilby, a gas maintenance business and property services company based in South East London. Landlords must have their appliances tested annually by law; this is one of the services Bilby offers, mainly dealing with local authorities and housing associations. As it is such a geographically defined area, costs are easier to control making the business scalable. The business generates large amounts of cash and paid a healthy 4% dividend in 2015.  Dr Jourdan is happy with the position in the VCTs as he thinks there is much more growth potential. 
There is no pressure to invest money raised in new qualifying deals as the existing VCTs are both more than 80% invested in qualifying holdings (82% for Amati VCT, and 87% for VCT 2) – both well in excess of the required 70% so Dr Jourdan can be choosy about new companies. As well as qualifying holdings, these VCTs also typically invest about 10% of assets into the Amati Smaller Companies fund, also managed by Dr Jourdan and his team. This to date high-performing fund adds extra diversification to the VCTs.
Dividend history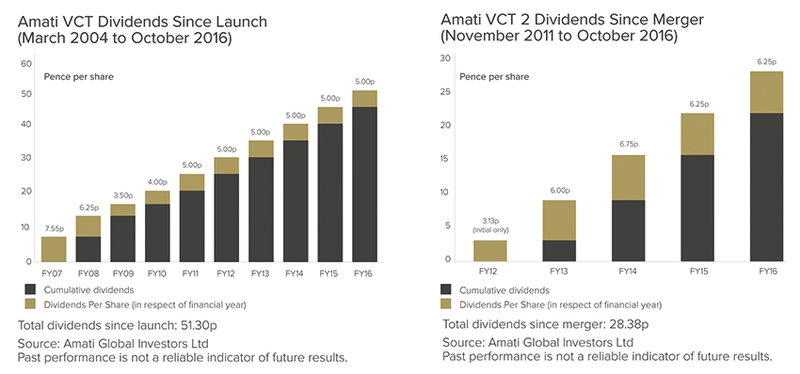 Source: Amati Global Investors

Please remember, past performance is not a guide to the future. Dividends are variable and not guaranteed. 
Exit strategy
There is no explicit exit strategy for stocks held in the portfolio. Some companies may get taken over, some may move on to the main market of the London Stock Exchange and be easier to sell, others may be of interest to IHT investors. 
Risks
As with other AIM-listed VCTs, the net asset value may well fluctuate more than with unquoted VCTs. In addition, even though the underlying companies' shares may have a listing, there is no guarantee of a buyer. The difference between the buying and selling price of AIM-listed companies is often wider than fully listed ones.
Please remember capital is at risk. VCTs are high risk investments and are not suitable for everyone. Investors should not invest money they are not prepared to lose. 
Fees
The initial charge is 3%, before any Wealth Club saving. Existing Amati shareholders pay a 1% initial charge. The annual management fee is 1.75%, with total annual costs capped at 3.5%. There are no performance fees on either VCT. This is a welcome move in a sector that traditionally has them. Amati may be entitled to deal arrangement and monitoring fees where it makes investments in unquoted companies, but the manager rarely makes such investments.  
Summary
Dr Paul Jourdan is an experienced and talented fund manager. These well-diversified VCTs are tilted towards growth, although companies generally must be profitable and dividend paying. The strategy of seeking those investments that will be of interest to IHT investors in a few years' time is an interesting one. Finally, the exposure to the Amati Smaller Companies fund adds an extra level of diversification. This is worthy of consideration.
This review is not intended to be advice or a personal recommendation to buy the investment mentioned, nor is it a research recommendation. Wealth Club aim to highlight investments we believe have merit, but investors should form their own view on any proposed investment.