Review: Unicorn AIM VCT
Archived article
Archived article: please remember tax and investment rules and circumstances can change over time. This article reflects our views at the time of publication.
This is the largest AIM VCT, with assets worth over £162 million across 95 investments.
The last top-up offer reached capacity within two weeks. A new offer to raise up to £50 million is now open.
Highlights
Largest AIM-focused VCT – £162.2 million assets under management
Top performing over 5 and 10 years compared to other AIM VCTs also open to investors, although past performance is not a guide to the future
History of steady dividend payments: 38.5p over the past six financial years, plus a recently declared interim dividend of 3p, with a new policy of paying dividends twice yearly. Dividends are variable and not guaranteed
£48.9 million in tax-free dividends paid out since launch in 2001 
Established portfolio: over half of the VCT-qualifying investee companies have paid dividends within the last 12 months
Experienced manager: over £1 billion of assets under management across Unicorn's funds, with over £300 million invested in AIM-listed companies
Minimum investment £2,000
Source: Unicorn Asset Management as at 30 June 2017 
The manager
Unicorn Asset Management is a specialist fund manager with a bias towards smaller companies. Chris Hutchinson is the senior fund manager and is supported by a team of four plus an experienced investment committee. Unicorn has approximately £1 billion under management, of which £300 million is invested in AIM-listed companies.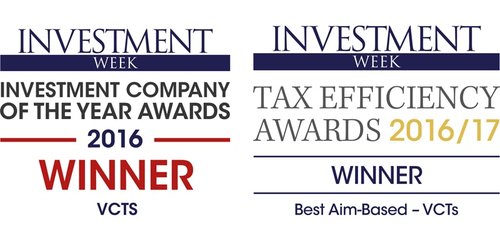 Target return 
Unicorn applies a conservative approach to the management of the portfolio, seeking to preserve and then grow the capital. So, unlike many VCTs that pay out virtually all growth in the form of dividends, Unicorn aims for capital growth over time too. 
There is no specific dividend target, however the VCT intends to maintain "a steady flow of dividend distributions". In the last three financial years, the VCT has paid dividends per share of 6p, 6.25p, and 6.25p respectively. There is a secondary aim of increasing this progressively over time. 

Below we show cumulative performance, five-year discrete performance and dividend history as at 30.06.2017. 

Cumulative performance of Unicorn AIM VCT
(NAV total returns from March 2010 to June 2017)
Source: Unicorn Asset Management. NAV total returns are the NAV plus dividends. 

Annual performance to 13 July 2017
| | | | | | |
| --- | --- | --- | --- | --- | --- |
| | 2013 | 2014 | 2015 | 2016 | 2017 |
| Unicorn AIM VCT (NAV Total Return) | 18.7% | 37.9% | 4.6% | 8.1% | 9.4% |
| FTSE AIM All-Share (Total Return) | 3.8% | 8.7% | -1.0% | -2.3% | 34.1% |
Source: Unicorn Asset Management and the AIC. NAV total return and share price total return include dividends. Past performance is not a guide to the future.
Over the past 12 months AIM has performed strongly, driven by the gas, mining and commodities sectors. The Unicorn AIM VCT has no exposure to these sectors because Mr Hutchinson believes they're too volatile and burn through cash, and are therefore in his opinion unsuited to the objectives of his portfolio.
Dividend history
Remember, dividends are variable and not guaranteed, and past performance is not a guide to the future.
Investment strategy
The VCT seeks AIM companies with the following characteristics:
Experienced and well-motivated management teams

Products and services supplying growing markets

Sound operational and financial controls

Good cash generation

The Unicorn AIM VCT aims to identify companies where management owns a significant stake in the business and has a demonstrable track record of making money for shareholders. Mr Hutchinson is a firm believer that if management has a big stake, they will be focused on the dividends as they are big beneficiaries themselves. Analysing the cash flow is vital – does the company turn reported profit into cash? 
Currently the average portfolio company is worth £123 million and has a turnover of £64 million, with pre-tax profit of £4 million. 
There are currently 95 holdings in the portfolio across a number of sectors. 
Qualifying portion of the portfolio
The top ten holdings together represent 41% of the VCT's total assets.
Unicorn AIM VCT top ten portfolio holdings
| | % of portfolio | Cost (£`000) | Valuation (£`000) | % change |
| --- | --- | --- | --- | --- |
| Abcam | 9.3% | 505 | 14,557 | 2,783% |
| Mattioli Woods | 4.8% | 1,278 | 7,531 | 489% |
| Anpario | 4.4% | 1,381 | 6,800 | 392% |
| Tracsis | 3.9% | 1,453 | 6,105 | 320% |
| Animalcare Group | 3.8% | 1,636 | 5,882 | 260% |
| Cohort | 3.3% | 1,549 | 5,076 | 228% |
| Maxcyte | 3.2% | 1,500 | 4,928 | 229% |
| ULS Technology | 3.0% | 1,500 | 4,612 | 207% |
| ECSC Group | 2.8% | 2,419 | 4,346 | 80% |
| IDOX | 2.5% | 1,116 | 3,920 | 251% |
Source: Unicorn Asset Management. Cost is the original investment cost less capital repayments to 30 June 2017. Valuation is on share price bid basis at 30 June 2017. Past performance is not a guide to the future; dividends are variable and not guaranteed.
Portfolio companies: examples
Abcam 
Jonathan Milner, Abcam's co-founder, was a postdoctoral researcher at Cambridge University. His research project had slowed because of problems finding antibody reagents with accurate and up-to-date information on uses and limitations. So, in 1998 he remortgaged his home to create Abcam with David Cleevely and Professor Tony Kouzarides and simplify the way scientists can buy antibodies – a sort of "Amazon for antibodies". 
At the start Mr Milner would go round the University of Cambridge laboratories with an ice bucket full of antibodies selling to fellow scientists, in an effort to generate enough funds to keep the company afloat. 
Nearly twenty years later, Abcam is the #1 brand for research antibodies. The company, which listed on AIM in 2005 raising £15 million, is now worth over £2 billion. It has 900+ staff across its offices and labs in the UK, the US, China and Japan. In the last financial year (to June 2016) it reported revenues of £171.7 million and adjusted profit before tax of £53.8 million. In 2016 Abcam proposed a full-year dividend of 8.91p per share.
Mattioli Woods 
Mattioli Woods is one of the UK's leading providers of wealth management and employee benefit services. 
It was founded in 1991 by Ian Mattioli and Bob Woods in Mattioli's "tastefully redecorated" garage and 26 years later Mr Mattioli is still at the helm of the company.
After its humble beginnings, the company has had impressive growth, both organic and through acquisitions. It floated on AIM in 2005 raising £5.4 million and today it is worth £208 million. It has 500 staff across nine locations and manages £7.5 billion assets on behalf of more than 6,000 clients. It announced revenues of £43 million, adjusted EBITDA of £9.3 million, and a proposed total dividend of 12.5p per share for the year ended 31 May 2016. 
Anpario
Anpario makes natural additives for animal feeds which help make animals stronger and healthier, controlling salmonella in chickens, reducing the incidence of E.coli in cows and making animals' guts work better so they absorb food more effectively. 
Founded in 1996, Anpario was formed from a combination of three family-run UK companies. Today it supplies its customers with quality assured products manufactured in the United Kingdom and has an established global sales and distribution network in over 70 countries.
It floated on AIM in 2005 and today it is worth £81 million. For the year to 31 December 2016 it reported revenue of £24.3 million, gross profit of £11.4 million and a proposed final dividend to 5.5p per share.
Non-qualifying portion of the portfolio
The non-qualifying portion of the portfolio will be invested in a mixture of cash, blue chip shares and the range of OEICs that Unicorn manages (note there is no double charging on any investment into other Unicorn managed funds, as the VCT waives the management fee on this portion). Large blue-chip shares are included to help boost dividends received into the VCT and increase liquidity.
Exit strategy
Unlike VCTs investing in unquoted companies, AIM VCTs have a natural exit route for shares as they are listed. However, dealing in large volumes of shares could be difficult and AIM shares can still be illiquid. The investment style is to find, buy and hold companies for the long term. The average holding period is more than five years, according to Mr Hutchinson.
Risks
Liquidity of companies listed on AIM is the key risk in this VCT, as it can be a volatile market with little trading at certain points. Like most VCTs there is a share buy-back policy in place, whereby if investors wish to realise their investment, the VCT will seek to buys back their shares, normally at a discount to NAV (subject to availability of funds and board approval). However, whilst other VCTs specify the level of discount (5% is quite common), Unicorn leaves that to the board's discretion. 
Please remember capital is at risk. VCTs are high-risk investments and are not suitable for everyone. Investors should not invest money they cannot afford to lose.
Fees
The initial charge is 5.5% before any Wealth Club discount (currently 3.0%, so the net initial charge is 2.5%). 
The annual management fee is 2%. The VCT's annual expenses are approximately 2.2% of its net assets but are capped at 3.6%. As of July 2017 there is no performance fee.
Summary
Being the biggest doesn't always mean being the best. However in our view, as well as being the biggest AIM VCT, Unicorn is a top-quality VCT. Its size ensures access to the best new deals coming to the market and the long term approach of Chris Hutchinson and his team gives companies the assurance they are not investing for short term profit. Indeed, as Unicorn has a fund range that also invests considerably in AIM listed companies, management teams have the comfort of knowing that Unicorn has the ability to fund growth in their business for the long term. This VCT comes highly commended.
Wealth Club aims to highlight investments we believe have merit, but you should form your own view. You should decide based on the provider's documents and ensure you have read and fully understand them before investing. This review is a marketing communication. It is not advice or a personal or research recommendation to buy the investment mentioned. It does not satisfy legal requirements promoting investment research independence and is thus not subject to prohibitions on dealing ahead of its dissemination. 

Photo credit: San Diego Bill