Project Saturn – investment pack and application
Co-invest with WestBridge in £29 million MBO of profitable IT provider to blue-chip clients, including Fujitsu, Computacenter, TATA and BT
This is an opportunity to co-invest with WestBridge Fund Managers ("WestBridge") to support the £29 million management buyout (MBO) of Smart Capital Technology Limited ("SCT" or the "Company"). 
WestBridge is an award-winning private equity firm with a strong track record in backing successful MBOs.

SCT supplies rapid-response IT support and equipment – predominantly Cisco network products – to multinational clients, including Fujitsu, Computacenter, Wipro, TATA and BT.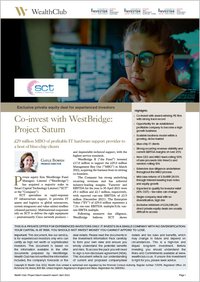 The Company has strong underlying recurring revenues and has achieved industry-leading margins. Turnover and EBITDA for the year to 30 April 2021 were £9.1 million and £2.7 million, respectively, with reported run-rate EBITDA of £3.9 million (December 2021).
The MBO was completed in March 2022 supported by a £17 million investment from WestBridge II ("the Fund"). WestBridge II is now making a stake available to its Strategic Investor Group – Wealth Club has secured a £1 million allocation with an exclusive minimum investment of £26,086.26 – representing a rare opportunity to access a direct private equity deal from a relatively low entry point.
Through a combination of loan notes and equity, the target mid-case return is 3.5x/IRR 28.5% (high-case 4.1x/IRR 33.3%) in Y5, based on WestBridge's investment case forecasts – not guaranteed. 

This deal does not qualify for EIS relief but should qualify for investor tax relief of 10% CGT (not guaranteed; benefits depend on circumstances and tax rules can change).

Important: The information on this website is for experienced investors. It is not advice nor a research or personal recommendation to invest. If you're unsure, please seek advice. Investments are for the long term. They are high risk and illiquid and can fall as well as rise in value, so you could get back less than you invest.
The deal at a glance
| | |
| --- | --- |
| Type | Single company – Private-equity backed Management Buy Out (MBO) |
| Stage | Profitable, growth capital |
| Transaction size | £29 million |
| Co-investors | WestBridge Fund Managers |
| Sector | IT support services |
| Market size | £1.2 billion in Europe (c.£200 million in UK) |
| Business model | B2B |
| Actual revenue | £9.1 million year ending 30 April 2021 |
| Revenue model | Multi-year contracts – "IaaS" (Inventory as a Service) |
| Actual EBITDA | £2.7 million year ending 30 April 2021 |
| Run-rate EBITDA | £3.9 million to December 2021 |
| Run-rate EBITA | £3.3 million to December 2021 |
| Forecast revenue in year 5* | £26 million |
| Forecast EBITDA in year 5* | £8.8 million |
| Investment case mid-case target return in year 5* | 3.5x |
| Investment case mid-case target IRR in year 5* | 28.5% IRR |
*These are forecast and not guaranteed. Capital is at risk – you could lose the amount you invest.
Highlights
Co-invest with award-winning PE firm with strong track record

Opportunity for an established profitable company to become a high growth business
Scalable business model within a growing, niche market
Blue-chip IT clients including Computacenter, Fujitsu and TATA
Strong recurring revenue visibility and current EBITDA margins of over 25%
Extensive due diligence undertaken throughout the MBO process
Mid-case returns of 3.5x/IRR 28.5% through interest-bearing loan notes and equity growth 
Expected to qualify for investor relief (10% CGT) – tax rules can change
Single company deal with no diversification, high risk
Exclusive minimum of £26,086.26: direct private equity deals are usually difficult to access
This overview is based on the information available in the offer documents prepared by WestBridge. Wealth Club has not reviewed or verified the information included, the company forecasts or the deal details. Please read the full investment pack carefully to form your own view and ensure you wholly understand the potential benefits and risks.
The business
SCT provides what is known as Inventory-as-a-Service (IaaS).
The Company's blue-chip clients – its "IT channel partners" such as Computacenter, Fujitsu, TATA, Toshiba, Wipro and BT – employ SCT to help resolve network issues and failures for their end customers (e.g. John Lewis) by delivering and fitting spare parts when required. 
SCT also provides field-service engineering and 24/7 support desk services on their behalf.
Headquartered in Reading, SCT was founded in 2002 by the Stone and Barley families: it has a 20-year track record in delivering IT services through long-term partnership agreements. The Company now has 87 employees, half of them Field Service Engineers.

SCT has strong recurring-revenue visibility and has so far achieved industry-leading margins – currently, EBITDA margins of over 25%. Turnover for the year to 30 April 2021 was £9.1 million (past performance is not a guide to the future). 
The Company forecasts revenues of £26.0 million and EBITDA of £8.8 million by FY27 – underpinned by a strong orderbook and pipeline, as supported by WestBridge's due diligence provider (forecasts and timeframes are not guaranteed).
Structure of the offer and target returns
The Fund invested £17 million and secured £11 million of senior debt plus £1.5 million revolving credit facilities from Shawbrook Bank to complete the £29 million MBO.
Designed to drive investor returns, capital will be deployed in a blend of equity and loan notes. Please refer to the report. 
Investor loan notes attract a 12.5% p.a. interest rate. 2.5% will be rolled until exit and the remaining 10% will be rolled until payment is permitted under the bank financing agreement, which is currently estimated to be from April 2023 as per the investment case.
Should the Company achieve its plan over the next 5 years, mid-case returns of 3.5x money are being targeted, with a high-case of 4.1x – not guaranteed. 
Investor subscriptions will be paid to Wealth Club Asset Management Ltd's client money account, before being sent to WestBridge (Saturn) Nominees Ltd.
Exit options

If the Company can grow as forecast, it is likely to be considered a high-quality valuable asset, attractive to a wide range of trade and large PE buyers – not guaranteed. Please note: exit options, returns and timeframes are not guaranteed.

Management 
The buyout was led by CEO Andy Morgan. He joined the Company two years ago as CFO and became CEO designate in January 2021. Prior to joining SCT, Morgan was FD for five years at a £100 million turnover software and services business. 
Andy will be mentored and supported by Chairman Richard Cottrell. Richard is well known to WestBridge as he was the MD of Vista Technology Services Limited (another WestBridge-backed buyout), where he helped deliver a 4x money multiple and 69% IRR to WestBridge's first fund. 
Following extensive due diligence, WestBridge believes SCT shows considerable potential to achieve high-growth and increased market share, under new leadership of the MBO team and with the support of WestBridge – not guaranteed. 
WestBridge – manager and track record
WestBridge has proven experience of supporting and creating value in lower mid-market UK buyouts; its four partners have 25 years each in PE – a combined 100 years. 
WestBridge invests in B2B companies operating in growing niches – specifically, companies generating £2-5 million profit and led by ambitious management teams.
It has £140 million of capital to invest in UK lower mid-market buyouts through WestBridge II.
At SCT, WestBridge holds four Board Investor Director/Observer positions and has the normal controls in place expected in a standard MBO transaction where the investor holds the majority investment.
Risks – important 
This, like all investments available through Wealth Club, is only for experienced investors happy to make their own investment decisions without advice.
Private equity investments are high risk so should only form part of a balanced portfolio and you should not invest money you cannot afford to lose. They also tend to be illiquid and hard to sell and value. 
Before you invest, please carefully read the full investment information pack, which contains further details on the considerable risks, alongside the Wealth Club Risks and Commitments. 
The full investment information pack contains details of the co-investors and bank arrangements, fees payable to the Fund and priority of returns, Nominee terms and a Deed and Declaration of Trust. The investment documentation and the private equity style structure of the investment is designed for very experienced investors only. If you are not sure you should seek expert advice. 
This is a single company offer – there is no diversification. You could lose the amount you invest.
This deal does not qualify for EIS relief but should quality for 10% investor tax relief – not guaranteed and you should take your own advice. The value of tax benefits depends on circumstances and tax rules can change. 

Fees
Investors are investing in the Company through a nominee structure operated by WestBridge (Saturn) Nominees Ltd. WestBridge will charge an initial fee of 4%. 
WestBridge will share its initial fee with Wealth Club and pay a fee of 2.25%. There are no other fees paid to Wealth Club.
The charges to individual investors include their share of the nominee set up costs, formation costs and arrangement fees. These charges will be added at the time of investment to the equity and loan subscription minimum of £25,000, making the total minimum investment amount £26,086.26.
Our view
WestBridge is a leading lower mid-market buyout firm managed by highly experienced partners who can add significant value to the businesses in which they invest, delivering attractive returns for their co-investors, in our view. WestBridge believes this investment in SCT could be a valuable addition to the WestBridge II portfolio as it exhibits many of the criteria of a core WestBridge deal and represents the opportunity to systematically deploy the firm's Value Creation Model.
Due diligence has concluded SCT benefits from strong underlying recurring revenues and generates industry-leading margins. It is operating in a niche market with significant growth potential and a highly scalable business model.
There are several areas where WestBridge could add value, to aid the scaling of the business, and to allow the creation of an asset that could be highly attractive for a range of potential acquirors to acquire at the end of the investment horizon – not guaranteed.
A private equity deal of this type is usually very difficult for individual investors to access unless they are able to commit significant sums – so this offer represents a rare opportunity, in our view. Wealth Club investors will be investing alongside highly experienced investors in a business that has had extensive due diligence undertaken– you should form your own view.
Register your interest – no obligation
Wealth Club aims to make it easier for experienced investors to find information on – and apply for – investments. You should base your investment decision on the offer documents and ensure you have read and fully understand them before investing. The information on this webpage is a marketing communication. It is not advice or a personal or research recommendation to buy any of the investments mentioned, nor does it include any opinion as to the present or future value or price of these investments. It does not satisfy legal requirements promoting investment research independence and is thus not subject to prohibitions on dealing ahead of its dissemination. 

The details
Type

Private equity / MBO

Target raise

£1m

Minimum investment

£26,086.26

Target IRR

28.5%

Application deadline

6 May 2022