Review: Seneca Managed Storage EIS Fund 2
Archived article
Archived article: please remember tax and investment rules and circumstances can change over time. This article reflects our views at the time of publication.
The Seneca Managed Storage EIS Fund 2 builds on the success of its original Managed Storage EIS fund, which reached capacity mid-February 2017. This new fund is based on the same model and details as the original fund and aims to raise £10 million to acquire and operate four managed storage sites across the North West of England. 
Highlights
New tranche based on the Seneca Managed Storage EIS fund

Raising £10 million to develop four managed storage sites

Asset-backed storage facilities offer good downside protection, and provide predictable underlying trading revenues in a steady but growing sector

Update: Advance assurance received
Aims to invest in tax year 2017/18
No debt

Proven management team

Active M&A market driving up valuations
Manager video interview
The opportunity

Managed storage is a sector we like due to its predictable revenues and solid underlying asset values. Over the last ten years its performance has been strong, driven by good customer diversity, low fixed operating costs, recurring revenues and a variety of alternative uses for the underlying asset along with a steadily increasing demand for storage. 
Demand for managed storage in the UK has grown consistently since the 1980s. This suggests the sector might be countercyclical and resilient to recession. 
There are an estimated 60,000 storage facilities worldwide. The majority of which are located in the US with one in ten households in the US now renting storage. The US market continues to grow with an estimated 8.32 square feet (2014) of storage per head. This compares with an estimated 0.59 square feet of storage per head in the UK. If we are set to follow the US, it would be reasonable to expect considerable growth. Current economic data and trends analysis support this prediction.
The key drivers of demand are social factors such as smaller houses, online trading, moving home, marriage, divorce, retirement and bereavement. For businesses, storage proves useful for a number of reasons, notably storing stock and equipment and archiving records.
Not surprisingly the sector has become more competitive of late. Returns for investors have been consistently good, although past performance is not a guide to the future. When you add EIS tax benefits it becomes an even more compelling proposition and area for potential investment. Remember, taxes can change and tax benefits depend on individual circumstances.
The offer
This offer aims to raise £10 million, which will be split between two investee companies, each aiming to acquire and operate two managed storage facilities. Each EIS qualifying company intends to acquire suitable sites that will facilitate either a new build, development or conversion of an existing building into a managed storage facility. The expected capital cost of each site is £2.5 million. 
Each site will have a lettable area of 40,000 to 50,000 square feet. The sites will be located in North West of England, in dense residential and commercial areas, close to major road and transport networks with low competition. The potential sites in Greater Manchester, Cheshire and Staffordshire have already been identified and terms are being negotiated.
Having acquired and fitted out the storage sites, the companies' business plan is to grow occupancy levels against the fixed cost base. To stimulate demand and drive occupancy in the early stages of trading, rental fees will be kept marginally below the average market rate in the region.
Combined net operating income is forecast to be £400,000 per annum, generating a net operating margin of 30% by year 4 with a run rate of £760,000 net operating income and margin of 43% by year 5. This is an unleveraged model and no bank debt is likely to be sought.
Fund raise target – £10 million

Fund raise minimum – £1 million

Minimum subscription – £15,000

Exit targeted on fourth anniversary
Target return of 1.2× investment amount (not guaranteed)
Will be invested in the 2017/18 tax year
Management
Seneca Partners ("Seneca") is the fund manager and will work with SureStore Storage Ltd ("SureStore") who will be their specialist adviser.
Seneca is an independent investment and corporate finance business for private individuals, entrepreneurs, companies, funds and trusts. Seneca already manages more than £40 million in the Seneca EIS Portfolio Service and a further circa £400 million across the Seneca family of companies.
Seneca will act as fund manager and will also advise on the strategic development of the fund's investee companies.
The management team behind SureStore has combined experience of over 45 years in the storage industry. It has been working with Seneca since 2014, when Seneca supported the management buyout of Smart Storage, a previous venture in the same sector. Smart Storage currently operates seven sites, all reportedly on track to deliver and possibly exceed business targets (occupancy rates as high as 82% on one site).
Seneca is now backing the same team to apply the same tried and tested formula to four new sites, under the new brand name of SureStore.
The two key members of the SureStore management are:
Mike Wilson, a qualified accountant with significant managerial experience. He has both startup and turnaround experience, not only in storage but also in healthcare, property and technology. He has worked in the storage sector since 2007 and had both CEO and CFO roles during this time. Mike was appointed to the board of the Self Storage Association UK in 2015 as a representative for independent operators. Mike will lead the operational and strategic direction of the Seneca Managed Storage EIS Fund investee companies.

Andrew Wood has worked in the storage sector since 1995 during which time he was responsible for the design and build, marketing and strategic planning for over 100 storage centres. Andrew has co-founded several storage businesses in the UK and Europe. The most recent venture in the North of England became an award-winning operator of three facilities in Cheshire and Staffordshire. Andrew will lead the acquisition and development of the new facilities.

Investors in the Seneca Managed Storage EIS Fund can potentially benefit from the commercial success of the four sites, as well as the EIS tax reliefs, while the underlying value of the freehold or long-leasehold assets offer some downside protection.

Financial projections
In the management's view the table below represents a typical operating model for the first five years for a single site. The figures below assume a maximum lettable area of 42,000 sq. ft. per site and day 1 occupancy of 3,000 sq. ft. growing by 500 sq. ft. per month thereafter. Based on each site costing £2.5 million to set up, the payback period is 13 years. The forecast net operating income margin is 43% by year 5.
If each site follows this profile, as assumed by the management, in year 5 the combined annual net operating income of the four sites should be £760,000.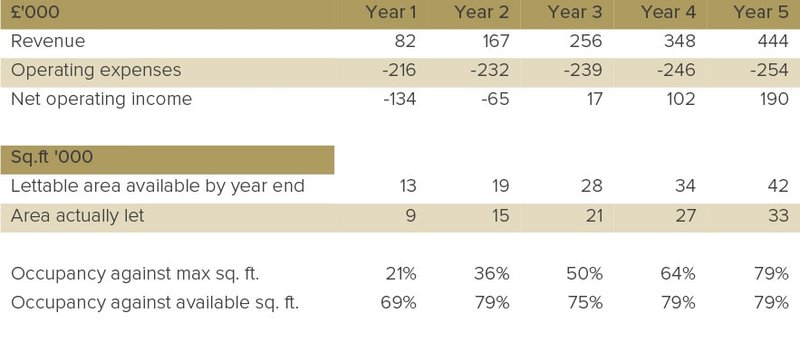 Break even point is expected by year 3 with occupancy levels at 50%. Target occupancy is 79% by year 4/5. Purely for benchmarking purposes, this management team has delivered occupancy levels of up to 82% in its Smart Storage business. Current average lettable occupancy rates across the UK are estimated to be 73%, a 4% increase from last year. Therefore, the occupancy rates forecasted by year 4 appear reasonable and achievable. 
To deliver on the business plan and maintain stable cash flow it is crucial that capital expenditure is tightly controlled and phased in line with the increase in occupancy levels at each site. Strong financial control will therefore be important. Seneca has commissioned and completed a full suite of due diligence including legal, financial and commercial. The findings of each independent report support the viability and delivery of the business plan.
Having reviewed profitability metrics in this peer group, we believe these forecasts are in line with the industry, although some operators are reporting higher margins. When we questioned the management we were told the projections have been put together prudently. The desire to drive occupancy rates trading off gross margin may erode performance slightly.
Please remember these are just projections. Returns are not guaranteed. Investments can fall as well as rise in value so you could get back less than you invest.

Target returns
The management has set a target return of 1.2x the investment amount before tax relief.  
After EIS income tax relief, the net cost of investing £1 is 70p. If the target of £1.20 was returned that would deliver a net return of 1.7x money invested. In addition, investors will receive 20% of any realisation proceeds above the 1.2 threshold.
So for example, if a return of £1.30 per £1 invested is achieved, investors will receive approximately £1.22 (being 99.99% of £1.20 and 20% of £0.10). Given the current M&A activity and exit multiples a target return of 1.2x could well be exceeded in our view, but of course this is not guaranteed.

Exit strategy
Year 4 is the targeted year of exit. A sale to a consolidator or private equity firm is the most likely route in the management's opinion. Recent deals indicate that average exit multiples for managed storage businesses are in the region of 8x.
There have been several acquisitions of storage sites throughout Europe. In 2014 circa £80 million of deals were transacted in the UK alone. In recent years private equity firms such as Fremont Realty Capital, Alpha Real Capital and Cabot Square Capital have acquired sites in the UK. Storage providers such as Big Yellow, Access and Lok'nStore also acquire sites in the UK, further increasing M&A activity and deal valuations.

Risks
Identifying, sourcing and acquiring the best sites in the best locations for the right price is key. Offsetting this slightly, land prices appear to be marginally less volatile in the north of the country compared to the South East. In addition, the sites have alternative uses which helps maintain value. However the market is getting more crowded and there is increased competition for good sites.

Robust internal financial controls for capital expenditure and construction costs are essential to avoid overspending.

If management doesn't achieve target occupancy rates the business will be less profitable. Break even point is 50% occupancy.

If the fund raises the full £10 million there will be no debt. The investee companies may take on debt to assist working capital if the full £10 million is not raised. This is limited to 25% of the funds raised. When bank debt is part of the structure the bank's requirements in terms of interest payments and covenants must be met.

Investment concentration is a risk if the full £10 million is not raised. The minimum is set at £1 million, which suggests there would only be one site, or maybe two if a smaller and cheaper site could be found and the trading revenues were sufficient to support the capital expenditure.

The company is dependent upon the skills of the management team, although the other sites appear to be well managed which is a useful indicator to offset this risk.

The property market is affected by many factors such as general economic conditions that are beyond the control of the company.
The usual risks with unquoted companies exist with this EIS offer. For instance, EIS investments are illiquid and capital is at risk. Investors should only invest money they can afford to lose. The value of tax relief will depend on the circumstances of the individual investor and tax rules could change in future.   
Fees

Fees paid by investors to the fund manager:
Dealing fees of 0.35% per transaction on entry and exit

Annual administration fee of £55 plus VAT per investor
Performance fee: upon exit, for every £1 invested* investors will receive 99.99% of the first £1.20 of any return. If the return exceeds £1.20, the Operator and Fund Manager will be incentivised by a larger "catch up" position. This means that investors will also receive 20% of any return beyond £1.20, for every £1 invested*.
Fees paid by investee companies to the fund manager:
Initial fee of 2% plus VAT 

Annual management charge of 2% plus VAT 

*After deduction of the Custodian fees and any advice fee facilitated
Summary
We consider this a good opportunity to invest in an EIS-qualifying asset-backed managed storage fund operated by a highly experienced and proven team and fund manager with strong regional presence and knowledge of the market.
Shareholder upside returns may be suppressed as they will only participate in 20% of the proceeds over £1.20 per £1 invested. Given the strong market dynamics, this could be a generous package to management although we recognise this team has a strong track record and needs to be incentivised. Seneca's view is that it would be unlikely for returns to exceed £1.35 due to increased competition.
This is a careful team and fund manager who we believe will aim to execute the business plan with prudence and care. There is no gearing in the structure, and land prices in the North West of England are less volatile than in the South East, so we consider the downside to be well protected.
Wealth Club aims to make it easier for experienced investors to find information on – and apply for – tax-efficient investments. You should base your investment decision on the provider's documents and ensure you have read and fully understand them before investing. This review is a marketing communication. It is not advice or a personal or research recommendation to buy the investment mentioned. It does not satisfy legal requirements promoting investment research independence and is thus not subject to prohibitions on dealing ahead of its dissemination.
This article tagged with: