Capital gains tax review: might it affect you?
Archived article
Archived article: please remember tax and investment rules and circumstances can change over time. This article reflects our views at the time of publication.
As you might have seen in the press, a review – commissioned by Chancellor Rishi Sunak from the Office for Tax Simplification (OTS) – urges an overhaul of capital gains tax (CGT).
The OTS, which is the Government's independent adviser on simplifying the tax system, has put forward a number of proposals (no change of policy has been announced).
The proposals include:
Increasing tax rates – potentially aligning CGT rates (currently up to 28%) with income tax rates (currently up to 45%)

Reducing personal CGT allowances – the Annual Exempt Amount is £12,300 in the current tax year
Eliminating the 'CGT uplift on death' – currently, when someone inherits an asset, that asset is treated as it had been acquired at its market value at the time of the death, thereby ignoring any uplift in value it might have experienced since when it was originally acquired
Changing Entrepreneurs' relief (now Business Asset Disposal Relief) and Investors' Relief
Should the proposals be implemented – and there is currently no indication to suggest if or when they will – more people could pay more tax. 
For instance, reducing the Annual Exempt Amount is estimated to result in the number of people affected by CGT trebling and an alignment of tax rates could help raise an estimated £14 billion a year. 
The main losers of the proposals would likely be wealthy individuals who hold second homes or assets outside tax-favoured vehicles such as ISAs and pensions.
If this overhaul materialises, might it affect you? What options might you consider to limit the impact?
There are options for experienced investors to invest tax efficiently and reduce the tax they have to pay.
For instance, both EIS and SEIS investments currently offer CGT relief. Any growth is normally tax free; in addition:
EIS offers capital gains deferral relief – if you have realised a taxable gain and invest the proceeds in an EIS, you can defer the capital gain for as long as the EIS money stays invested.
SEIS offers 50% capital gains reinvestment relief – you could reduce the CGT on gains made elsewhere by up to 50%.
Remember, tax rules can change and benefits depend on circumstances. EIS and SEIS investment are high risk and only for experienced investors. The investments must remain qualifying to retain the reliefs.
Free factsheet: How different tax reliefs compare
This short and simple factsheet explains and compares side-by-side the current tax treatment of these three government-endorsed schemes. Get your free factsheet and find out:
What VCTs, EIS and SEIS are, in a nutshell
Their risks and benefits
How you could halve or defer a capital gains tax bill
How you could claim up to 30–50% income tax and other tax reliefs
How you might be able to claim back some of last year's tax
How you might receive tax-free dividends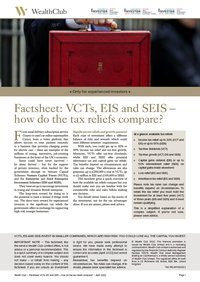 Wealth Club aims to make it easier for experienced investors to find information on – and apply for – tax-efficient investments. You should base your investment decision on the provider's documents and ensure you have read and fully understand them before investing. This review is a marketing communication. It is not advice or a personal or research recommendation to buy the investment mentioned. It does not satisfy legal requirements promoting investment research independence and is thus not subject to prohibitions on dealing ahead of its dissemination.
This article tagged with: