VCT demand the strongest in a decade
Archived article
Archived article: please remember tax and investment rules and circumstances can change over time. This article reflects our views at the time of publication.
The total amount invested into Venture Capital Trusts (VCTs) in the 2016 to 2017 tax year was £542 million – the second highest fund raising year on record.
As the chart below shows, it's also the largest fund raising total since VCT income tax relief was set to 30 per cent, and second only to 2005/06 when investors rushed to claim a higher rate of 40 per cent.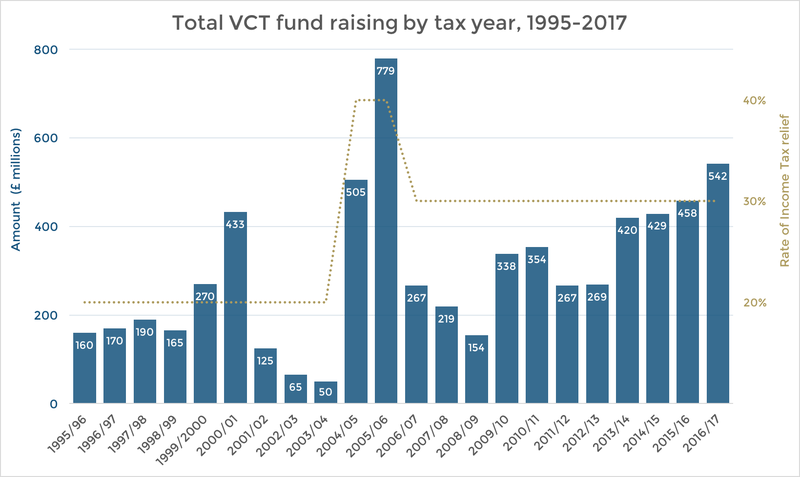 Source: aic (Association of Investment Companies)
Total assets under management by VCTs increased by around £300 million, from £3.6 to £3.9 billion.

Hugi Clarke, director at Foresight Group, commented: "The fund raising is notable not only because of its scale, but because overall capacity was down. Recent rule changes led a number of VCT heavyweights, which had historically focussed on MBOs and MBIs, not to raise funds."
A year of quickfire fundraising
The year was characterised by VCTs closing early and capacity filling quickly, as demand threatened to eclipse supply.
ProVen Growth & Income raised £39.2 million before the end of January. The longstanding Northern VCTs raised £12.9 million from existing shareholders only in a little under 48 hours in February. Both British Smaller Companies VCTs opened small top-up offers that were quickly snapped up by existing investors.

Octopus Titan raised the most, at £120 million – the highest single VCT raise in history. Foresight VCT raised £40 million in just 46 days, and Albion raised a total of £34 million across its six VCTs. Downing introduced two new share classes to its FOUR VCT and raised £33.1 million across both offers.
Why the increase in demand for VCTs?
First, it's part of a trend. VCTs have been steadily increasing in popularity for the past five years. The appeal of tax-free income in a low interest rate environment may be a contributing factor.
Second, the attraction of VCTs to high earners has been boosted by changes to the tax regime. New restrictions on pension savings, dividend income and punitive taxes on buy-to-let have encouraged investors to seek alternatives.

Third, VCTs are being perceived as more mainstream. While it should be remembered they are higher risk, they are increasingly seen less as an exotic investment and more as a tax-efficient way to add to a diversified portfolio. Hugi Clarke of Foresight sums up: "While there is a healthy respect for the risks inherent in these structures, there is also an increased understanding that strong managers add value and offer consistent, competitive returns."
Rule changes have also restricted supply
Arguably VCTs would have been able to raise even more this year were it not for substantial changes to the rules governing the types of businesses VCTs can invest in. This has resulted in greater caution from fund managers with regard to fund raising. Several high profile VCTs opted not to raise a 2016/17 offer at all.

VCTs that already focused on earlier stage growth businesses have been less affected, whereas funds that have done well from backing management buyouts or renewable energy projects – two areas affected by the rule changes – require more of a change to their investment strategy.
Altogether these rule changes are aimed at increasing the flow of capital to smaller companies, and many believe the effect will be positive for the UK economy. Ian Sayers, Chief Executive of the Association of Investment Companies (AIC) which provided the figures, commented: "VCTs have an excellent track record of providing scale-up capital to smaller companies, creating growth, jobs and innovation. The growth of smaller companies is vital for the UK's economic success and some of the businesses VCTs support develop into household names."
Current VCT investment opportunities
Although many of the offers available last tax year have closed, some VCTs remain open.

If you are comfortable with the risks and believe VCTs may be for you, there are two good reasons to consider investing at the start of the tax year rather than waiting until 2018. First, you could receive an extra year's worth of dividends (variable and not guaranteed). Second, the tax relief can be paid to you during the year rather than reclaimed back afterwards via your tax return.
Wealth Club aims to make it easier for experienced investors to find information on – and apply for – tax-efficient investments. You should base your investment decision on the provider's documents and ensure you have read and fully understand them before investing. This review is a marketing communication. It is not advice or a personal or research recommendation to buy the investment mentioned. It does not satisfy legal requirements promoting investment research independence and is thus not subject to prohibitions on dealing ahead of its dissemination.
This article tagged with:
Browse current VCT offers
Where could you invest in the new tax year?
See open VCTs