VCT fundraising in 2020-21
Archived article
Archived article: please remember tax and investment rules and circumstances can change over time. This article reflects our views at the time of publication.
Venture Capital Trusts raised £685 million in the 2020-21 tax year. This is 11% higher than in 2019-20, and the third highest amount in the last 10 years, despite the disruption of the coronavirus pandemic.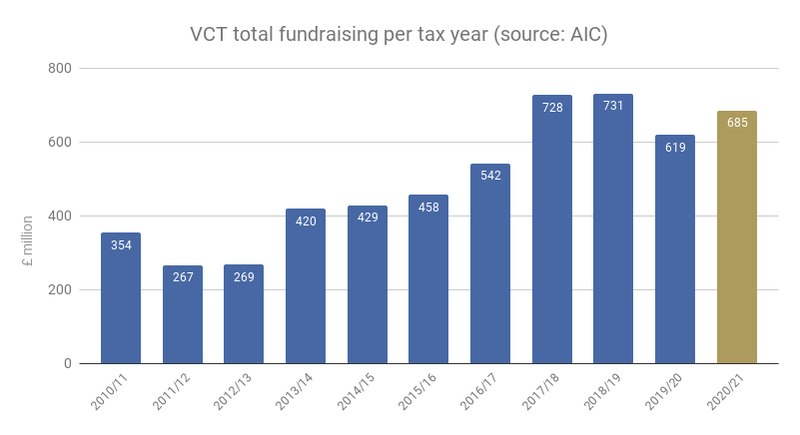 Demand outstripping supply?
Despite a slower start – compared to previous years – demand for VCTs started to surge from January 2021. Our data shows that 63% of the year's total investment in VCTs came after New Year, compared to 54% in the previous year.
This is despite 7.5% less potential capacity compared to the previous year's offers. Several popular VCT offers had lower fundraising targets than in previous years.
As a result, all the most popular offers were filled well in advance of the end of the tax year. Overall, 13 of the year's 22 offers (comprising 20 of the 30 individual VCTs raising funds) were fully subscribed before 5 April 2021.
Play the animated chart to show the overall amount raised by VCT offers that opened in 2020-21, compared to the previous two tax years:
Source: Wealth Club, based on figures from VCT managers for share offers opened during 2020‑21.
Paul Latham, Managing Director for Octopus Investments, said: "The big driver of demand for VCTs continues to be the tightening of pension contributions. Now that the lifetime allowance has been frozen until 2026, I expect we'll see increased demand for tax efficient alternatives such as VCTs to complement [experienced investors'] pension planning."
"The other significant factor is that VCTs tend to invest in technology enabled businesses, which I think is where lots of investors recognise there is huge opportunity for growth."
Bevan Duncan, Fund Manager of the Baronsmead VCTs, echoed this thought: "The pandemic has provided a unique test of management and created new winners in those agile teams who have been able to quickly adapt their business models or ways of working."
Ian Sayers, chief executive of the Association of Investment Companies (AIC), said: "This investment will support healthcare, science and technology businesses which have helped in the battle against coronavirus and supported us to adapt to life in lockdown. The amount raised demonstrates that demand for VCTs and the benefits they bring investors remains high at an extremely difficult time."
How much did each VCT offer raise?
Here is a data visualisation of the VCT offers that opened this year. Play the animated chart to show how the different offers progressed and ended up:
Source: Wealth Club, based on figures from VCT managers for share offers opened during 2020‑21.
Facts and figures on 2020-21 VCT fundraising
Largest amounts raised
The year's biggest fundraise was Octopus Titan VCT, which reached capacity in early March at £120 million, a significantly lower target than in previous years. Jo Oliver, fund manager for Octopus Titan VCT, told us that the VCT has seen many companies in the portfolio continuing to grow rapidly despite the pandemic. He added: "Cazoo has recently announced its agreement to list on the New York Stock Exchange via a SPAC for a $7bn valuation, demonstrating Titan VCT's ability to repeatably back pioneering teams that are building multi-billion pound companies."
The second highest fundraise came from the same stable: Octopus Apollo VCT raised £65.5 million, having extended its offer capacity from £35m in March. Richard Court, Fund Manager for Octopus Apollo VCT, commented: "We're delighted to welcome lots of new investors to Apollo VCT following exceptional levels of demand in the latest fundraise, and we're now in a great position to take advantage of a strong pipeline of new deals."   
Baronsmead VCTs raised £65 million – the third highest amount, and the largest fundraise in the VCTs' history. Bevan Duncan, Fund Manager of the Baronsmead VCTs, said: "Our fundraising is a significant milestone for the Baronsmead VCTs and brings total assets under management to a record £433m. We are ready to put the new money raised to work straight away, investing in publicly listed and privately owned businesses operating in sectors where we have deep expertise and in parts of the economy set to benefit from long-term structural growth drivers'.
Fastest sellers
The fastest-selling offers were for Amati AIM VCT, Unicorn AIM VCT and the Albion VCTs. Amati opened a £7 million top-up offer on Friday 19 February, which was fully subscribed by the Monday morning. Unicorn AIM VCT raised £15 million in 14 days and the five Albion VCTs raised £58.5m in 52 days. Pembroke VCT raised its £20m overallotment facility in 12 days, reaching £40m in total, the highest amount it has raised in a single offer to date.
AIM VCTs
AIM VCTs were in particularly high demand during the year, with £101m raised across four offers – 38% more than the previous year. 
The Octopus AIM VCTs offer was the first to sell out in the year, meeting its £30 million target by 30 November. Unicorn AIM VCT (£15m) and Hargreave Hale AIM VCT (£30m) both reached capacity early. Amati AIM VCT was the first to open in the year (using the previous year's overallotment facility, raising £19 million) then opened its top-up offer in February; it raised £26 million during the year.
New VCTs
Last year's new VCT launches (Puma Alpha VCT, Blackfinch Spring VCT) and new share classes (the Venture Share class of Triple Point VCT 2011, and the Williams Technology share class of Foresight Solar & Technology VCT) all raised funds again, on aggregate raising more (£25.8m) than last year (£21.1m).

Used car supplier Cazoo is one of the largest VCT-backed companies.
Current VCT investment opportunities
The most popular offers available last tax year have closed, but several VCTs remain open into 2021-22. 

If you are an experienced investor comfortable with the risks and believe VCTs may be for you, there may be good reasons to consider investing at the start of the tax year. For example, you could potentially receive an extra year's worth of dividends, which are variable and not guaranteed. The income tax relief could be paid to you during the year, rather than reclaimed afterwards via your tax return. Tax rules can change and tax benefits depend on circumstances. 
Remember, the speed, size and success of a VCT's fundraise does not necessarily indicate how well the investment will perform in the future. You should form your own considered view and if unsure, seek advice.
Wealth Club aims to make it easier for experienced investors to find information on – and apply for – investments. You should base your investment decision on the offer documents and ensure you have read and fully understand them before investing. The information on this webpage is a marketing communication. It is not advice or a personal or research recommendation to buy any of the investments mentioned, nor does it include any opinion as to the present or future value or price of these investments. It does not satisfy legal requirements promoting investment research independence and is thus not subject to prohibitions on dealing ahead of its dissemination. 

This article tagged with: