Review: Maven Income and Growth VCT 6
Archived article
Archived article: please remember tax and investment rules and circumstances can change over time. This article reflects our views at the time of publication.
Despite the being the smallest of the Maven managed VCTs, Maven Income and Growth 6 still has over 40 holdings and has benefitted from investing alongside the other five over the past decade. This £6 million top-up will further help reduce costs and diversify the portfolio further. In addition, it will help with the progressive dividend policy the board has adopted.
Highlights
Progressive dividend policy

17 new investments since January 2014

11 realisations since January 2014

Nationwide office coverage helps identify potential opportunities

Maven staff have £4 million invested across Maven VCTs



The manager
Maven Capital Partners, led by Bill Nixon, is a specialist manager primarily of venture capital, private equity and unquoted investments. It has nationwide coverage through its six offices – very few other VCT managers have this to offer. The 20-strong team is well resourced and fully committed to the range of six VCTs it manages with £4 million invested in them. To use a common investment phrase, they have plenty of 'skin in the game'. In total Maven manage over £400 million. 
Target return and strategy
There is a progressive dividend policy on this VCT rather than a specific pence per share target; this is a reflection of the relatively small nature of the VCT up until about a year ago, however as the VCT grows in size the ability to pay regular and increasing dividends should improve. In the last four years, the dividend has increased every year – paying a total of 2.85p.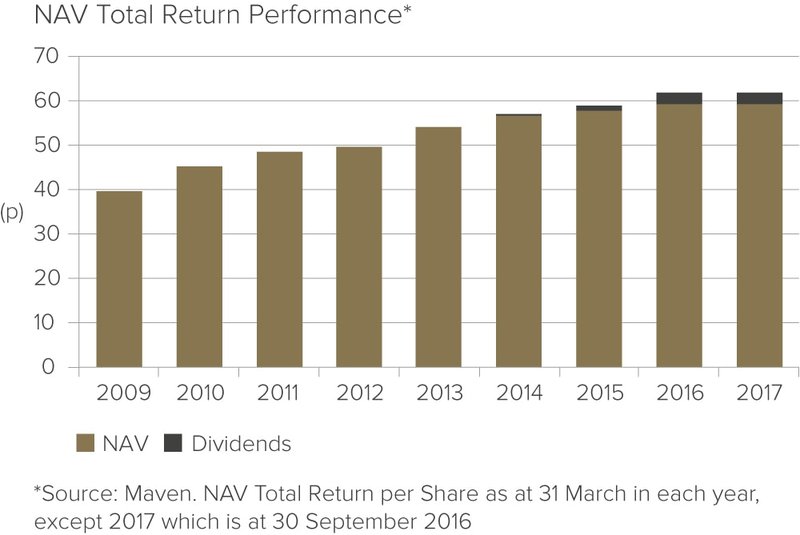 Please remember: neither returns nor dividends are guaranteed. Investments can fall as well as rise in value so you could get back less than you invest. Past performance is not a guide to the future.

Despite the nationwide coverage, the Maven team meets weekly to discuss all new potential opportunities. It has a detailed and thorough investment process, and senior members of the team are involved at all stages of any potential new deal. Having a large team also enables sector specialism. Support services, insurance and automobiles are currently the three biggest sectors in the existing portfolio. Overall Maven invests between £2 million and £8 million per deal and benefits from non-VCT money to invest alongside. This enables larger deals and allows the VCT to occasionally invest in more mature businesses. Maven doesn't like overpaying for a business. Many of the deals completed in the last five or so years have been development capital deals therefore recent rule changes will have a lesser impact than on some other VCTs.
Of the £16.5 million invested in this VCT, approximately £4 million is currently invested in qualifying VCT deals. New investments have recently been made into online doctors' practice The GP Service (UK); Rockar, an innovative motor retailer; Chic Lifestyle, a technology company which operates the B2B Chic Retreats marketplace; and Growth Capital Ventures, a developer of alternative finance platforms. 

Exit strategy
The board is focused on a progressive dividend policy, and income generation as well as capital profits are key to this. Even before Maven agree to invest in a company, it has a very good idea of the likely exit route and price. Maven manages dynamic portfolios and likes to see a continual flow of new and existing deals. Since January 2014, this VCT has had 11 sales of unquoted companies, plus further realisations from loan notes and the sale of AIM listed holdings. In 2016, Maven sold Dantec for a total return of 2.1x the original investment and Nenplas for a 5x return.
Risks
As this VCT has grown from about £4.2 million in early 2016 to over £16 million (as at the date of this review), there is a large amount of cash awaiting investment in the portfolio. With an under-resourced manager, this could be problematic, however Maven's strong team should help alleviate this issue.
Please remember capital is at risk. VCTs are high risk investments and are not suitable for everyone. Investors should not invest money they cannot afford to lose.
Fees
The initial costs could be up to 6% prior to any Wealth Club discount or early investor discount. The annual management fee is 2.5% per annum. In addition, Maven receives an annual secretarial fee of £50,000 and, like most VCTs, is entitled to deal arrangement and monitoring fees. A performance fee of 20% in the increase in total return will also be payable subject to a high watermark provision. The total annual running costs are capped at 4.1% - the new fundraising should help reduce the annual running costs. For instance, the current total expense ratio (based on the year to March 17) is 3.3% and is projected to drop to 3.25%. 
Summary
Maven has been adept at investing in and exiting from unquoted investments over the last three years with 17 new investments made and 11 realisations. Whilst this VCT has historically been the smallest of the Maven stable, it has benefitted from the ability to co-invest alongside the other five Maven VCTs. With over 40 unquoted investments in the portfolio there is already a broad spread, however with the increase in size of the VCT over the last year there is a lot of cash in the portfolio awaiting investment. This 'cash drag' will have a short-term effect on performance, however we believe Maven's team is one of the premier VCT management teams and in the long run investors should be rewarded.
Wealth Club aims to make it easier for experienced investors to find information on – and apply for – tax-efficient investments. You should base your investment decision on the provider's documents and ensure you have read and fully understand them before investing. This review is a marketing communication. It is not advice or a personal or research recommendation to buy the investment mentioned. It does not satisfy legal requirements promoting investment research independence and is thus not subject to prohibitions on dealing ahead of its dissemination.
Browse open VCT offers
Compare VCTs you can invest in now
View offers