EnterpriseAlumni EIS
Last opportunity to invest under EIS
Recurring-revenue fast-growing SaaS business with 28 blue-chip clients, including Google, LinkedIn, JP Morgan, HSBC and Coca Cola
Some of the world's largest companies recognise that former employees – their corporate alumni – remain one of their most valuable resources. They represent a ready pool of brand advocates, customers and referrers – and that holy grail of corporate HR departments: access to talent.
Dubbed "the Facebook for ex-staff", EnterpriseAlumni's first-to-market intelligent software enables corporations to engage with this resource – and access a virtual warehouse of talent.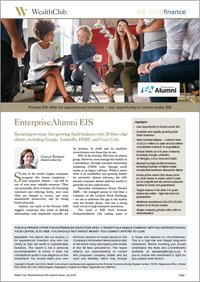 Co-founded by successful serial entrepreneur Emma Sinclair MBE – the youngest person to ever float a company on the London Stock Exchange – and her brother James, EnterpriseAlumni has achieved a great deal in a relatively short period.
Since its software launch in 2016, the platform has won over £12.5 million of multi-year recurring revenue contracts from 28 global blue-chip clients – including Google, LinkedIn, JP Morgan, HSBC, Citi and Coca Cola. It has a well developed pipeline of £6 million worth of potential contracts in negotiation, and an estimated £25 million in prospects – not guaranteed.
To date, the business has raised £11 million from venture capital, family offices and high-profile investors, including Octopus Investments co-founders Chris Hulatt and Simon Rogerson and Rosaleen Blair CBE (founder of billion-dollar recruitment business Alexander Mann) – some of them are investing again in this round.
Now to accelerate growth EnterpriseAlumni is raising £2 million under EIS – the Board has approved a £750k allocation for Wealth Club members. This is the last opportunity to invest under EIS, as EnterpriseAlumni is approaching the 7-year limit as an EIS-qualifying company. The Company, based in the US, has received EIS advance assurance.
Wealth Club investors can invest at the same USD share price as Series A investors in 2018 – expected to be at a significant discount to the Series B round planned for Q2 2021, although this is not guaranteed.
Important: The information on this website is for experienced investors. It is not advice nor a research or personal recommendation to invest. If you're unsure, please seek advice. Investments are for the long term. They are high risk and illiquid and can fall as well as rise in value, so you could get back less than you invest.
Read important documents and apply
Highlights
Last opportunity to invest under EIS

Highly scalable and rapidly growing B2B SaaS business 
Well commercialised – contract wins of over £12.5 million to date and £6 million of potential contracts in negotiation 
Global clients on 3-5 year contracts, including Google, LinkedIn, JP Morgan, Coca Cola and HSBC
Backed by high-profile investors, including Octopus Investments co-founders and the founder of billion-dollar recruitment business Alexander Mann
Invest at the same USD share price as 2018 Series A round – which could be at a significant discount to planned Series B round, not guaranteed
Innovative technology – first movers in a $12 billion global market
High-achieving, ambitious and proven management team

Target returns of 9x after 3 years, 11x after 5 years, before tax relief – high risk and not guaranteed
Minimum investment £20,370 (10,500 shares at £1.94)
Single company private offer with no diversification
The technology
The EnterpriseAlumni platform is a first-to-market SaaS marketing and HR tool enabling corporations to engage with – and leverage – their vast network of former employees.
Alumni benefit from access to relevant job openings, incentives for referring colleagues, discounts or similar rewards, and interesting opportunities to reconnect with other alumni.
For corporations, the software could help address the number one concern of CEOs and global corporations: access to talent. The software could unlock a digital pool of already-proven people – otherwise known as "boomerang employees".
Powered by artificial intelligence and machine learning, the corporate-bespoke platform has three main elements:
Public landing page – a company's former employees can find this via Google search. It contains teaser content from the main portal, welcome messages from company CEO and allows new alumni to sign up
Alumni Portal – providing personalised content, offering alumni access to relevant job openings, incentives for referring colleagues, discounts or similar rewards, and interesting opportunities to reconnect with other alumni.
Self-service administration – a portal through which companies run their network, generate content, send newsletters, message members directly, search alumni, target recruitment and get insights on alumni engagement
The alumni interface is designed to be visually pleasing and akin to consumer software alumni are already familiar with. 
The offer
EnterpriseJungle Inc, trading as EnterpriseAlumni ("the Company"), is an EIS-qualifying business. It is a US company registered in the State of Delaware and headquartered in Los Angeles, with operations in London. The Company received EIS Advance Assurance in December 2017, on the basis it has a UK establishment and a UK employee. EnterpriseAlumni's co-founders consider the addressable corporate market to be worth up to $12 billion globally by 2024 and believe most large companies will purchase an alumni platform within the next few years.
Since it launched its proprietary platform in 2016, EnterpriseAlumni has signed up some of the world's largest known brands and most influential technology companies. Clients sign up to 3 to 5-year contracts, ranging from £75,000 per annum (2,000+ employees) to £200,000 per annum (10,000+ employees). Clients also pay implementation fees upfront and additional upselling fees if the number of their users increases.
The Company plans to launch an SME version in 2021 (<2,000 employees) costing around £40,000 per annum, which could create an additional revenue stream if it is a success.
EnterpriseAlumni sells B2B, either directly or through channel partners. Clients tend to be large global businesses and span several sectors including finance, technology and FMCG. 
By the end of 2019, the Company had 24 confirmed clients, with a total contract value of £8.3 million. Over the next six months, this grew to 28 clients and a contract value of £12.6 million.
EnterpriseAlumni expects to win 20 more contracts by the end of 2020 (18 of these are in advanced negotiations) and reach 226 contracts by the end of 2022.
This is the last opportunity to invest in EnterpriseAlumni under EIS – investments made after 6 September 2020 will no longer be eligible for EIS tax relief as the Company will have passed its 7-year EIS qualifying period.
Target returns
EnterpriseAlumni forecasts total revenue of £2.6 million in the current year ending 31 December 2020 and expects to break even on a monthly basis from April 2021 – not guaranteed. 
Predicated on winning its expected number of new contracts, the Company forecasts sales of £27.9 million and EBITDA of £10.5 million in FY22, and targets returns of 9x in year 3 and 11x in year 5 (both before EIS tax relief). These are forecasts, not guaranteed. 
Importantly, these forecasts don't take into account the planned Series B round in 2021. If this is successful, growth could be accelerated up and above the financial forecasts, and investor returns could be significantly higher – but there are no guarantees: you should form your own view. 
Covid-19 impact
Since the start of the Covid-19 crisis, EnterpriseAlumni has scaled back some of its costs but is experiencing an increasing volume of inbound leads. 
As thousands of staff are being furloughed or made redundant across industries, companies are looking for effective ways to maintain positive relationships with former employees – such as extending perks and benefits to alumni and offering support, community and opportunity. 
Alumni networks are now also seen as important for talent warehousing (keeping track of trained employees you will want to prioritise and recruit back, in a recovery).
Meanwhile, although sales cycles with large corporates are typically 9-15 months, the sales cycles for leads generated due to Covid-19 seem significantly shorter, with budgets quickly being made available for more digital, people-related tools.
Management team
Brother and sister James and Emma Sinclair MBE head the management team.
Co-founder Emma Sinclair MBE is a former M&A investment banker. She spent eight years at Rothschild before founding and floating her first business on AIM in 2008 – at 29, the youngest ever person in the UK to do so. Emma co-founded her second business in 2006, leading Target Parking Limited as CEO before selling her stake in 2013. She is a regular speaker on entrepreneurship, has a column in The Telegraph and is UNICEF's first business mentor. The Queen awarded Emma an MBE for Entrepreneurship in 2016.  Emma is based in London and has overall responsibility for strategy, delivering the business plan and driving shareholder value.
Co-founder James Sinclair has over 20 years' experience in large enterprise innovation and bringing new innovative IT applications to market, working at SAP, IBM and Boeing, among other blue-chip organisations. James is considered a thought leader in the future of work, large enterprise innovation and entrepreneurship. He is based in Los Angeles and is responsible for product, engineering and digital marketing.  
Non-executive Chairman and investor Mike Ettling is an experienced business leader with 30 years' industry experience, including as CEO of several technology businesses in the HR space. Mike is considered a thought leader in cloud-based technologies, having previously been President of SAP SuccessFactors, a leading human capital SaaS business. Mike is currently CEO of Unit4, a software company delivering enterprise applications for people-centric service organisations. 
Board Observer Andre de Haes is founder of Backed VC and holds an MBA from Stanford University, with previous experience at McKinsey and Andreessen Horowitz.  
The Company currently outsources some of its finance operations to an investment advisory business which provides services to high-growth businesses.
Exit options
The management team intends to stay in the business for the mid to long term to fulfil its growth ambitions and will seek an exit in 3 to 5 years. An IPO, trade sale or sale to a large private equity house are some of the options, but timeframes and exits are not guaranteed. 
Risks – important
This, like all investments available through Wealth Club, is only for experienced investors happy to make their own investment decisions without advice.
EIS investments are high risk so should only form part of a balanced portfolio and you should not invest money you cannot afford to lose. They also tend to be illiquid and hard to sell and value. 
Before you invest, please carefully read the Information Memorandum which contains further details on the considerable risks, alongside the Wealth Club Risks and Commitments.  
This is a single company EIS offer with no diversification. It involves investing in an early-stage business which is by nature high risk and prone to failure. You could lose the amount you invest.
The share price, financial forecasts and target returns are presented as converted from USD to GBP at a rate of 0.796866. As investors will be investing in GBP, returns could be impacted by currency fluctuations. Please refer to the Information Memorandum for further details.
Shareholders will need to abide by the terms of the Subscription Agreement which is governed by US legislation. Please read this document carefully: this investment will be made using a nominee structure.

The value of tax benefits depends on circumstances and tax rules can change.
Fees 
There is no direct initial fee charged to the investor.
EnterpriseAlumni will pay a fee of 6.75% of the funds raised to Wealth Club.
On exit, Wealth Club is entitled to a 10% performance fee deducted from net proceeds by the Company. The hurdle is investors achieving an exit greater than 2x (before tax relief). 
Wealth Club is acting as a broker in this fundraise. Wealth Club does not take a seat on the board so cannot influence the business. 
Our view
In our view, EnterpriseAlumni has achieved a great deal in a relatively short period.
The Company's founders are impressive. So is its client list, with dozens of blue-chip financial services and technology businesses signed up on long-term recurring revenue contracts. 
The Company appears to have first-mover advantage in the corporate alumni market and could be well placed to take a leading position if it can deliver on its forecasts and significant pipeline. Investment in its sales team in this round could help the Company achieve this – not guaranteed.
Investors have the opportunity to invest in a rapidly growing commercialised business, with over £12.5 million in contract wins to date. 
Significant interest is expected in this limited-time offer – which is the last opportunity to invest with the benefit of EIS tax relief.
We consider this an exclusive, although high risk, EIS opportunity with an attractive business model. The high quality of both the clients and the existing investors is a testament to the commitment and capability of the management team, in our view – however, experienced investors should form their own view on this single company EIS.
Register your interest – no obligation
Wealth Club aims to make it easier for experienced investors to find information on – and apply for – tax-efficient investments. You should base your investment decision on the provider's documents and ensure you have read and fully understand them before investing. This review is a marketing communication. It is not advice or a personal or research recommendation to buy the investment mentioned. It does not satisfy legal requirements promoting investment research independence and is thus not subject to prohibitions on dealing ahead of its dissemination.
The details
Type

Single company

Sector

Consumer

Target return

9-11x

Funds raised / sought

£750,000 sought

Minimum investment

£20,370

Deadline

14 Aug for first allotment