Glyconics EIS
Co-invest alongside Deepbridge Capital and sector specialists in MedTech that could make early diabetes screening faster and more accurate – saving healthcare providers £millions 
Late diagnosis of diabetes can have serious consequences. The disease kills more per year globally than breast and prostate cancer combined, and complications that can arise – kidney disease, limb amputation, dementia – cost healthcare providers three to four times on top of treating diabetes itself. 
Treatment costs the NHS an estimated £14 billion per annum – and the global economy $1.3 trillion.
Blood tests for diabetes, whilst accurate, are costly and lab-based so tend to be used only when a patient is symptomatic – quite late after onset. Other screening methods, such as urine tests or questionnaires, can produce false positives or fail to detect the disease. Globally, around half of all diabetes cases go undiagnosed.
To address this, Glyconics Limited ("Glyconics" or "the Company") has developed a patented point-of-care device that uses Infrared Spectroscopy (IRS) to detect diabetes accurately and more quickly than conventional methods (10 seconds versus potentially several weeks) and up to 90% more cheaply.
Importantly, the technology has demonstrated potential to also screen other diseases – including COPD, a lung disease.

The intention is to initially target diabetes-screening providers. The Company's management and board have significant experience selling into the NHS and healthcare providers across the EU.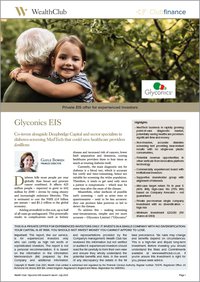 Glyconics is currently pre-revenue, and yet to secure regulatory approval. The technology has so far been validated in initial trials, with results suggesting it could be superior to current screening methods. A larger trial is set to commence in Q3 2021, to support CE marking as a Class IIa medical device, expected by Q3 2022 – not guaranteed. This could be a key valuation inflexion point. 
Glyconics is now raising £850k under EIS to complete its larger-scale trial in preparation for applying for regulatory approval. £300k has been committed from existing investors Deepbridge Capital and private investors. Wealth Club has an allocation of £500k.

Investing at this early stage means the rewards for experienced investors could be significant, but so are the risks. Based on the Company's forecasts, target mid-case return is 11x (IRR 60%), high case 16x (IRR 75%) after five years (after performance fees and warrants but before EIS tax relief) – high risk and not guaranteed.

Important: The information on this website is for experienced investors. It is not advice nor a research or personal recommendation to invest. If you're unsure, please seek advice. Investments are for the long term. They are high risk and illiquid and can fall as well as rise in value, so you could get back less than you invest.
Read important documents and apply
The deal at a glance
| | |
| --- | --- |
| Type | Single company EIS private offer |
| Stage | Pre-revenue MedTech |
| Date started trading | 2013 |
| Funding to date | £1.1 million equity plus £0.4 million grants (excluding the current round) |
| Co-investors (new and existing) | Deepbridge Capital and private investors |
| Sector | MedTech |
| Fully diluted pre-money valuation | £4 million |
| Market size | $50 billion by 2028, growing at 9% per annum |
| Business model | B2B |
| Revenue to date | Pre-revenue |
| Revenue model | Sale of medical devices and diagnostic tests to healthcare providers |
| Profitability forecast from* | FY25 |
| Forecast GMV / revenue in year 5* | £11.9 million (FY26) |
| Forecast EBITDA in year 5* | £3.6 million |
| Target return in year 5* | 11x |
| Target IRR* | 60% IRR |
*These are forecast and not guaranteed. Capital is at risk – you could lose the amount you invest.
Highlights
MedTech business in rapidly growing point-of-care diagnostic market, potentially saving healthcare providers significant time and money

Non-invasive, accurate diabetes-screening test providing near-instant results with no single-use plastic consumables
Potential revenue opportunities in other verticals from innovative platform technology 
Commercially experienced board with institutional investors
Supportive shareholder group with alignment of interests
Mid-case target return 11x in year 5 (60% IRR), high-case 16x (75% IRR) based on Company forecasts – not guaranteed
Private pre-revenue single company investment with no diversification – high risk 
Minimum investment £20,130 (110 shares at £183)
The overview provided on this website is based on the information available in the Information Memorandum prepared by the Company and additional information and representations provided by the Management upon request. Wealth Club has reviewed the information provided but not verified or audited it. Please read the offer documents carefully to form your own view and ensure you wholly understand the potential benefits and risks.

What does Glyconics do?
Glyconics is developing a range of miniaturised products that use Infrared Spectroscopy (IRS) to detect diseases and monitor their progression.
IRS is an existing technology, typically available in labs through bulky and expensive benchtop systems. Glyconics believes it is the first to use IRS at the point of care. 
The Company's primary patented application is Diabetes-SX™, a hand-held device for diabetes screening. Diabetes-SX™ measures the molecular absorption of infrared radiation by molecules in the human fingernail. Those at risk of diabetes will have higher levels of glucose in their nail bed, which in turn will impact the rate of absorption of glycated nail protein. Analysis of the rate of absorption highlights specific biomarkers that can detect a disease or potential future problems.
Management believes this could help practitioners detect diabetes early – with better accuracy (not reliant on a clinician's subjective judgement), more quickly (10 seconds versus potentially several weeks) and up to 90% more cheaply.

The technology could also have applications in other disease areas, such as diagnosis and monitoring of COPD, detection of nerve agents, lung cancer and COVID-19. See the IM for further details. 
The technology has so far been validated in initial trials, with encouraging results suggesting it could be superior to current screening methods. A larger trial is set to commence in Q3 2021, to support CE marking as a Class IIa medical device, expected by Q3 2022 – not guaranteed. 

Portsmouth Hospitals University NHS Trust is excited to work with Glyconics to develop a novel screening tool for diabetes. It has the potential to transform many of the diabetes pathways and help the NHS manage the consequences of diabetes and improve patient outcomes at low cost.

Professor Anoop J Chauhan MBE, Executive Director of Research, Portsmouth Hospitals University NHS Trust
How does the business intend to generate revenue? 
Glyconics is still currently pre-revenue. It aims to start commercialising its diabetes-screening device from FY23 – after and subject to receiving regulatory approval – not guaranteed. 
In the UK, Glyconics intends to target existing diabetes-screening providers – including pharmacies, GP clinics and medical centres. It is expected that they will purchase miniaturised IRS devices from Glyconics for £1,000 with a yearly maintenance fee of £300, paying a £2 charge per completed test. The diabetes screening provider can then either be reimbursed by the NHS or the patient directly.
The Company reports initial discussions with pharmacies and GPs have been positive. One of the largest independent pharmacy chains in the UK and Europe has agreed to pilot the device in up to 50 of its 500 UK shops. 
Overseas, the Company plans to use distributors to sell its product, targeting sales into the EU, MENA (Middle East and North Africa), the US, India and China in the mid-term. The Company has informed us multiple early conversations with distributors such as The Corporate Group in Dubai have been positive, subject to Glyconics receiving regulatory approval, which is not guaranteed. 
EIS Private offer
Glyconics is raising £850k in this funding round under EIS. £300k has already been committed by existing investor Deepbridge Capital and private investors. Wealth Club has an allocation of £500k. 
The fully diluted pre-money valuation is £4 million. Investors will be subscribing for Ordinary Shares – this is currently the only class of share in the Company. 

Based on the Company's forecasts, target mid-case return is 11x (IRR 60%), high case 16x (IRR 75%) after five years (after performance fees and warrants but before EIS tax relief) – high risk and not guaranteed.

The Company plans a further £2 million funding in FY23, potentially at a higher valuation, provided the key valuation inflexion point of completing successful trials to support CE marking has been achieved. A further £2.5 million funding round will then be required in FY24 to accelerate international expansion. Timing and eventuality of a further round at a higher valuation or regulatory approval are not guaranteed. Deepbridge Capital has indicated it is likely to participate in the next potential round – not guaranteed. 
The Company received EIS Advance Assurance from HMRC in June 2021, and most recently issued EIS certificates to investors in March 2020. 
How does the Company intend to use the funding?
Funding in this round is expected to be used to help complete further trials in preparation for regulatory submissions, further platform development, and further investing in relationships with potential customers and key opinion leaders.
Covid-19 and Brexit impact
In late 2020, the Company completed its initial trials for the diabetes application and secured its Quality Management Certification. However, the ongoing impact of the pandemic could result in slower recruitment of patients for the next stage of trials. Management believes this risk is somewhat mitigated, as patients targeted for trials will be already undergoing diabetes screening with screening providers, so additional appointments will not be required.
Glyconics' hardware partner is based in the EU, so import tariffs for UK sales could be applied as a result of Brexit. If such tariffs were to be introduced, management would review the geographical sales mix and consider EU distribution from the UK. From a regulatory perspective, the Company has assessed UKCA equivalency for future CE marking as a Class IIa medical device, and the Company's existing ISO13485 QMS, concluding the EU and UK regulatory requirements appear similar.
Exit options
The Company is targeting mid-case returns of 11x (after warrants and performance fees) before EIS tax relief based on its forecasts – high risk and not guaranteed. 
Mid-case target returns are predicated on a mid-case EBITDA multiple of 20x, reflecting a discount to multiples achieved by publicly listed MedTech businesses – however, the Company still has a lot to achieve to commercialise and scale to potentially attract this multiple.
Management believes a trade sale or IPO to be the most likely exit route, with large healthcare and technology businesses actively seeking young start-ups in AI and point-of-care testing – not guaranteed. 
Management 
CEO Dr Kam Pooni has over 20 years' executive experience in the life science industry, including 10 years in senior director positions at £8 billion revenue Japanese pharmaceutical business Astellas Pharma. Kam has a PhD in Economics, a Masters in Banking and Financial Services from the University of Reading, and a BA in Economics from Kingston University. 
Founder and Chairman Berwyn Clarke has over 30 years' experience in the pharmaceutical and diagnostics industry. Berwyn spent 17 years at GSK before founding healthcare diagnostics business Lab 21 in 2005, securing private equity backing and growing it to £12 million revenue by 2013. Berwyn founded Glyconics in 2014 and is also a non-executive director at diagnostic businesses Iceni Diagnostics and PBD Biotech.
CTO Dr Niall Gallen has over 20 years' experience in designing, developing and testing electro-optical systems from initial concept to production. 
Board of directors
Berwyn Clarke is joined on the Board by representatives from institutional investors Deepbridge Capital (Dr Joanne Phoenix, Investment Director) and Boundary Capital (Dr Adrian Parton MBE, Investment Director). 
Deepbridge Capital is an award-winning specialist technology and life sciences venture capital investor and has invested over £600k in Glyconics to date. Joanne Phoenix has 20 years' experience working with life science and IP-based businesses – including delivering the first commercially available automated diagnostic test into the NHS for diabetic retinopathy screening. 
Financials 
Glyconics forecasts to start generating revenue in FY23, assuming it achieves regulatory approval by Q3 FY22 as expected – not guaranteed. 
If all goes to plan, it forecasts to achieve profitability in FY25 and generate revenue of £11.9 million and EBIDTA of £3.6 million by the following financial year (FY26). These are forecasts and not guaranteed. 
Risks – important 
This, like all investments available through Wealth Club, is only for experienced investors happy to make their own investment decisions without advice.
This investment is high risk so should only form part of a balanced portfolio and you should not invest money you cannot afford to lose. They also tend to be illiquid and hard to sell and value.
Before you invest, please carefully read the full investment documentation – including the Information Memorandum which contains further details on the considerable risks, alongside the Wealth Club Risks and Commitments.
This is a single company offer with no diversification. It involves investing in an early-stage, loss-making business, which is by nature high risk and prone to failure. In addition, the Company has yet to achieve regulatory approval. You could lose the amount you invest.
The Company assumes a further £4.5 million of funding will be required across FY23 and FY24 to deliver its plan – securing this funding is not guaranteed. Wealth Club investors' shares will not be allotted until a minimum of £250k is raised from Wealth Club investors.

Wealth Club does not take a seat on the board so cannot influence the business the same way as is usually the case with institutional investors taking a full board position.

The value of tax benefits depends on circumstances and tax rules can change. 

An exit could take longer than the three-year minimum holding period. Conversely, an early exit could mean loss of EIS tax relief.
Structure and fees
Investors will pay no direct initial or ongoing charges to invest. Fundraising costs are being met by the Company. Wealth Club will be entitled to a performance fee on exit. 
Wealth Club investors will invest using a nominee structure. This service is provided by Wealth Club's subsidiary companies Wealth Club Asset Management Limited (authorised and regulated by the FCA) and Wealth Club Nominees Limited. Wealth Club Nominees Ltd will be completing the share subscription documentation on investors' behalf.
Please refer to the Schedule of Charges for more details on charges. 
All the services Wealth Club and, where applicable, its subsidiaries provide are governed by the Terms and Conditions of the Wealth Club Services.
Our view
Glyconics has spent several years developing and testing its innovative device and platform technology. The addressable market is sizeable and forecast to grow significantly. If the Company can secure further clinical validation and regulatory approval, it could be well placed to commercialise. MedTech companies that can demonstrate their technology is accurate and saves time and money can sell for high multiples. 
In our view, Glyconics presents the opportunity to invest in a promising early-stage business at an attractive valuation, backed by experienced investors, with the benefits of EIS. This is a high-risk offer but returns could be attractive for experienced investors willing to invest at this early stage alongside sector specialists. As always, experienced investors should form their own view, and please remember you should not invest money you cannot afford to lose.
Register your interest – no obligation
Wealth Club aims to make it easier for experienced investors to find information on – and apply for – tax-efficient investments. You should base your investment decision on the provider's documents and ensure you have read and fully understand them before investing. This review is a marketing communication. It is not advice or a personal or research recommendation to buy the investment mentioned. It does not satisfy legal requirements promoting investment research independence and is thus not subject to prohibitions on dealing ahead of its dissemination.
The details
Type

Single company

Sector

Healthcare & Technology

Target return

11x

Funds raised / sought

£800,000 / £850,000

Minimum investment

£20,130

Deadline

Limited capacity remaining
Downloads