Intelligence Partners EIS
Only eligible for allotment in the 2020/21 tax year
Update (17 March 2020)
Due to the current uncertainty, we expect the fundraise to take longer than anticipated. This will impact the Company's ability to deliver its forecasts and, in turn, investor potential returns. 
Intelligence Partners has confirmed it is still expecting new business growth this year. In addition, the Company has taken action to control cash, including:
Maximising revenue from existing contracts and accelerating onboarding of new paying clients
Controlled costs by delaying  recruitment and building in-house development team
No capital or loan repayments
Apply online only
Please apply online and send funds by bank transfer. We will accept and process online applications until the advertised deadline for each investment.
The more you know about your customer, the better to maintain a profitable relationship with them. 
Large corporates require market insights and data on their key clients to win new accounts and upsell existing ones. They usually acquire this either through services that automatically generate data on current and target customers (a market worth an estimated $11 billion globally) or by commissioning firms such as McKinsey, Gartner or IDC for a customised market report.
However, the former tend to supply oceans of data without context or intelligence – creating a headache for salespeople who have to decide what's relevant – while the latter, commissioned reports, come with a hefty price tag for information that could quickly go out of date.
Intelligence Partners Limited offers an innovative alternative by providing sales intelligence tailored to the specific products and services a B2B corporate could offer target customers – and delivers this in real-time. The company uses human input and artificial intelligence (AI) – fusing speed, timeliness and agile intelligence at a 70% lower price-point than commissioned report providers.
Now to fund growth, Intelligence Partners is raising £1.5 million under EIS, exclusively through Wealth Club.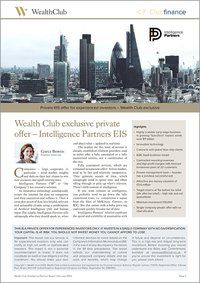 Highlights 
Highly scalable early-stage business in growing "SalesTech" market, worth over $11 billion 

Innovative technology 
Contracts with global blue-chip clients 
B2B, SaaS business model
Contracted recurring revenues and high profit margins with forecast breakeven point of 22 customers
Proven management team – founder has a previous successful exit
Attractive pre-money valuation of £3.6 million in our view
Target returns of 15x before tax relief (21x after tax relief) – high risk and not guaranteed
Minimum investment £10,000
Single company private offer with no diversification
Important: The information on this website is for experienced investors. It is not advice nor a research or personal recommendation to invest. If you're unsure, please seek advice. Investments are for the long term. They are high risk and illiquid and can fall as well as rise in value, so you could get back less than you invest.
Read important documents and apply
The company
Intelligence Partners Limited ("the Company") is the result of founder Pete Pastides's 30 years in the sales and market intelligence industry. Having sold his previous consultancy, which grew to £1 million EBITDA, Pete came out of early retirement when he was approached by a former customer, global telecom corporation Tata Communications, asking him for high-value intelligent information on its customers.
Pete put together a team and Intelligence Partners delivered its first project in late 2018. It has since secured contracts totalling £0.7 million. Customers in 2019 included BT, Atos, Fortinet, Bentley Systems and Softcat. Some are already on recurring revenue contracts. 
The Company currently sells directly to corporates using its own technology and know-how. It is also working on an alternative – and potentially highly lucrative route to market. It plans to integrate its platform with the world's leading CRM providers, including Salesforce, Microsoft Dynamics, Oracle CRM, SAP CRM and Workday CRM. This could give Intelligence Partners access to their combined customer base of over 200,000. The integration with the first CRM platform is planned to go live in June 2020 and discussions are already underway with Microsoft Dynamics.
We see Intelligence Partners as a rising star in our partner ecosystem; their application of the Salesforce platform to deliver their intelligence service is an exciting development for us. With several high profile wins already secured - we're looking forward to continuing to support them with their next phase of growth

Jason Lees, Account Executive, ESMB UKI – Salesforce.com
Target returns
The Company plans to scale rapidly, aiming to take annual sales to £14.8 million and EBITDA of £7.6 million by 2022 – targeted, not guaranteed. 
The pre-money valuation is £3.6 million, which experienced investors might find refreshing, compared with the high valuations often associated with high-tech SaaS businesses. The targeted return on capital invested is 15x before EIS tax relief – not guaranteed.
Management team
Founder and Managing Partner Pete Pastides grew his previous sales and marketing consultancy, Continuous Insight, to £1 million EBITDA, exiting it to Next 15 Plc in 2014. His long career includes advisory roles for corporates LDC, Virgin Media Business and Hitachi Europe.
He is supported by an experienced team of previous colleagues and customers. 
CIO Jeremy Griggs has spent much of his career in marketing and innovation, including 15 years at BT. He has a track record of building strategic conversations with customers that address key digital transformation challenges, and therefore leads all research and client intelligence delivery with customers.
COO Jason Peacock is a chartered engineer with over 35 years' experience in telecoms and IT, including several roles at BT spanning technical engineering, commercial, business development, client innovation and internal transformation.
Intelligence Partners is also supported by early investor Omobono Limited, a B2B marketing agency, and an experienced advisory team of senior or c-suite executives from high-profile corporates, including Cisco and Microsoft. 
Exit options
The management team intends to stay in the business for the mid to long term to fulfil its growth ambitions. An IPO, trade sale or sale to a large private equity house are some of the options, but timeframes and exits are not guaranteed. 
If the Company can deliver its plan, its attractive recurring revenue model is likely to produce favourable exit metrics. A valuation multiple of 10x EBITDA reflects what high-tech businesses providing software solutions in the US are currently achieving. 
In our view, if the Company achieves its forecasts this multiple is not unrealistic, although there are no guarantees. 
Performance
This is a potentially scalable and cash-generative business model. The Company has won contracts with six clients to date, with an average value per client above £100k. This includes c.£0.3 million in on-boarding fees, paid upfront. Once an account is set up, it can generate recurring revenue when the client signs up to monthly monitoring. 
The business has been capital efficient thus far, securing recurring contractual revenue from blue-chip customers despite modest funding. 
Furthermore, its scalability means the Company should not need significant capital to grow; indeed, it forecasts it needs 22 customers to break even and needs to monitor only the top 10 accounts of 133 companies to meet its FY22 projections. These are forecasts, not guaranteed.
The Intelligence Partners platform aims to add significant value to its clients – and has already started doing so, by helping drive sales pipeline and providing marketing support for deals valued over £3 billion for Atos.
We selected Intelligence Partners as we believe the combination of their people and technology will help Atos deliver greater value to our Top Globally Integrated Accounts. After an initial trial period, we extended their strategic conversations service to our largest, most valued customers – what we've seen is a significant increase in pipeline, in fact over €3.5bn of stage 1 unqualified pipeline, and more importantly a change in the way we engage with senior customer executives

George Miller, Global Head of Client Innovation – Atos
Risks – important
This, like all investments available through Wealth Club, is only for experienced investors happy to make their own investment decisions without advice.
EIS investments are high-risk so should only form part of a balanced portfolio and you should not invest money you cannot afford to lose. They also tend to be illiquid and hard to sell and value. Before you invest, please carefully read the Risks and Commitments and the offer documents to ensure you fully understand the risks. 
This is a single company EIS offer with no diversification. It involves investing in an early stage business which is by nature high risk and prone to failure.
The value of tax benefits depends on circumstances and tax rules can change.
Fees and charges
There is no direct initial fee charged to the investor. Intelligence Partners will pay a fee of 6% of the funds raised to Wealth Club and an annual monitoring fee of 0.6%. Please see the research report for further details. Wealth Club is acting as a broker in this fundraise. After that, it will monitor the company's progress and prepare investor updates twice a year. Wealth Club does not take a seat on the board so cannot influence the business. 
Our view 
In our view, Intelligence Partners has achieved a great deal so far with relatively modest funding. The high-profile blue-chip customer wins and glowing testimonials achieved at this early stage support this.
The founder understands the challenges of the sector, having created and exited a previous SaaS business providing a similar service. 
Intelligence Partners appears to offer more tailored, relevant and easy to consume information than automated data providers and seems more affordable than traditional consulting-led ABM solutions, so the Company could be in an exciting position.
The Company's business model is cash-generative and should not need significant capital to scale; indeed, it estimates its breakeven point is 22 customers. The Company does not seem to need to gain significant market share to achieve its forecasts and reach 133 customers by FY22.
Integration with CRM providers such as Salesforce and Microsoft Dynamics, if successful, could give Intelligence Partners access to a large customer base to target, and could enable the Company to achieve rapid growth and scale quickly. 
While the business is still early stage, the valuation appears sensible and a far cry from the valuations usually associated with high-tech SaaS businesses. 
We consider this an exciting, although high risk, EIS opportunity with an attractive business model and potential for attractive returns commensurate with the risks – however, experienced investors should form their own view.
Wealth Club aims to make it easier for experienced investors to find information on – and apply for – tax-efficient investments. You should base your investment decision on the provider's documents and ensure you have read and fully understand them before investing. This review is a marketing communication. It is not advice or a personal or research recommendation to buy the investment mentioned. It does not satisfy legal requirements promoting investment research independence and is thus not subject to prohibitions on dealing ahead of its dissemination.
The details
Type

Single company

Sector

Technology

Target return

15x

Funds raised / sought

£390,000 / £1.5 million

Minimum investment

£10,000

Deadline

Discretionary
Downloads