SolasCure EIS
Earlier in the year, SolasCure EIS raised £4.4 million in its Series B round. To support continuing significant progress, the Company has decided to open a top-up tranche as part of the same round and at the same price for a limited period. 
This funding is intended to be used to help complete the Phase 2a study, the development of the Aurase® dry formulation and a longer preclinical study. In May 2022, the first human trial patient received treatment. The information on the page below, the research report and Information Memorandum are correct as at January 2022.
Backed by Abcam's Jonathan Milner, VCs and global biopharmaceuticals: biotech company developing patented chronic wound treatment
Chronic wounds represent a silent epidemic – it is estimated 1-2% of the population of developed countries will experience a chronic wound during their lifetime. So, at any given time, some 100 million people in the world might suffer from a chronic wound. 
The global wound care market is predicted to exceed US$30 billion by 2027 – driven by factors such as an ageing population and rising rates of diabetes and obesity, and their associated risk of chronic wounds.
Wound healing is a lengthy and complex set of biological processes and effective treatment has been a long-term problem for healthcare professionals. The first key step is cleaning the wound (debridement). However, current methods tend to range from effective but invasive and costly, to non-invasive but slow and lacking in efficacy. Nature has its own proven solution: maggots, which feed on dead tissue, leaving behind a clean wound for healing. That said, maggot therapy is not widely used due to logistical challenges as well as distaste.
Biotechnology company SolasCure Limited ("SolasCure" or "Company") is attempting to address this. It uses biomimicry to synthetically clone and produce the key enzyme from maggots' saliva, which is then incorporated in a topical hydrogel – Aurase®. The Company believes Aurase® could be usable in either domestic or in healthcare settings once the regulatory approvals are obtained. The Company is conducting clinical trials to demonstrate that the use of this treatment could lead to faster wound cleaning, better patient outcomes and reduced healthcare costs.
Aurase® is currently at Phase 2A stage FIP "First in Patient" clinical trial stage and has patents granted in the EU, US, Canada, China, Japan, Australia and South Africa.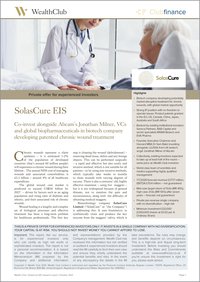 SolasCure was founded in 2017 by medical doctor and Executive Chairman Dr Sam Bakri, as a biotechnology IP spin-out from EUR 214 million market cap BRAIN Biotech AG in Germany. Dr Bakri has assembled a world-class team and board with a wealth of deep knowledge and experience in wound care, clinical trials and the global commercialisation of medical products. 
Watch our video interview with CEO & founder Dr Sam Bakri:
In our view, this is a rare opportunity for private EIS investors to co-invest alongside such a strategic and supportive shareholder base, including founder and CEO Dr Bakri, Seneca Partners, Jonathan Milner, BRAIN Biotech and EVA Pharma.

Investing at this early pre-revenue stage means the rewards could be significant, but so are the risks. Based on the Company's forecasts, management's target mid-case return is 13.6x (IRR 45%), high case 21.6x (IRR 55%) after seven years – high risk and not guaranteed.
Important: The information on this website is for experienced investors. It is not advice nor a research or personal recommendation to invest. If you're unsure, please seek advice. Investments are for the long term. They are high risk and illiquid and can fall as well as rise in value, so you could get back less than you invest.
Read important documents and then apply
The deal at a glance
| | |
| --- | --- |
| Type | Single company EIS private offer |
| Stage | Pre-revenue |
| Date started trading | June 2017 |
| Funding to date | £16.2 million since inception from 3 VCs, 2 pharma/biotech companies, Jonathan Milner, private investors and management |
| Existing investors | BRAIN Biotech, EVA Pharma, Jonathan Milner, Seneca Partners, RAB Capital, Bionova Capital and Dr Bakri |
| Sector | Healthcare |
| Fully diluted pre-money valuation | See research report |
| Market size | $7 billion with CAGR of 6% |
| Business model | B2B |
| Revenue to date | Pre-revenue |
| Revenue model | Sales of Aurase® Wound Gel to hospitals and pharmacies worldwide |
| Profitability forecast from | FY26 |
| Forecast revenue in year 7 | £277.7 million |
| Forecast EBITDA in year 7 | £70.4 million |
| Target return in year 7 | 13.6x mid-case |
| Target IRR | 45% IRR |
Projections and targets are for illustration only and are not guaranteed
Highlights 

Biotech company developing potentially market-disruptive treatment for chronic wounds, with global market opportunity

Strong IP position with no freedom to operate issues. Product patents granted in the EU, US, Canada, China, Japan, Australia and South Africa
Backed by existing institutional investors Seneca Partners, RAB Capital and sector specialists BRAIN Biotech and EVA Pharma
World-class team of scientists and medics supporting highly qualified management 
Y7/2028 forecast revenue £277.7 million, EBITDA £70.4 million – not guaranteed 
Mid-case target return of 13.6x (IRR 45%), high case 21.6x (IRR 55%) after seven years – forecast, not guaranteed
Private pre-revenue single company with no diversification – high risk 
Minimum investment £20,000 (1,000,000 shares at £0.02 per A Ordinary Share)
The overview provided on this website is based on the information available in the Information Memorandum prepared by the Company and additional information and representations provided by the Management upon request. Wealth Club has reviewed the information provided but not verified or audited it. Please read the offer documents carefully to form your own view and ensure you wholly understand the potential benefits and risks.
What does SolasCure do?
SolasCure is an EIS-qualifying business headquartered in Cambridge, UK, with a team of over 30 employees, consultants and advisors developing a potentially disruptive medical product for the cleaning (known as "debridement") of chronic wounds. 
It was set up in 2017 by Dr Sam Bakri, who during his years of training as a medical doctor, spent significant time cleaning patients' chronic wounds, as well as significant effort helping them cope with the chronic pain and inconvenience of wounds that refuse to heal. Determined to find a better solution, he was introduced to the scientists at BRAIN Biotech in Germany who had been researching the potential for a maggot based enzymatic solution to chronic wounds for approximately five years. 
The Company's first product, Aurase®, is a hydrogel containing a highly specific enzyme, isolated and cloned from medical maggots. 
Management believes the use of Aurase® will lead to more effective debridement than with traditional/current treatment methods, anticipating it will be faster, lower pain, more convenient and cheaper than existing products.
Download your research report to find out more
What is the market opportunity?

How does SolasCure intend to use the funding?

How does SolasCure's product compare to currently available alternatives?

What might the possible exit options be?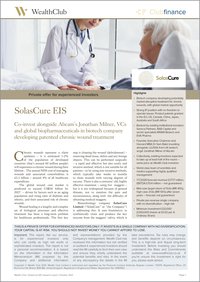 Risks – important 

This is a single company offer with no diversification. It involves investing in an early-stage, loss-making business, which is by nature high risk and prone to failure. There is a risk that the capital raised may not be sufficient to achieve the Company's objectives. You could lose the amount you invest.
Like all investments available through Wealth Club, it is only for experienced investors happy to make their own investment decisions without advice.
There is no ready market for unlisted EIS shares: they are illiquid and hard to sell and value. There will need to be an exit for you to receive a realised return on your investment. Exits are likely to take considerably longer than the three-year minimum EIS holding period; equally, an exit within three years could impact tax relief. The value of tax benefits depends on circumstances and tax rules can change. 
Before you invest, please carefully read the ~Information Memorandum which contains further details on the considerable risks – alongside the Wealth Club Risks and Commitments.

Structure and fees
Investors will pay no direct initial or ongoing charges to invest. Fundraising costs are being met by the Company. Wealth Club will be entitled to a performance fee on exit. 
Please refer to the Schedule of Charges for more details on charges. 

All the services Wealth Club and, where applicable, its subsidiaries provide are governed by the Terms and Conditions of the Wealth Club Services.
Our view
In our view, SolasCure is making strong progress towards developing a potentially disruptive medical product that, if clinical trials are positive, could displace its main competitor and achieve global commercial market success – high risk and not guaranteed. Management and the board are highly knowledgeable in the biotechnology and medical sectors, as well as successful in the commercialisation of a new product, and together they are generating significant interest in Aurase®. 
This is an opportunity to invest in an exciting early-stage business backed by super angels, global pharmaceutical companies and financial institutions with the benefits of EIS. It is a high-risk offer but returns could be commensurate for experienced investors willing to invest at this very early stage. As always, experienced investors should form their own view, and please remember you should not invest money you cannot afford to lose.
Register your interest
Wealth Club aims to make it easier for experienced investors to find information on – and apply for – tax-efficient investments. You should base your investment decision on the provider's documents and ensure you have read and fully understand them before investing. This review is a marketing communication. It is not advice or a personal or research recommendation to buy the investment mentioned. It does not satisfy legal requirements promoting investment research independence and is thus not subject to prohibitions on dealing ahead of its dissemination.
The details
Type

Single company

Sector

Healthcare

Target return

13.6x (IRR 45%)

Funds raised / sought

£4.4 million / £5.0 million

Minimum investment

£20,000

Deadline

31 May for next allotment