Blackfinch
Shares in many unquoted trading companies qualify for Business Property Relief (BPR), which after two years fall outside of an investor's estate for inheritance tax purposes. Many businesses qualify, including those that lend money; businesses lending money for property deals form the backbone of the Blackfinch Inheritance Tax Portfolio service.
Highlights
Capital preservation or growth option

Target return of 4%-6% per annum

Asset-backed lending

Solar farm investments

The manager
Blackfinch has been in existence for over 20 years. It has various parts to the business including EIS, SEIS and this IHT product. Within the management team are renewable energy experts as well as property experts.
Target return and strategy
There are two strategies from which to choose, and the target return is dependent on which one you choose. The capital preservation strategy has a target of 4% growth per annum and the growth model of 6% per annum.

Investors buy into trading companies investing in development finance, asset-backed bridging loans and renewable energy farms (primarily solar). The percentage invested in each depends on whether the growth or capital preservation strategy is chosen.
Blackfinch set up four underlying investment companies: Henslow, Sedgwick, Lyell, and Fitzroy to manage these strategies focused solely on UK opportunities.
Henslow specialises in asset-backed lending, predominantly offering bridging loans to private individuals. Each deal tends to be in the region of £300,000 and a first charge is taken over the property. A typical borrower is using this for a second property and the max loan to value (LTV) will be 70%. Interest rates are in the region of 1% per month. Thus far Henslow has just over £3 million of assets under administration.
Sedgwick fits out and operates solar farms. It doesn't buy existing solar farms already generating electricity. The company currently owns three solar farms with a collective value of about £15 million. Investors profit from the sale of the electricity generated.
Lyell and Fitzroy both lend money to residential property developers, and loans are used for development finance. The key difference is Lyell offers loans up to 75% LTV and Fitzroy up to 65% LTV.
A typical deal will see these companies finance the construction of a particular development that already has planning in place. In the past developers would have borrowed from banks, but this is increasingly difficult. Loans are generally for up to two years and a first charge is held against the assets. Borrowers will typically draw down the loan in stages as certain thresholds are met. The interest rate is in the region of 1% a month.
Blackfinch conducts due diligence both on the developers and the development site. Projects sought are ones the team consider easy to sell. Often properties will be in the region of £220,000 to £400,000. The typical loan size is £2.5 million to £3 million. Lyell and Fitzroy combined have just under £15 million of assets.
The capital preservation model typically invests 30% in the Fitzroy property development company 40% into renewables and 30% into the asset backed bridging loan business. The Growth model has a higher percentage in the other property development company - Lyell, at 60%, as it is riskier; 20% in renewable; and 20% into the asset-backed bridging loan company.
Blackfinch's investment committee approves and structures every deal.
Performance
The chart below shows the progression in the net asset value of three of the four companies. Sedgwick's, the solar farm operator's performance has been fairly subdued as it has been developing projects and only recently started to generate electricity. Fitzroy is a relatively new company therefore has no track record yet.
NAV performance of underlying companies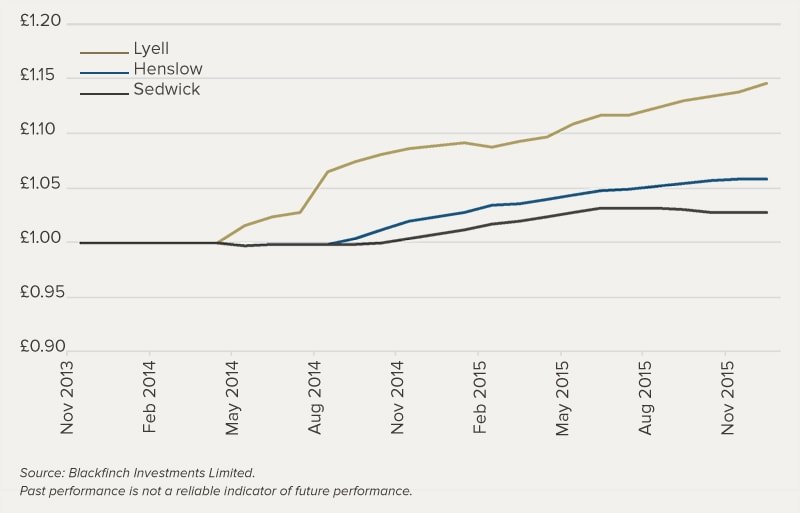 Risks
The key risk investors are exposed to is the residential property market. The development and bridging loan businesses are both backed against residential property – some will be under construction; some will be existing property. If the property market takes a severe downturn investors capital will be at risk. The assets are unquoted therefore investors may not receive their investment back in a timely fashion.
Fees
The initial charge is 5% and is taken from the gross investment. There are two sets of ongoing annual fees, one paid for by the underlying investee companies and one at product level. The underlying investee companies pay 1.5% annual to Blackfinch; this is called a service fee. The additional 0.5% per annum management fee is deferred until the investment is encashed. The latter fee is only taken if the respective 4% (Capital Preservation) or 6% (Growth) annual performance targets of the two strategies have been met. In addition, there is a 1% dealing fee on purchases and withdrawals. Please see the provider's documents for more details on the total fees and charges. If you would like a full breakdown of charges, or a personal illustration, please let us know.
Summary

Compared to other IHT products that invest in unquoted companies this is fairly competitively priced. The structure is simple and each investor will invest in three underlying companies; renewable energy, asset-backed lending and residential development capital deals. The target return is fairly modest reflecting the asset-backed nature of the deals. Blackfinch hasn't got a huge amount under management thus far. Information as at Feb 2016.
Wealth Club aims to make it easier for experienced investors to find information on – and apply for – tax-efficient investments. You should base your investment decision on the provider's documents and ensure you have read and fully understand them before investing. This review is a marketing communication. It is not advice or a personal or research recommendation to buy the investment mentioned. It does not satisfy legal requirements promoting investment research independence and is thus not subject to prohibitions on dealing ahead of its dissemination.
The details
Sector

Property & renewables

Portfolio size

£53.0 million

Initial charge

5.0%

Saving via Wealth Club

0.5%

Net initial charge

4.5%

AMC

0.5%