Tax Savings
This popular choice for tax-free income seekers offers valuable extra perks
You should never make investment decisions solely because of tax benefits. That said, the tax incentives available with Venture Capital Trusts (VCTs) are undeniably exciting. 
And if you want to slash your tax bill and generate tax-free income they are well worth looking into.
To explain why, here we describe VCT tax benefits in more detail based on current tax rules. Please remember though: tax rules can change.

30% income tax relief
This tax year you can invest up to £200,000 in VCTs and receive a rebate of up to £60,000. To benefit, you must have paid or owe as much tax during the tax year in which you invest. To keep the relief, you must hold the investment for at least five years. 
How do I claim VCT income tax relief?
There are two ways to claim the 30% tax rebate. If you invested nearer the beginning of the tax year and are employed, you can ask HMRC to change your tax code. This can take a while, though. Alternatively, you can claim your rebate when completing your annual tax return.
Tax-free dividends
Although most VCTs are nominally growth investments, and any growth is tax free, the majority of returns (if there are any) are normally paid through tax-free dividends. 
Many VCTs pay a tax-free dividend of around 5% – equivalent to a taxable dividend of 7.41% (higher-rate taxpayers) or 8.08% (additional-rate taxpayers). 
A diverse, well-established VCT portfolio can produce a light thud of dividend cheques on the doormat throughout the year. Indeed, during the year to March 2017 the VCT sector paid out aggregate dividends of approximately £395 million – an all-time high. 
After the sale of a successful company within the portfolio, the profit will normally be distributed to investors as a larger or special dividend, and the remaining capital reinvested in new opportunities. 
The value of tax-free VCT dividends
Obviously tax-free dividends are better than taxable ones. The question is: how much better? The table below shows what taxable dividend you would currently need to match different rates of tax-free yield.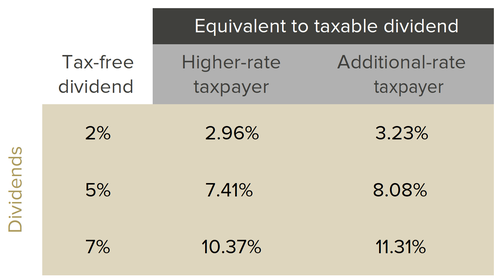 The table above assumes all tax-exempt allowances have been used up and the whole dividend is subject to the new dividend tax rates (32.5% for higher-rate taxpayers and 38.1% for additional-rate taxpayers). Rates effective from 6 April 2016. 
---
AIM VCTs and inheritance tax
Because some VCTs invest in AIM shares, clients sometimes ask whether an AIM VCT holding qualifies for inheritance tax relief in the same way as an AIM ISA IHT portfolio.
AIM VCTs do not qualify for IHT relief, even though their underlying holdings might. This is because when you invest in a VCT, you acquire shares in the trust (the VCT company), not in its underlying holdings.
Only if you invest directly in a company that qualifies for BPR could your investment be IHT free. If IHT mitigation is a priority, you might consider IHT portfolios or AIM ISAs. EIS investments and SEIS investments can also be IHT free.